Introduction
A growing number of museums and other institutions involved in archaeological and paleontological research are acquiring or developing 3D imaging systems based on X-ray microcomputerized tomography (microCT) (Fig. 1). This X-ray technique evolved from conventional clinical CT scanning, with more than two orders of magnitude increase in space resolution and a great enhancement in image contrast. The past 20 years have witnessed advances in X-ray microCT as a result of advances in X-ray sources (microfocus tubes and synchrotron radiation), 2D detectors (charged-coupled devices, flat-panel detectors, and silicon microstrip sensors), and front-end microelectronics for data acquisition. Advances in computer processing speed and storage memory capacity have also been crucial for the progress of microCT.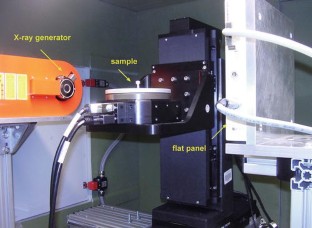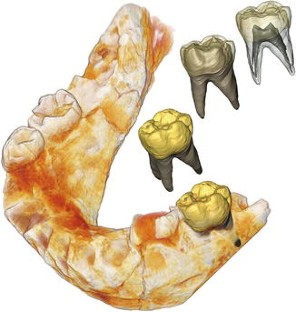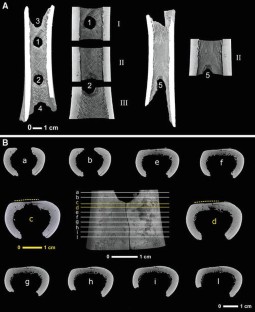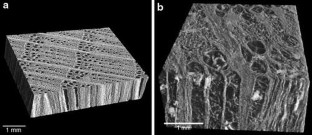 References
Abel, R.L., S. Parfitt, N. Ashton, S. G. Lewis, B. Scott & C. Stringer. 2011. Digital preservation and dissemination of ancient lithic technology with modern micro-CT. Computer and Graphics 35: 878-84.

Balzeau, A., I. Crevecoeur, H. Rougier, A. Froment, E. Gilisses, E. Grimaud-Hervé, P. Mennecier & P. Semal. 2010. Applications of imaging methodologies to paleoanthropology. Beneficial results relating to the preservation, management and development of collections. Comptu rendus Palevol 9: 265-75.

Beck, L., J.-P. Cuif, L. Pichon, S. Vaubaillon, M. Dambricourt Malassé & R. L. Abel. 2012. Checking collagen preservation in archaeological bone by non-destructive studies (micro-CT and IBA). Nuclear Instruments and Methods in Physics Research 273: 2003-7.

Dreossi, D., S. Favretto, M. Fioravanti, L. Mancini, L. Rigon, N. Sodini, G. Tromba & F. Zanini. 2010. Synchrotron radiation micro-tomography: a non-invasive tool for the characterization of archaeological wood, in L. Uzielli (ed.) Wood science for conservation of cultural heritage: 34-9. Florence: Firenze University Press.

Feldkamp, L.A., S.A. Goldstein, A.M. Parfitt, G. Jesioil & M. Kleerkoper. 1989. The direct examination of three-dimensional bone architecture in vitro by computed tomography. Journal of Bone and Mineral Research 4: 3-11.

Gerlach, S., H. Römich, E. Lopéz, F. Zanini, L. Mancini & L. Rigon. 2006. Phase contrast microtomography for archaeological glasses, in A. Denker, A. Adriaens. M. Dowsett, A. Giumlia-Mair (ed.) COST action G8: non destructive testing and analysis of museum objects: 147-51. Stuttgart: Fraunhofer IRB Verlag.

Grün, R., S. Athreya, R. Raj & R. Patnaik. 2012. ESR response in tooth enamel to high-resolution CT scanning. Archaeological and Anthropological Sciences 4: 25-8.

Kahl, W.-A. & B. Ramminger. 2012. Non-destructive fabric analysis of prehistoric pottery using high-resolution X-ray microtomography: a pilot study on the late Mesolithic to Neolithic site Hamburg-Boberg. Journal Archaeological Sciences 39: 2206-19

Macchiarelli, R., L. Bondioli, A. Debénath, A. Mazurier, J. F. Tournepiche, W. Birch & M. C. Dean. 2006. How Neanderthal molar teeth grew. Nature 444: 748-51.

Mazurier, A., V. Volpato & R. Maccharelli. 2006. Improved noninvasive microstructural analysis of fossil tissues by means of SR-microtomography. Applied Physics A 83: 229-33.

Morigi, M.P., F. Casali, M. Bettuzzi, R. Brancaccio & V. D'Errico. 2010. Application of X-ray computed tomography to cultural heritage diagnostics. Applied. Physics A 1000: 653-61.

Paredes, U.M., R. Prys,-Jones, M. Adams, J. Groombridge, S. Kundu, P.-M. Agapow & R. L. Abel. 2012. Micro-CT X rays do not fragment DNA in preserved bird skins. Journal of Zoological Systematics and Evolutionary Research. 50: 247-50.

Richards, G.D., R. S. Jabbour, C. F. Horton, C. L. Ibarra & A. A. MacDowell. 2012. color changes in modern and fossil teeth induced by synchrotron microtomography. American Journal of Physical Anthropology. 149: 172-80.

Tafforeau, P. & T.M. Smith. 2008. Non-destructive imaging of hominoid dental microstructure by phase contrast X-ray synchrotron microtomography. Journal of Human Evolution 54: 272-78.

Tafforeau, P. et al. 2006. Applications of X-ray synchrotron microtomography for non-destructive 3D studies of paleontological specimens. Applied Physics A83: 195-202.

Tuniz, C, F. Bernardini, I. Turk, L. Dimkaroski, L. Mancini & D. Dreossi. 2011. Did Neanderthal play music? X-ray computed micro-tomography of the Divje Babe 'flute'. Archaeometry 54: 581-90.

Wilkins, S.W., T.E. Gureyev, D. Gao, A. Pogany & A. W. Stevenson. 1996. Phase-contrast imaging using polychromatic hard x-rays. Nature 384: 335-8.
Further Reading
Baruchel, J., J.-Y. Buffière, E. Maire, P. Merie & G. Peix. 2000. X-ray tomography in material science. Paris: Hermes Science.

Devoti, R., F. Zontone, C. Tuniz & F. Zanini. 1991. A synchrotron radiation microprobe for X-ray fluorescence and microtomography at ELETTRA. Focusing with bent crystals. Nuclear Instruments and Methods in Physics Research B, 54: 424-8.

Mancini, L., G. Tromba & F. Zanini. 2006. Structural microanalysis with synchrotron radiation: archaeometric applications at Elettra. Journal of Neutron Research 14: 75-9.

Tafforeu, P., R. Boistel et al. 2006. Applications of X-ray synchrotron microtomography for non-destructive 3D studies of paleontological samples. Applied Physics A 83: 195-202.

Tuniz, C., P. Bayle, F. Bernardini, L. Bondioli, A. Coppa, D. Dreossi, R. Macchiarelli, L. Mancini, A. Ronchitelli & C. Zanolli. 2012. A new assessment of the Neanderthal child mandible from Molare, SW Italy, using X-ray microtomography. Conference European Society for the Study of Human Evolution. Bordeaux, France, 21-22 September 2012.

Tuniz, C., F. Bernardini, A., Cicuttin, M.L. Crespo, D. Dreossi, A. Gianoncelli, L. Mancini, A. Mendoza Cuevas, N. Sodini, G. Tromba, F. Zanini & C. Zanolli, 2013. The ICTP-Elettra, 2012a, X-ray laboratory for cultural heritage and archaeology. Nuclear Instruments and Methods in Physics Research A 711 (2013): 106-10.

Willmott, P. 2011. An introduction to synchrotron radiation. Oxford: Wiley & Sons.
Copyright information
© 2014 Springer Science+Business Media New York
About this entry
Cite this entry
Tuniz, C., Zanini, F. (2014). Microcomputerized Tomography (MicroCT) in Archaeology. In: Smith, C. (eds) Encyclopedia of Global Archaeology. Springer, New York, NY. https://doi.org/10.1007/978-1-4419-0465-2_675
DOI: https://doi.org/10.1007/978-1-4419-0465-2_675

Publisher Name: Springer, New York, NY

Print ISBN: 978-1-4419-0426-3

Online ISBN: 978-1-4419-0465-2