Introduction
Electron spin resonance (ESR) has been used for absolute dating of archaeological materials such as quartz, flints, carbonate crystals, and fossil remains for nearly 50 years. The technique is based on the fact that certain crystal behaves as natural dosimeters. This means that electrons and holes are accumulated over time in the crystal lattice induced by surrounding radiation. The age is obtained by calculating the dose received compared to the dose rate generated by the surrounding environment, mainly radioisotopes K, U, and Th. The dating range is dependent on the nature and state of conservation of the sample and the surrounding environment but is between a few thousands and a couple of million years. Since, ESR dating is best and most commonly applied to tooth enamel in archaeology, this paper predominantly focuses on its direct application to fossil remains.
Definition
ESR Basic Principle
In solid-state physics, trapped electrons and holes can be represented with...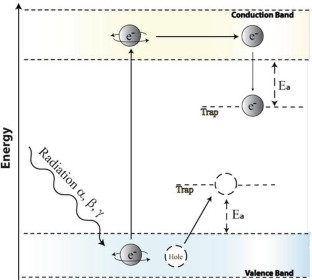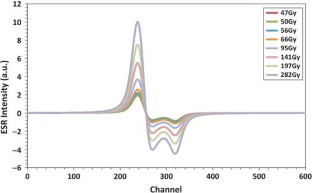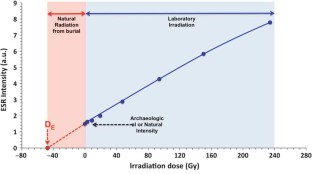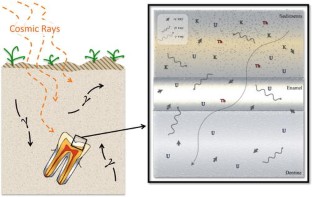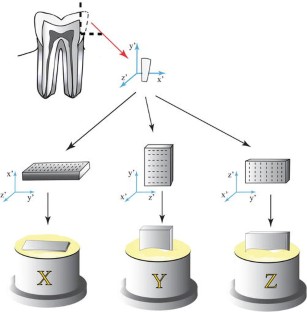 References
Callens, F.J., R.M.H Verbeeck, P.F.A. Matthys, L.C. Martens & E.R. Boesman. 1987. The contribution of CO33- and CO2- to the ESR spectrum near g = 2 of powdered human tooth enamel. Calcified Tissue International 41: 124-29.

Curnoe, D., R. Grün, L. Taylor & F. Thackeray. 2001. Direct ESR dating of a Pliocene hominin from Swartkrans. Journal of Human Evolution 40: 379-91.

Grün, R. 1989. Electron spin resonance (ESR) dating. Quaternary International 1: 65-109.

- 2006. A simple method for the rapid assessment of the qualitative ESR response of fossil samples to laboratory irradiation. Radiation Measurements 41: 682-689.

Grün, R. & O. Katzenberger-Apel. 1994. An alpha irradiator for ESR dating. Ancient TL 12: 35-8.

Grün, R., J.S. Brink, N.A. Spooner, L. Taylor, C.B. Stringer, R.G. Franciscus & A.S. Murray. 1996. Direct dating of Florisbad hominid. Nature 382: 500-1.

Grün, R., J. Maroto, S. Eggins, C. Stringer, S. Robertson, L. Taylor, G. Mortimer & M. McCulloch. 2006. ESR and U-series analyses of enamel and dentine fragments of the Banyoles mandible Journal of Human Evolution 50: 347-58.

Han, F., J.J. Bahain, E. Boëda, Y. Hou, W. Huang, C. Falguères, M. Rasse, G. Wei, T. Garcia, Q. Shao & G. Yin. 2012. Preliminary results of combined ESR/U-series dating of fossil teeth from Longgupo cave, China. Quaternary Geochronology 10: 436-42.

Ikeya, M. 1993. New applications of electron spin resonance. Dating, dosimetry and microscopy. Singapore: World Scientific Publishing.

Joannes-Boyau, R. & R. Grün. 2009. Thermal behavior of oriented and non-oriented CO2- radicals in tooth enamel. Radiation Measurements 44: 505-11.

-2011a. A comprehensive model for CO2- radicals in fossil tooth enamel: Implications for ESR dating. Quaternary Geochronology 6: 82-97.

- 2011b. Decomposition of β-induced ESR spectra of fossil tooth enamel. Radiation Physics and Chemistry 80: 335-42.

Joannes-Boyau, R., T. Bodin & R. Grün. 2010a. Decomposition of the angular ESR spectra of fossil tooth enamel fragments. Radiation Measurements 45: 887-98.

Joannes-Boyau, R., R. Grün & T. Bodin. 2010b. Decomposition of the laboratory irradiation component of angular ESR spectra of fossil tooth enamel fragments. Applied Radiation and Isotopes 68: 1798-1808.

Yokoyama Y., C. Falguères & J.P. Quaegebeur. 1985. ESR dating of quartz from quaternary sediments: first attempt. Nuclear Tracks and Radiation Measurements. 10: 921-8.
Copyright information
© 2014 Springer Science+Business Media New York
About this entry
Cite this entry
Joannes-Boyau, R. (2014). Electron Spin Resonance (ESR) Dating in Archaeology. In: Smith, C. (eds) Encyclopedia of Global Archaeology. Springer, New York, NY. https://doi.org/10.1007/978-1-4419-0465-2_2447
DOI: https://doi.org/10.1007/978-1-4419-0465-2_2447

Publisher Name: Springer, New York, NY

Print ISBN: 978-1-4419-0426-3

Online ISBN: 978-1-4419-0465-2