Folorunso, Caleb Adebayo
Reference work entry
DOI:
https://doi.org/
10.1007/978-1-4419-0465-2_2348
Basic Biographical Information
Caleb Adebayo Folorunso (Fig.
1
) was born on 13 April 1956. He attended Oyan Grammar School for his Secondary education and the famous Igbobi College for his Higher School Certificate. He graduated from the then Department of Archaeology, University of Ibadan, in 1979 with a Bachelor of Arts honors degree with Second Class Upper Division Certificate. He completed his Masters in the same department in 1981 before proceeding to the Universite Paris I Sorbonne in France for his doctorate degree program which was successfully defended in 1989. Caleb Folorunso also has a certificate in African archaeology from the Universite Libre de Bruxelles, Belgium, under the Erasmus program in 1989.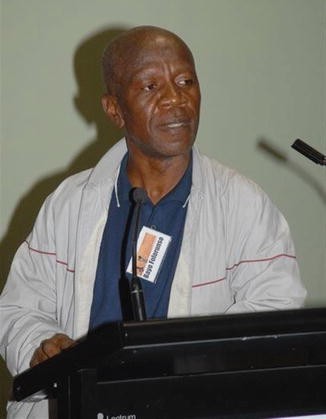 Further Reading
Andah, B.W., K.N. Momin, D.A. Aremu & C.A. Folorunso. 1992

. Archaeological investigation on the campus of the University of Ibadan (an unusual salvage experiment).

West African Journal of Archaeology

22: 98-108.

Google Scholar

Folorunso, C.A. 1997

. The stone figurine from Igbominaland: some comments.

West African Journal of Archaeology

27 (2): 63-7.

Google Scholar

Folorunso, C.A., B.J. Tubosun & J.O. Aleru. 2008

. The challenges to archaeological fieldwork training at the University of Ibadan, Nigeria, in P. Ucko, Q. Ling & J. Hubert (ed.)

From concept of the past to practical strategies

: 129-42. London: Saffron Books, Eastern Art Publishing.

Google Scholar
Copyright information
© Springer Science+Business Media New York 2014