Introduction
Insects are the most diverse group of animals on the planet and as such are present in a wider variety of habitats than most other organism groups. This diversity, in addition to a long evolutionary history (Grimaldi & Engel 2005) and together with a propensity to be preserved in both desiccating and anaerobic environments, has provided an excellent tool for the reconstruction of both Quaternary and more immediate archaeological environments. Insect remains often provide proxy environmental information on the immediate context from which the fossils are derived and as such may either be complementary to the more regional picture provided by palynology or indicate site conditions, such as levels of hygiene and evidence of trading connections, which are rarely available from any other palaeoecological source. They therefore provide information on a broad range of habitats and conditions, on- and off-site, and, in addition, in appropriate contexts, also climate. Processing...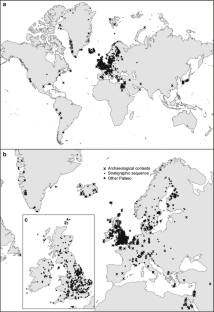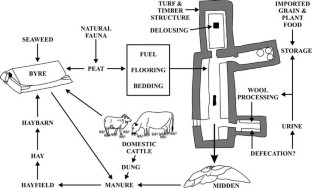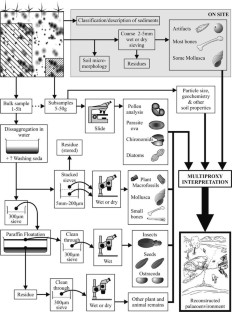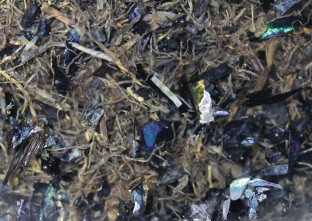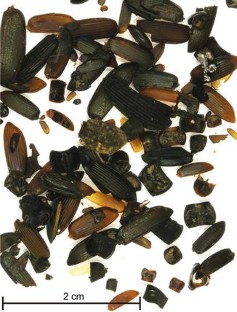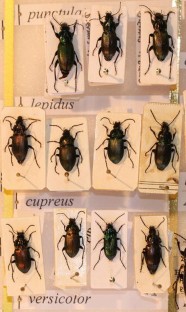 References
Atkinson, T.C., K.R. Briffa, G.R. Coope, J.M. Joachim & D.W. Perry. 1986. Climatic calibration of coleopteran data, in B.E. Berglund (ed.) Handbook of Holocene palaeoecology and palaeohydrology: 851-858. Chichester: J. Wiley & Sons.

Bain, A., J.-A. Bouchard-Peron, R. Auger & D. Simoneau. 2009. Bugs, seeds and weeds at the Intendant's Palace: a study of an evolving landscape. Post-Medieval Archaeology 43(1): 183-197.

Brooks, S.J., I.P. Matthews, H.H. Birks & H.J.B. Birks. 2012. High resolution late glacial and early-Holocene summer air temperature records from Scotland inferred from chironomid assemblages. Quaternary Science Reviews 41: 67-82.

Buckland, P.C., E. Panagiotakopulu & P.I. Buckland. 2004. What's eating Halvdan the Black?: Fossil insects and the study of a burial mound in its landscape context, in Halvdanshaugen: arkeologi, historie og naturvetenskap: 353-376. University Museum of Cultural Heritage.

Buckland, P.I. 2007. The development and implementation of software for palaeoenvironmental and palaeoclimatological research: the Bugs Coleopteran Ecology Package (BugsCEP) (Archaeology and Environment 23). PhD dissertation, University of Umeå, Sweden.

Buckland, P.I. & P.C. Buckland. 2006. BugsCEP Coleopteran Ecology Package. IGBP PAGES (/World Data Center for Paleoclimatology Data Contribution series 2006-116). NOAA/NCDC Paleoclimatology Program, Boulder CO, USA. Available at: http://www.ncdc.noaa.gov/paleo/insect.html and http://www.bugscep.com (accessed 27 May 2012).

Coope, G.R. & P.J. Osborne. 1968. Report on the Coleopterous fauna of the Roman well at Barnsley Park, Gloucestershire. Transactions of the Bristol and Gloucestershire Archaeological Society 86: 84-87.

Elias, S.A. 2010a (ed.) Advances in Quaternary entomology. Developments in Quaternary Sciences 12.

- 2010b. The use of insect fossils in archeology, in S.A. Elias (ed.) Advances in Quaternary entomology: 89-123. Developments in Quaternary Sciences 12.

Grimaldi, D. & M.S. Engel. 2005. Evolution of the insects. Cambridge: Cambridge University Press.

Kenward, H. 2006. The visibility of past trees and woodland: testing the value of insect remains. Journal of Archaeological Science 33: 1368-1380.

Kenward, H.K., A.R. Hall & A.K.G. Jones. 1986. Environmental evidence from a Roman well and Anglian pits in the legionary fortress (Archaeology of York 14/2). York: Council for British Archaeology for York Archaeological Trust.

Koch, K. 1989-92. Die Käfer Mitteleuropas. Ökologie 1-3. Krefeld: Goecke & Evers.

Panagiotakopulu, E. 2004. Pharaonic Egypt and the origins of plague. Journal of Biogeography 31: 269-275.

Panagiotakopulu, E., P. Skidmore & P.C. Buckland. 2007. Fossil insect evidence for the end of the Western Settlement in Norse Greenland. Naturwissenschaften 94: 300-306.

Parfitt, S.A., N.M. Ashton, S.G. Lewis, R.L. Abel, G.R. Coope, M.H. Field, R. Gale, P.G. Hoare, N.R. Larkin, M.D. Lewis, V. Karloukovski, B.A. Maher, S.M. Peglar, R.C. Preece, J.E. Whittaker & C.B. Stringer. 2010. Early Pleistocene occupation at the edge of the boreal zone in northwest Europe. Nature 466: 229-233.

Smith, D.N. 1999. Analysis of beetles in smoke blackened thatch, in J.B. Letts (ed.) Smoke blackened thatch; a unique source of late medieval plant remains from southern England: 42-43. English Heritage & Reading University.

Smith D.N., N.J. Whitehouse, M.J. Bunting & H. Chapman. 2010. Can we characterise "openness" in the Holocene palaeoenvironmental record? Modern analogue studies of insect faunas and pollen spectra from Dunham Massey deer park and Epping Forest, England. The Holocene 20: 1-22.

Will, K.W. & D. Rubinoff. 2004. Myth of the molecule: DNA barcodes for species cannot replace morphology for identification and classification. Cladistics 20: 47–55.
Further Reading
Alley, R.B., D.A. Meese, C.A. Shuman, A.J. Gow, K.C. Taylor, P.M. Grootes, J.W.C. White, M. Ram, E.D. Waddington, P.A. Mayewski & G.A. Zielinski. 1993. Abrupt increase in the Greenland snow accumulation at the end of the Younger Dryas event. Nature 362: 527-529.

Ashworth, A.C. 1973. The climatic significance of a late Quaternary insect fauna from Rodbaston Hall, Staffordshire, England. Entomologica Scandinavica 4: 191-205.

Bhiry, N. & L. Filion. 1996. Mid-Holocene hemlock decline in eastern North America linked with phytophagous insect activity. Quaternary Research 45: 312-320.

Bresciani, J., N. Haarløv, P. Nansen & G. Moller. 1989. Head lice in mummified Greenlanders from A.D. 1475, in J.P. Hart Hansen & H.C. Gulløv (ed.) The mummies from Qilakitsoq - Eskimos in the 15th century: 89-92. Meddelelser om Grønland, Man & Society 12.

Buckland, P.C. & D. Perry. 1989a. Ectoparasites of sheep from Stóraborg, Iceland and their interpretation. Piss, parasites and people, a palaeoecological perspective. Hikuin 15: 37-46.

Buckland, P.C. & J. Sadler. 1989b. A biogeography of the human flea, Pulex irritans L. (Siphonaptera: Pulicidae). Journal of Biogeography 16: 115-120.

Buckland, P.C., J.P. Sadler & G. Sveinbjarnardöttir. 1992. Palaeoecological Investigations at Reykholt, western Iceland, in C.J. Morris & D.J. Rackham (ed.) Norse and later settlement and subsistence in the North Atlantic: 149-168. Glasgow: Dept. of Archaeology, University of Glasgow.

Buckland, P.C, P.I. Buckland & D. Hughes. 2005. Palaeoecological evidence for the Vera hypothesis?, in K.H. Hodder, J.M. Bullock, P.C. Buckland & K.J. Kirby Large herbivores in the wildwood and modern naturalistic grazing systems (English Nature Research Report 648): 62-116. Peterborough: English Nature.

Clark, S.H.E. & K.J. Edwards. 2004. Elm bark beetle in Holocene peat deposits and the northwest European elm decline. Journal of Quaternary Science 19: 525-528.

Coope, G.R. 1981. Report on the Coleoptera from an eleventh-century house at Christ Church Place, Dublin, in H. Bekker-Nielsen, P. Foote & O. Olsen (ed.) Proceedings of the Eighth Viking Congress (1977): 51-56. Odense: Odense University Press.

Coope, G.R., G. Lemdahl, J.J. Lowe & A. Walkling. 1998. Temperature gradients in northern Europe during the last glacial-Holocene transition (14-9 14C kyr BP) interpreted from coleopteran assemblages. Journal of Quaternary Science 13: 419-434.

Dittmar, K., U. Mamat, M. Whiting, T. Goldmann, K. Reinhard & S. Guillen. 2003. Techniques of DNA-studies on Prehispanic ectoparasites (Pulex sp., Pulicidae, Siphonaptera) from animal mummies of the Chiribaya culture, southern Peru. Memórias do Instituto Oswaldo Cruz 98(Suppl. 1): 53-58.

Fikáček, M., A. Prokin & R.B. Angus. 2011. A long-living species of the hydrophiloid beetles: Helophorus sibiricus from the early Miocene deposits of Karteshevo (Siberia, Russia). Zookeys 130: 239-254.

Grunin, K.Y. 1973. [First find of the larvae of the mammoth botfly Cobboldia (Mamontia, subgen. n.) rusanovi sp. n. (Diptera, Gasterophilidae)]. Entomologicheskoe Obozrenie 52: 228-230. (Translated into English in Entomological Review 52: 228-230.)

Kenward, H.K. 1975. Pitfalls in the environmental interpretation of insect death assemblages. Journal of Archaeological Science 2: 85-94.

- 1988. Insect remains, in K. Griffin, R.H. Okland, A.K.G. Jones, H.K. Kenward, R.W. Lie & E. Schia, Animal bones, moss, plant, insect and parasite remains: 115-140 (in E. Schia (ed.) De arkeologiske utgravninger i Gamlebyen, Oslo 5. Øvre Ervik: Alveheim & Eide).

- 1999. Pubic lice (Pthirus pubis) were present in Roman and medieval Britain. Antiquity 73: 911-915.

Kenward, H.K. & E. Allison. 1994. Rural origins of the urban insect fauna, in A.R. Hall & H.K. Kenward (ed.) Urban-rural connexions: perspectives from environmental archaeology (Oxbow Monograph 47): 55-78. Oxford: Oxbow.

Kenward, H.K. & A.R. Hall. 1997. Enhancing bioarchaeological interpretation using indicator groups: stable manure as a paradigm. Journal of Archaeological Science 24: 663-673.

Koivula M., V. Hyyryläinen & E. Soininen. 2004. Carabid beetles (Coleoptera: Carabidae) at forest-farmland edges in southern Finland. Journal of Insect Conservation 8: 297-309.

Lemdahl, G. 1995. Insect remains from the Alvastra pile dwelling, in H. Göransson Alvastra pile dwelling. Palaeoethnobotanical studies (Theses and Papers in Archaeology N.S. A6): 97-99. Lund: Lund University Press.

Nielsen, B.O., V. Mahler & P. Rasmussen. 2000. An arthropod assemblage and the ecological conditions in a byre at the Neolithic settlement of Weier, Switzerland. Journal of Archaeological Science 27: 209-218.

Osborne, P.J. 1971. An insect fauna from the Roman site at Alcester, Warwickshire. Britannia 2: 156-165.

- 1983. An insect fauna from a modern cesspit and its comparison with probable cesspit assemblages from archaeological sites. Journal of Archaeological Science 10: 453-463.

Panagiotakopulu, E. & P.C. Buckland. 1999. The bed bug, Cimex lectularius L. from Pharaonic Egypt. Antiquity 73: 908-911.

- 2010. The insect remains, in B. Kemp & A. Stevens (ed.) Busy lives at Amarna: excavations in the Main (City Grid 12 and the House of Ranefer, N49.18) 1: the excavations, architecture and environmental remains: 453-471. London: Egypt Exploration Society.

Quaternary Entomology Bibliography. n.d. Available at: http://www.bugscep.com/qbib.html.

Reilly, E. 2012. Fair and foul: analysis of sub-fossil insect remains from Troitsky XI-XIII, Novgorod (1996-2002), in M. Brisbane, N. Makarov & E. Nosov (ed.) The archaeology of medieval Novgorod in its wider context: a study of centre/periphery relations: 265-282. Oxford: Oxbow Books.

Rick, F.M., G.C. Rocha, K. Dittmar, C.E.A. Coimbra, K. Reinhard, F. Bouchet, L.F. Ferriera & A. Araújo. 2002. Crab louse infestation in pre-Columbian America. Journal of Parasitology 88: 1266-1267.

Robinson, M.A. 1983. Arable/pastoral ratios from insects, in M. Jones (ed.) Integrating the subsistence economy (British Archaeological Reports S181): 19-47. Oxford: Archaeopress.

Sadler, J.P., P.I. Buckland & P.C. Buckland. 2012. Sixteenth to early-nineteenth century deposits, in G. Sveinbjarnardóttir Reykholt: archaeological investigations at a high status farm in western Iceland: 227-241. Reykjavík: National Museum of Iceland & Snorrastofa.
Copyright information
© 2014 Springer Science+Business Media New York
About this entry
Cite this entry
Buckland, P.I., Buckland, P.C., Olsson, F. (2014). Paleoentomology: Insects and Other Arthropods in Environmental Archaeology. In: Smith, C. (eds) Encyclopedia of Global Archaeology. Springer, New York, NY. https://doi.org/10.1007/978-1-4419-0465-2_2333
DOI: https://doi.org/10.1007/978-1-4419-0465-2_2333

Publisher Name: Springer, New York, NY

Print ISBN: 978-1-4419-0426-3

Online ISBN: 978-1-4419-0465-2