Basic Species Information
Sesamum indicum L. (syn. S. orientale L.) Pediliaceae. The name sesame is derived from the Late Babylonian shawash-shammu, "oil seed" or plant oil, via Phoenician to Greek sesamon to Latin sesamum (www.etymonline.com). Sometimes sesame is known as gingelly from the Hindi gingli, which is from Arabic jaljala, the meaning referring to the sound of the seeds rattling within the capsules (http://www.oed.com). Sesame has one of the highest oil contents of any seed, approximately 50 % oil and 25 % protein. The meal left after pressing for oil can be used as a high-protein animal feed. The oil can survive for long periods before going rancid due to the presence of antioxidants, sesamol and sesamolin (Oplinger et al 1990). There are many recorded medicinal uses (Bedigian 2004).
Sesame is an oilseed crop that is self-pollinating and annual but occasionally perennial (Bedigian 2004). The four-segmented seed capsule is grooved, is rectangular in section, and ranges from...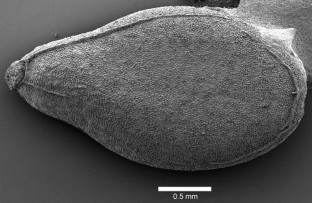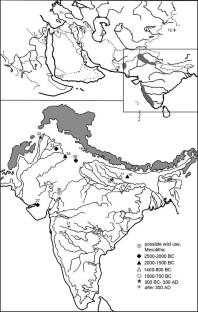 References
Bedigian, D. 2004. History and lore of sesame in Southwest Asia. Economic Botany 58(3): 329-353.

de Vartavan, C. & V. Asensi Amoros. 1997. Codex of ancient Egyptian plant remains: Codex des restes végétaux de l'Egypte ancienne. London: Triade Exploration.

Fuller, D.Q. 2003. Further evidence on the prehistory of sesame. Asian Agri-History 7(2): 127-137.

- 2007. Non-human genetics, agricultural origins and historical linguistics in South Asia, in M. Petraglia & B. Alchin (ed.)The evolution and history of human populations in South Asia: 393–443. Dordrecht: Springer.

Fuller, D. Q. & R. Allaby. 2010. Seed dispersal and crop domestication: shattering, germination and seasonality in evolution under cultivation. Annual Plant Reviews 38: 238-295.

Kroll, H. 2000. Agriculture and arboriculture in mainland Greece at the beginning of the first millennium B.C, in H. Guiraud (ed.) Revue Pallas T.52; paysage et alimentation dans le monde grec antique: 61-68. Toulouse: Press Universitaires Du MiRail.

Oplinger, E.S., D.H. Putnam, A.R. Kaminski, C.V. Hanson, E.A. Oelke, E.E. Schulte & J.D. Doll. 1990.Alternative field crops manual: sesame. West Lafayette (IN): Center for New Crops & Plant Products at Purdue University. Available at: www.hort.purdue.edu.

Pokharia, A.N., J.S. Kharakwal, R.S. Rawat, T. Osada, C.M. Nautiyak & A. Srivastava. 2011. Archaeobotany and archaeology at Kanmer, a Harappan site in Kachchh, Gujarat: evidence for adaptation in response to climatic variability. Current Science 100 (12): 1833-1846.

Qiu, Z., Y. Zhang, D. Bedigian, X. Li, C. Wang & H. Jiang. 2012. Sesame utilization in China: new archaeobotanical evidence from Xinjiang. Economic Botany 66: 255-263.

Shinde, V. 2008. Cultural development from Mesolithic to Chalcolithic in the Mewar region of Rajasthan, India. Pragdhara 18: 201-213.

Tengberg, M. 1999. Crop husbandry at Miri Qalat, Makran, SW Pakistan (4000-2000 BC). Vegetation History and Archaeobotany 8: 3-12.

van der Veen, M. 2011. Consumption, trade and innovation. Exploring botanical remains from the Roman and Islamic ports ar Quseir al-Qadim, Egypt. Frankfurt: Africa Magna Verlag.

van Wyk, B.-E. 2005. Food plants of the world: an illustrated guide. Portland (OR): Timberland Press Inc.

Weber, S.A., A. Kashyap & L. Mounce. 2011. Archaeobotany at Farmana: new insights into Harappan plant use strategies, in V. Shinde, T. Osada & M. Kumar (ed.) Excavations at Farmana: 808-823. Kyoto: RIHN, Nakanish Printing.
Further Reading
Zohary, D., M. Hopf & E. Weiss. 2012. Domestication of plants in the Old World. Oxford: Oxford University Press.
Copyright information
© 2014 Springer Science+Business Media New York
About this entry
Cite this entry
Weisskopf, A., Fuller, D.Q. (2014). Sesame: Origins and Development. In: Smith, C. (eds) Encyclopedia of Global Archaeology. Springer, New York, NY. https://doi.org/10.1007/978-1-4419-0465-2_2327
DOI: https://doi.org/10.1007/978-1-4419-0465-2_2327

Publisher Name: Springer, New York, NY

Print ISBN: 978-1-4419-0426-3

Online ISBN: 978-1-4419-0465-2