Basic Species Information
Buckwheat, including common buckwheat (Fagopyrum esculentum Moench.) and tartary buckwheat or bitter buckwheat (Fagopyrum tartaricum (L.) Gaertn.), is one of only three important non-grass starchy grain crops, or pseudo-cereals, the others being grain amaranth (Amaranthus sp.) and various chenopods, such as Andean quinoa (Chenopodium quinoa). An important crop of marginal lands, buckwheat, is grown in nearly every country that cultivates grain crops and is usually consumed locally (Campbell 1976), but it is especially important in colder regions of high altitude or high latitude in Asia. It is mainly grown for the starchy white endosperm of its seeds which produces buckwheat flour used for pancakes and blini, and soba noodles (Japan). The whole hulled seeds are used as breakfast food and to thicken soups. Dehulled grains, milled to remove the pericarp, are used in kasha, a traditional Russian dish. Buckwheat has a level of around 9 % protein, has 330–350 kcal...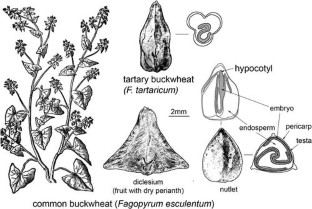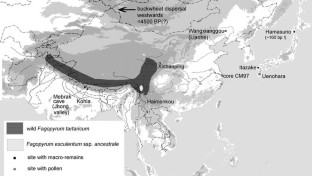 References
Boivin, N., D. Q. Fuller & A. Crowther. 2012. Old World globalization and the Columbian exchange: comparison and contrast. World Archaeology 44(3): 452-69.

Campbell, C. G. 1976. Buckwheat, Fagopyrum (Polygonaceae), in N. W. Simmonds (ed.) Evolution of crop plants: 235-7. London and New York: Longman.

Campbell, C. G. 1997. Buckwheat: Fagopyrum esculentum Moench. Promoting the conservation and use of underutilized and neglected crops. 19. Rome: The International Plant Genetic Resources Institute.

Fuller, D. Q. & R. Allaby. 2009. Seed dispersal and crop domestication: shattering, germination and seasonality in evolution under cultivation, in L. Ostergaard (ed.) Fruit development and seed dispersal. Annual Plant Reviews 38: 238-95.

Janik, L. 2002. The wandering weed: the journey of buckwheat (Fagopyrum sp.) as an indicator of human movement in Russia, in K. R. Boyle, C. Renfrew & M. Levine (ed.) Ancient interactions: East and West in Eurasia: 229-308. Cambridge: McDonald Institute for Archeaological Research.

Li, X., J. Dodson, X. Zhou, H. Zhang & R. Masutomoto. 2007. Early cultivated wheat and broadening of agriculture in Neolithic China. Holocene 17(5): 555-60.

Ohnishi, O. 2004. On the origin of cultivated buckwheat, in Proceedings of the 9th International Symposium on Buckwheat, Prague 2004: 16-21. Prague: Research Institute of Crop Production.

Stevens, N. E. 1912. The morphology of the seed of buckwheat. Botanical Gazette 53(1): 59-66.

van Wyk, B.-E. 2005. Food plants of the world: an illustrated guide. Portland (OR): Timberland Press Inc.
Copyright information
© 2014 Springer Science+Business Media New York
About this entry
Cite this entry
Weisskopf, A., Fuller, D.Q. (2014). Buckwheat: Origins and Development. In: Smith, C. (eds) Encyclopedia of Global Archaeology. Springer, New York, NY. https://doi.org/10.1007/978-1-4419-0465-2_2310
DOI: https://doi.org/10.1007/978-1-4419-0465-2_2310

Publisher Name: Springer, New York, NY

Print ISBN: 978-1-4419-0426-3

Online ISBN: 978-1-4419-0465-2