Basic Species Information
Guinea pigs (Cavia porcellus, Linneaus 1758; Rodentia, Caviidae) were the only small mammals domesticated in the Americas. The other New Word animal domesticates were turkeys (Maleagris gallopavo), llamas (Lama glama), alpacas (Lama pacos), and muscovy ducks (Cairina moschata).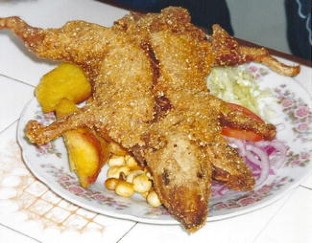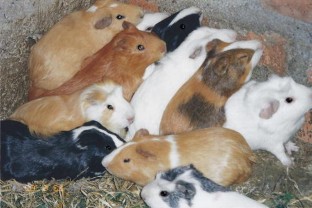 References
Bolton, R. 1979. Guinea pigs, protein, and ritual. Ethnology XVIII: 229- 52.

Gade, D.W. 1967. The guinea pig in Andean folk culture. The Geographical Review 57: 213- 24.

Rodriguez-Loredo, C. 1997-1998. Estudio arqueozoologico del sitio inca Potrero-Chaquiago, barrios La Solana y Retambay, Andalgala, pcia de Catamarca (Argentina). Relaciones de la Sociedad Argentina de Antropologia XXII-XXIII: 203-45.

Rosenfeld, S.A. 2008. Delicious guinea pigs: seasonality studies and the use of fat in the pre-Columbian Andean diet. Quaternary International 180: 127-34.

Spotorno, A.E., J. P. Valladares, J.C. Marin & H. Zeballos. 2004. Molecular diversity among domestic guinea pigs (Cavia porcellus) and their close phylogenetic relationship with the Andean wild species Caviatschudii. Revista Chilena de Historia Natural 77: 243-50.

Sportorno, A., G. Manriquez, A. Fernandez, J. C. Marin, F. Gonzales & J. Wheleer. 2007. Domestication of guinea pigs from a southern Peru- northern Chile wild species and their middle pre-Columbian mummies, in D. Kelt, E. Lessa, J. Salazar-Bravo & J. Patton (ed.) The quintessential naturalist: honoring the life and legacy of Oliver Pearson (UC Publications in Zoology): 367-88. Berkeley: University of California Press.

Stahl, P. 2003. Pre-Columbian Andean animal domesticates at the edge of empire. World Archaeology 34: 470- 83.

Wing, E. S. 1977. Animal domestication in the Andes, in C. A. Reed (ed.) Origins of agriculture: 827-59. The Hague: Mouton Publishers.
Further Reading
Archetti, E. 1997.Guinea pigs. Food, symbol and conflict of knowledge in Ecuador. Oxford: Berg.

Morales, E. 1995. The guinea pig. Healing, food, and ritual in the Andes. Tucson: The University of Arizona Press.
Copyright information
© 2014 Springer Science+Business Media New York
About this entry
Cite this entry
Rosenfeld, S. (2014). Guinea Pig: Domestication. In: Smith, C. (eds) Encyclopedia of Global Archaeology. Springer, New York, NY. https://doi.org/10.1007/978-1-4419-0465-2_2209
DOI: https://doi.org/10.1007/978-1-4419-0465-2_2209

Publisher Name: Springer, New York, NY

Print ISBN: 978-1-4419-0426-3

Online ISBN: 978-1-4419-0465-2