The Inner Hebrides
Reference work entry
DOI:
https://doi.org/
10.1007/978-1-4020-8639-7_90
Isle of Skye
The Isle of Skye (
Fig
.
7.24.7.1
) in the Inner Hebrides (which are taken to include Skye and the islands to the south: Canna, Rhum, Eigg, Muck, Coll, Tiree, Mull, Colonsay, Oronsay, Jura and Islay) has an area of over 1,600 sq. km and consists of a southern ridge, the Sleat Peninsula, of mainly Precambrian rocks, a central mountainous area of Tertiary intrusive rocks and a northern area of volcanic rocks. This account of the coast of Skye begins at Kyleakin, by the Kyle of Lochalsh bridge and follows an anticlockwise sequence around the island.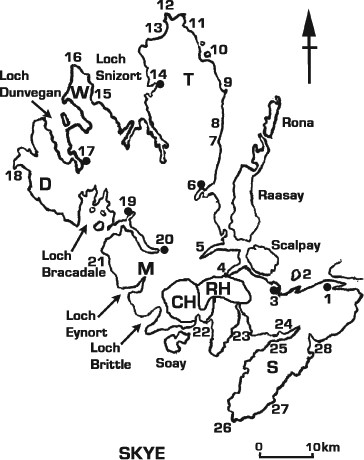 Keywords
Sandy Beach 
Jurassic Rock 
Volcanic Formation 
Coastal Slope 
Glacial Drift 
These keywords were added by machine and not by the authors. This process is experimental and the keywords may be updated as the learning algorithm improves.
References
McCann SB (1964) The raised beaches of north-east Islay and western Jura. Trans Inst Br Geogr 35:1–10

Google Scholar

Richards (1969) Some aspects of the evolution of north-east Skye. Scot Geogr Mag 85:122

Google Scholar
Copyright information
© Springer Science+Business Media B.V. 2010