Alabama
Reference work entry
DOI:
https://doi.org/
10.1007/978-1-4020-8639-7_9
Introduction
Alabama has an embayed mainland coast with broad lagoons, including Mobile Bay and Perdido Bay, behind a sandy barrier island (Dauphin Island) that continues eastward as the Morgan Peninsula, extending to the Florida border (
Fig
.
1.8.1
). Much of the coastal plain is occupied by the dissected Upland Surface, underlain by late Pliocene deposits. Bluff-bounded, deeply incised wide valleys in the Mobile-Tensaw River system are associated with extensive valley-floor wetlands and a large marshy delta at the head of Mobile Bay. The narrow Holocene coastal plain east of Mobile Bay includes a beach ridge complex, interspersed with narrow lagoons, inlets, paralic lakes and marshes. The outer coast is bordered by a sandy barrier beach, 20 km long and 2–4 km wide, with dunes on the Morgan Peninsula. A large compound barrier spit at the mouth of the bay has narrowed the entrance to Mobile Bay.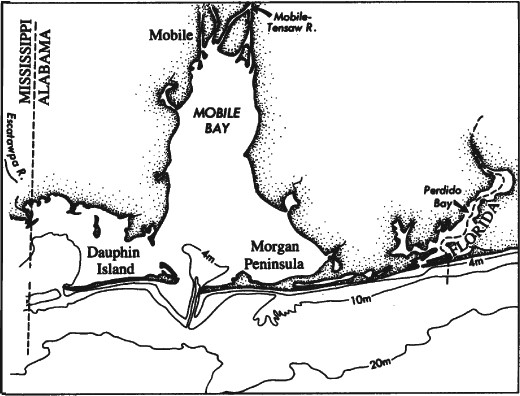 Keywords
Coastal Plain 
Barrier Island 
Oyster Reef 
Beach Ridge 
Nearshore Zone 
These keywords were added by machine and not by the authors. This process is experimental and the keywords may be updated as the learning algorithm improves.
Copyright information
© Springer Science+Business Media B.V. 2010