Oregon
Reference work entry
DOI:
https://doi.org/
10.1007/978-1-4020-8639-7_4
Introduction
The Pacific coast of Oregon extends for nearly 700 km from the Washington border on the Columbia River in the north, to the border with California in the south (
Fig
.
1.3.1
). The Oregon coast is characterised by considerable geomorphic variability, with long stretches of rocky shore and major headlands formed of resistant volcanic rocks, which isolate sections of sandy beaches ranging in lengths from small pockets to littoral cells that extend for 10 s to over 100 km distances along the coast; the longest is the 250 km beach from Florence to Coos Bay, backed by the Oregon Dunes Recreation Area, the most extensive coastal dune sheet in North America.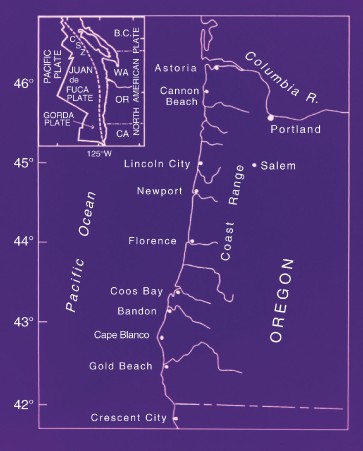 Keywords
Wave Height 
Significant Wave Height 
Beach Sand 
North American Plate 
Oregon Coast 
These keywords were added by machine and not by the authors. This process is experimental and the keywords may be updated as the learning algorithm improves.
Copyright information
© Springer Science+Business Media B.V. 2010