The Chatham Islands
Reference work entry
DOI:
https://doi.org/
10.1007/978-1-4020-8639-7_244
Introduction
The Chatham Islands (
Fig
.
22.2.1
) lie about 856 km east of Christchurch at latitude 44° S and longitude 176° 30' W. They are thus strictly in the western hemisphere, but the International Date Line has been moved east to avoid confusion. The three largest islands are Chatham Island (90,000 ha), Pitt Island (6,190 ha), and South East Island (218 ha), and there are six smaller islands and many tall cliffy islets and steep rocky stacks. About 40 km to the east are the high stacks known as Motuhara (Forty Fours) Rocks (43° 58' S, 175° 30' E), then about 8,000 km of open ocean to the southern coast of Chile. The islands were sighted by William Broughton in 1791, who named them after his naval ship, Chatham. They had already been occupied by a Polynesian (Moriori, ­pre-dating the Maori) population for several centuries. They became part of New Zealand in 1901.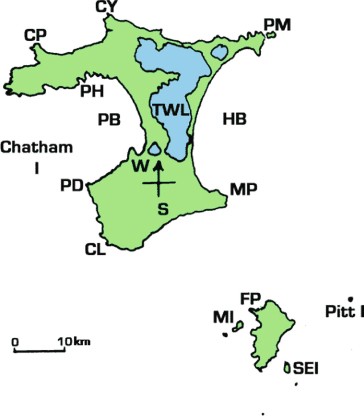 Keywords
Sandy Beach 
Rocky Shore 
Scallop Shell 
Dune Ridge 
Rocky Coast 
These keywords were added by machine and not by the authors. This process is experimental and the keywords may be updated as the learning algorithm improves.
References
Campbell H (1996) Geology. In the Chatham Islands: heritage and conservation. Canterbury University Press, Chri, New Zealand, pp 34–48

Google Scholar

Campbell H et al. (1993) Cretaceous-Cenozoic geology and biostratigraphy of the Chatham Islands, New Zealand, Vol 2. Institute of Geolog­ical and Nuclear Sciences, Monograph, Wellington, New Zealand

Google Scholar
Copyright information
© Springer Science+Business Media B.V. 2010