Fungus Gnats (Diptera: Mycetophilidae and Others)
Reference work entry
DOI:
https://doi.org/
10.1007/978-1-4020-6359-6_3920
Fungus gnats (Mycetophilidae, Bolitophilidae, Ditomyiidae, Diadocidiidae, Keroplatidae, and Lygistorrhinidae) are a diverse and abundant group of insects in the order Diptera, suborder Nematocera. Adults are usually recognized by their hump-backed appearance, stout and elongate coxae and well-developed tibial spurs (Figs.
94
–
98
). Fungus gnats are primarily forest dwellers but can be found in a variety of ecosystems, often in association with fungal habitats, although most of their natural history secrets remain untold. They occur on all continents except Antarctica. The adults often attain large populations and play an important role in the food web of forest environments.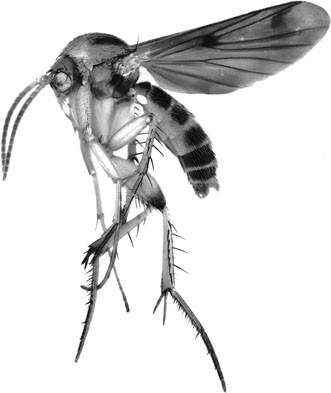 Copyright information
© Springer Science+Business Media B.V. 2008