Fringe-Tufted Moths (Lepidoptera: Epermeniidae)
Reference work entry
DOI:
https://doi.org/
10.1007/978-1-4020-6359-6_3889
Fringe-tufted moths, family Epermeniidae, total 102 species, with many being Palearctic (36 sp.) and Australian (23 sp.). There are two subfamilies: Epermeniinae and Ochromolopinae. The family is part of the superfamily Copromorphoidea in the section Tineina, subsection Tineina, of the division Ditrysia. Adults small (8–20 mm wingspan), with head smooth-scaled; haustellum naked; labial palpi upturned; maxillary palpi 3-segmented. Wings narrow, with fringes longer on hindwings and scale tufts on forewing margin (Fig.
87
). Maculation rather somber shades of brown, with various mostly darker markings. Adults are diurnal or crepuscular. Larvae are leafminers, leaf skeletonizers, or borers of seeds, fruits, or buds; a few are gall makers. Host records include several plant families.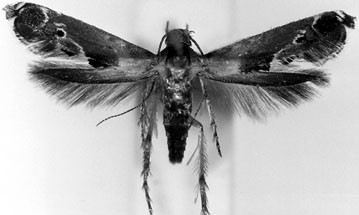 Copyright information
© Springer Science+Business Media B.V. 2008