Flower Moths (Lepidoptera: Scythrididae)
Reference work entry
DOI:
https://doi.org/
10.1007/978-1-4020-6359-6_3846
Flower moths, family Scythrididae, total about 523 species worldwide, but mostly known from Europe. The family is part of the superfamily Gelechioidea in the section Tineina, subsection Tineina, of the division Ditrysia. Adults small (5–22 mm wingspan), with head smooth-scaled; haustellum scaled; labial palpi recurved; maxillary palpi 4-segmented. Wings (Fig.
61
) elongated, with long fringes. Maculation usually rather dark with various spots; some have metallic-iridescence and a few are more colorful. Adults are diurnal but some may be crepuscular. Larvae are skeletonizers on leaves, buds, flowers, hiding under webbings. Brachypterous species are known which make long silken tubes. Many plant families are used as hosts, plus some on lichens and mosses, but particularly Chenopodiaceae, Crassulaceae, Compositae, and Gramineae.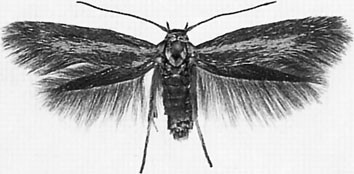 Copyright information
© Springer Science+Business Media B.V. 2008