False Diamondback Moths (Lepidoptera: Acrolepiidae)
Reference work entry
DOI:
https://doi.org/
10.1007/978-1-4020-6359-6_3755
False diamondback moths, family Acrolepiidae, include 96 species, mostly Palearctic. The family is part of the superfamily Yponomeutoidea in the section Tineina, subsection Tineina, of the division Ditrysia. Adults small (10–25 mm wingspan), with head smooth-scaled; haustellum naked; labial palpi upcurved; maxillary palpi 4-segmented. Wings elongated, with longer fringes (Fig.
10
) on the pointed hindwings. Maculation various shades of brown with lighter markings. Adults are crepuscular or diurnal. Larvae mostly leafminers, but some are borers in seeds, stems and flower buds. Several hostplant groups are used, but mostly on Compositae. Very few are economic.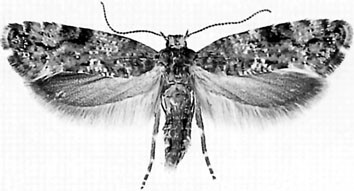 Copyright information
© Springer Science+Business Media B.V. 2008