False Burnet Moths (Lepidptera: Urodidae)
Reference work entry
DOI:
https://doi.org/
10.1007/978-1-4020-6359-6_3751
False burnet moths, family Urodidae, total only about 80 species, primarily Neotropical (mostly the genus
Urodus
), but with a few species in North America and in Eurasia (subfamily Galacticinae). Only two subfamiles are named: Galacticinae and Urodinae. The family is in the superfamily Sesioidea in the section Tineina, subsection Sesiina, of the division Ditrysia. Adults small (10–37 mm wingspan), with head smooth-scaled; haustellum naked; labial palpi upcurved; maxillary palpi 1–2-segmented. Wings somewhat elongated (Fig.
9
). Maculation mostly unicolorous in shades of gray, but a few with various spots; some with metallic-iridescence or lustrous scales. Adults may be crepuscular or mostly nocturnal, but a few possibly diurnal. Larvae are leaf webbers or skeletonizers, but few are known biologically. Pupation is in a specialized filigreed cocoon. Host plants known in Lauraceae, Leguminosae, Salicaceae, Sapotaceae, and Theaceae. A few are minor pests.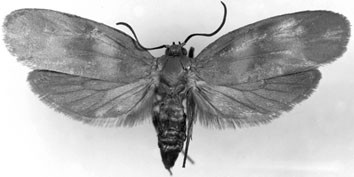 Copyright information
© Springer Science+Business Media B.V. 2008