The relentless advance of western civilization has involved, among other things, deforestation concomitant with construction of centrally heated homes, businesses, and other facilities in place of the once-extensive woodlands. The termites, carpenter ants, beetles, and other insects that formerly dwelled within woodlands, of course, proceeded to invade the structural lumber used in today's construction. This lumber is obtained both from increasingly expensive hardwoods such as oak, hickory, ash, and maple, and from less desirable softwoods such as pine, hemlock, fir, redwood, and other evergreen trees. Both have a central, dark-colored, non-living heartwood and an outer light-colored, living sapwood, and both are susceptible to attack by wood-destroying insects, except for the heartwood of black locust, cypress, cedar, redwood, and certain other trees which is relatively resistant to attack.
Carpenter ants, termites, powderpost beetles, and the old house borer are among the many...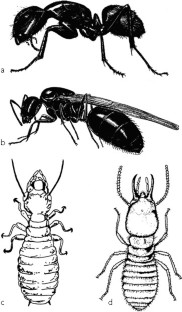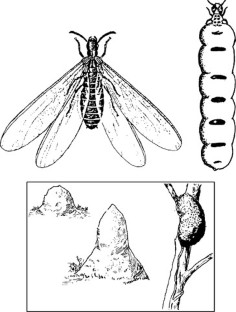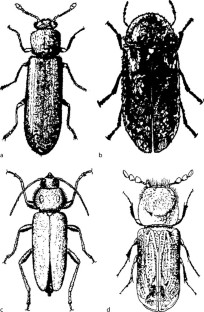 References
Christensen C (1983) Technician's handbook to the identification and control of insect pests. Franzak & Foster Co., Cleveland, Ohio, 208 pp

Garry BW, Owens JM, Corrigan RM (1982) Pest control operations, 4th edn. Purdue University/Edgell Communications Project, Randolph, New Jersey, 495 pp

Hickin NE, Edwards R (1975) The insect factor in wood decay. St. Martin's Press, New York, New York, 383 pp

Mallis A (1997) Handbook of pest control – the behavior, life history, and control of household pests. Mallis Handbook & Technical Training Co., Cleveland, Ohio, 1456 pp

Moore HB (1979) An introduction to wood-destroying insects (their identification, biology, prevention, and control). Book redistributed by Pest Control Magazine, Cleveland, Ohio, 133 pp
Copyright information
© 2008 Springer Science+Business Media B.V.
About this entry
Cite this entry
Gangwere, S.K., Sastry, S. (2008). Wood-Attacking Insects. In: Capinera, J.L. (eds) Encyclopedia of Entomology. Springer, Dordrecht. https://doi.org/10.1007/978-1-4020-6359-6_2701
DOI: https://doi.org/10.1007/978-1-4020-6359-6_2701

Publisher Name: Springer, Dordrecht

Print ISBN: 978-1-4020-6242-1

Online ISBN: 978-1-4020-6359-6