The ancient Egyptian hairstylist was expected to be able to style hair, as well as cure baldness, make hair (of a rival) fall out, get rid of head lice and cover up the signs of aging by dyeing grey hairs. Ancient Egyptian clients would also require more mundane tasks, such as cleansing and scenting the hair.
Tinting
The Egyptians used natural dyes which are known to coat and partially penetrate the hair's 6–14 layers of cuticles. These natural semi‐permanent tints do not leave roots as they wash out of the hair, although a virtually permanent tint may be achieved with frequent application. The main colour the Egyptians would probably have wanted to achieve was black, emulating the dark brown colour of their youthful hair. One recipe was an ointment made of juniper berries and two unidentified plants kneaded into a paste with oil and then heated. The natural blue‐purple colouring agent in the plants would rub off on the hair, while the astringent properties of the juniper would...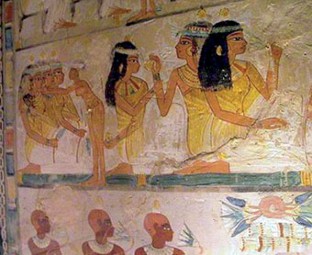 Notes
1.

Natron was a salt (sodium carbonate and sodium bicarbonate) that was used in the mummification process to dry out the body of the deceased in order to assist in its preservation.

2.

Ushabtis were small figurines made from wood or clay, or occasionally stone or ivory. Often the ushabtis were depicted with tools, or in some act of work. They were buried with Egyptians, so that, if the deceased were called to work in the afterlife, the ushabti would take the deceased's place performing the task.
References
Aldred, C. Hairstyles and History. Bulletin of the Metropolitan Museum of Art. n.s. 15 (1957): 141 7.

Balout, L. La Momie de Ramsès II. Paris: Éditions Recherche sur les civilisations, 1985.

Breasted Jr. J. H. Ancient Records of Egypt: Historical Documents from the Earliest Times to the Persian Conquest. Vols. 1–5. Chicago: Chicago University Press, 1907.

Brunton, G. British Museum Expedition to Middle Egypt First and Second Years, 1928 and 1929. Mostagedda and the Tasian Culture. London: Bernard Quaritch Ltd., 1937.

Dayagi‐Mendels, M. Perfumes and Cosmetics of the Ancient World. Jerusalem: The Israel Museum, 1989.

Davies, N. de G. The Tomb of Nefer‐hotep at Thebes. Vol. 9. New York: Publications of the Metropolitan Museum of Art Egyptian Expedition, 1932.

‐‐‐. The Tomb of Rekh‐mi‐re at Thebes. New York: Plantin Press, 1943.

Drioton, É. La coiffure feminine dans l'ancienne Égypte, dans la Femme nouvelle. Le Caire (1949): 27–34.

Emery, W. B. Archaic Egypt: Culture and Civilisation in Egypt Five Thousand Years Ago. London: Penguin Books, 1961.

Fletcher, A. J. Give Mummy a Wave. Hairdressers Journal International 27/3/92. London (1992): 16–7.

‐‐‐. Ancient Egyptian Hair: A Study in Style, Form and Function. Ph.D. Disseration. Manchester: Manchester University, 1995.

‐‐‐. Hair. Ancient Egyptian Materials and Technologies. Ed. P. T. Nicholson, I. Shaw. Cambridge: Cambridge University Press, 2000. 495–501.

Ghalinoungui, P. The Physicians of Pharaonic Egypt. Cairo: Dar Al‐Maaref, 1983.

Green, L. Hairstyles. The Oxford Encyclopedia of Ancient Egypt. Vol. 2. Ed. D. B. Redford. Oxford: Oxford University Press, 2001. 73–6.

Janssen, J. J. Commodity Prices from the Ramessid Period. Leiden: Brill, 1975.

Janssen, R. M. and J. J. Janssen. Getting Old in Ancient Egypt. London: The Rubicon Press, 1996.

Keimer, L. Notes prises chez les Bisarin et les Nubiens D'Assouan. Bulletin de l'Institute d'Égypte (Cairo) 34 (1953): 329–449.

Kozloff, A. P. and B. M. Bryan, Egypt's Dazzling Sun; Amenhotep III and his World. Cleveland: Cleveland Museum of Art, 1992.

Kriesel, C. Altagyptische Haar‐ und Barttrachten. Leipzig: Diplomarbeit (diploma), 1958.

Laskowska‐Kusztal, E. Un atelier de perruquerier à Deir el‐Bahari. Études et Travaux 10 (1978): 83–120.

Lucas, A. Ancient Egyptian Materials and Industries. 4th ed. Ed. J. R. Harris. London: Edward Arnold, 1962.

Manniche, L. An Ancient Egyptian Herbal. London: British Museum Press, 1989.

Maraite, E. Le cone de parfum dans l'ancienne Égypte. Amosiades‐Mélanges Offerts au Professeur Claude Vanderslegen. Ed. C. Obsomer, A. L. Oosthoek. Louvain‐la‐Neuve: pars ses ancienes Étudiants, 1992. 213–9.

Muhammed, M. A. Q. The Development of the Funerary Beliefs and Practices Displayed in the Private Tombs of the New Kingdom at Thebes. Cairo: Prisim, 1966.

Müller, C. Kahlköpfigkeit. Lexikon der Ägyptologie. Vol. 3.Ed. W. Helek and E. Otto. Wiesbaden: Otto Harrassowitz, 1980. 291–2.

‐‐‐. Salbkegel. Lexikon der Ägyptologie. Vol. V. Ed. W. Helek and E. Otto. Wiesbaden: Otto Harrassowitz, 1984. 366–7.

Nachtergael, G. La Chevelure d'Isis. Der Alte Orient 42 (1981): 7–26.

Petrie, W. M. F. Kahun, Gurob and Hawara. London: Kegan Paul, Trench, Traubner and Co, 1890.

Robins, G. Hair and the Construction of Identity in Ancient Egypt, c. 1480–1350 B.C. Journal of the American Research Center in Egypt 36 (1999): 55–69.

‐‐‐. Dress, Undress, and the Representation of Fertility and Potency in New Kingdom Art. Sexuality in Ancient Art. Ed. N. B. Kampen. Cambridge: Cambridge University Press. 1996. 29–39.

Smith, G. E. The Royal Mummies (CCG). Cairo: Institut français d'archéologie orientale, 1912.

Wreszenski, W. Der Papyrus Ebers. Leipzig: Hinrichs, 1913.

To find out more about the author's work please visit the Website of the Egyptian Cultural Heritage Organisation: http://www.e‐c‐h‐o.org
Copyright information
© 2008 Springer-Verlag Berlin Heidelberg New York
About this entry
Cite this entry
Tassie, G.J. (2008). Hair in Egypt. In: Selin, H. (eds) Encyclopaedia of the History of Science, Technology, and Medicine in Non-Western Cultures. Springer, Dordrecht. https://doi.org/10.1007/978-1-4020-4425-0_9703
DOI: https://doi.org/10.1007/978-1-4020-4425-0_9703

Publisher Name: Springer, Dordrecht

Print ISBN: 978-1-4020-4559-2

Online ISBN: 978-1-4020-4425-0