Definition
Sweden's great lakes. The four largest lakes in Sweden with regard to surface area are, in order, Vänern, Vättern, Mälaren, and Hjälmaren. Vänern is the third largest lake in Europe after Ladoga and Onega in Russia, and Vättern is the 11th largest lake. On a global ranking, Vänern is the 33rd and Vättern the 78th largest lake in the world (Herdendorf, 1982).
Introduction
Sweden has close to 100,000 lakes, where a lake is defined as a water body with a surface area greater than 0.01 km2 (Lindkvist and Danielsson, 1987). Approximately 9% of the area of Sweden constitutes lakes, which corresponds to a total lake surface area of about 40,000 km2. In total, 22 lakes have a surface area of more than 100 km2, 358 lakes an area between 10 and 100 km2, and 3,990 an area between 1 and 10 km2. The ten largest lakes with regard to surface area, together with their volume and mean and maximum depths, are given in Table 1(the exact numbers can vary...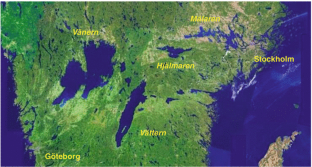 Bibliography
Bengtsson, L., 1984. Interrelationship between Lule City Lakes. Journal of Hydraulic Engineering, 110, 975–980.

Bengtsson, L., 1996. Mixing in ice covered lakes. Hydrobiologia, 322, 91–97.

Bengtsson, L., and Svensson, T., 1996. Thermal regime of ice covered Swedish lakes. Nordic Hydrology, 27, 39–56.

Björck, S., 1995. A review of the history of the Baltic Sea, 13.0–8.0 ka BP. Quaternary International, 27, 19–40.

Björk, G. G. A., and Lundberg, P. A., 1990. A re-examination of the seiche periods of Lake Vättern. Tellus, 42A, 616–625.

Herdendorf, C. E., 1982. Large lakes of the world. Journal of Great Lakes Research, 8(3), 379–412.

Kvarnäs, H., 2001. Morphometry and hydrology of the four large lakes of Sweden. Ambio, 30(8), 467–474.

Lindell, T., and Welch, E. B., 1992. Ecological effects of waste water. Applied limnology and pollutant effects. London: Spon Press.

Lindkvist, T., and Danielsson, H. 1987. Swedish water archive. Lake maps and properties. Register 1987. SMHI Hydrology, No. 15, Norrköping, Sweden (in Swedish).

Malm, J., Terzhevik, A., Bengtsson, L., Boyarinov, P., Glinsky, A., Palshin, N., and Petrov, M., 1998. A field study on currents in a shallow ice-covered lake. Limnology and Oceanography, 43, 295–322.

Norrman, J., 1964. Lake Vättern: investigations on shore and bottom morphology. Geografiska Annaler, 46(1/2), 1–238.

Persson, G., Olsson, H., Wlederholm, T., and Willen, E., 1989. Lake Vättern, Sweden: a 20-year perspective. Ambio, 18(4), 208–215.

Rubin, H., and Atkinson, J., 2001. Environmental fluid mechanics. New York: Marcel Dekker.

Willen, E., 2001. Four decades of research on the Swedish large lakes Mälaren, Hjälmaren, Vättern and Vänern: the significance of monitoring and remedial measures for a sustainable society. Ambio, 30(8), 458–466.
Copyright information
© 2012 Springer Science+Business Media B.V.
About this entry
Cite this entry
Larson, M. (2012). Sweden's Great Lakes. In: Bengtsson, L., Herschy, R.W., Fairbridge, R.W. (eds) Encyclopedia of Lakes and Reservoirs. Encyclopedia of Earth Sciences Series. Springer, Dordrecht. https://doi.org/10.1007/978-1-4020-4410-6_269
DOI: https://doi.org/10.1007/978-1-4020-4410-6_269

Publisher Name: Springer, Dordrecht

Print ISBN: 978-1-4020-5616-1

Online ISBN: 978-1-4020-4410-6