Description
Lake Poopó is located on the Bolivian high plains at 3,700 m above the sea level. The lake is part of the TDPS system (Lake Titicaca, the Desaguadero River, Lake Poopó, and the Salares (Salt Flats), Figure 1) forming an extensive endorheic basin. Lake Titicaca is the highest situated of the world's large lakes. The Desaguadero River links Lake Titicaca with the downstream Lake Poopó. Lake Poopó is an extremely shallow lake with a mean depth of less than 2 m below the outlet sill level. At spillover level the lake surface is very large and exceeds 3,000 km2. However, since it is so shallow, the lake may in very dry periods dry out. In the present-day climate, there is very seldom any outflow from the lake, which means that the water level and thus the surface area are highly variable. The lake is in principle a terminal lake. The water is salty. The character of the lake is illustrated in Figure 2, which shows the flat shores.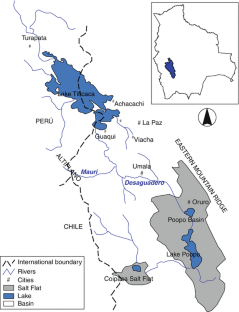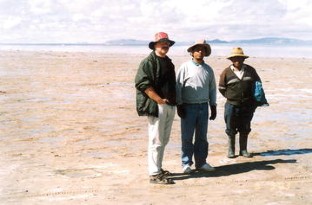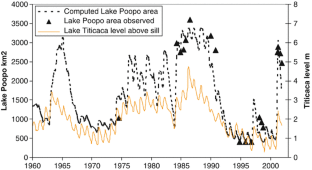 Bibliography
Argollo, J., and Mourguiart, P., 2000. Late Quaternary climate history of the Bolivian Altiplano. Quaternary International, 72, 37–51.

Beveridge, M., Stanford, E., and Coutts, R., 1985. Metal concentrations in the exploited fishes of an endorheic saline lake in the tin silver province of Bolivia. Aquaculture and Fisheries Management, 16, 41–53.

Boulange, B., Rodrigo, L. A., and Vargas C., 1978. Morphologie formation et aspects sedimentologiques du lac Poopó (Bolivie). Cahiers ORSTOM., Series Geologie X(1), 69–78.

Marin, R. P., and Quintanilla, J. A., 2002. Efectos Ambientales sobre las Pesquerias de los Ecosistemas de los Lagos Poopó y Uru-Uru. Report. University of San Andrés, Institute of Ecology, La Paz.

Minchin, J., 1882. Notes on a journey through part of the Andean tableland of Bolivia. Proceedings of the Royal Geographical Society of London, 4, 67.

Pillco Zolá, R., 2007. Response of Bolivian Altiplano lakes to seasonal and annual climate variations, PhD-thesis Rep. 1040 Water Resources Engineering, Sweden, Lund University.

Pillco Zolá, R., and Bengtsson, L., 2006a. Long-term and extreme water level variations of the shallow Lake Poopó, Bolivia. Hydrological Sciences Journal, 51, 98–114.

Pillco Zolá, R., and Bengtsson, L., 2006b. Three methods for determining the area-depth relationship of Lake Poopó, a large shallow lake in Bolivia. Lakes & Reservoirs: Research and Management, 12, 275–284.
Copyright information
© 2012 Springer Science+Business Media B.V.
About this entry
Cite this entry
Bengtsson, L. (2012). Poopó Lake, Bolivia. In: Bengtsson, L., Herschy, R.W., Fairbridge, R.W. (eds) Encyclopedia of Lakes and Reservoirs. Encyclopedia of Earth Sciences Series. Springer, Dordrecht. https://doi.org/10.1007/978-1-4020-4410-6_137
DOI: https://doi.org/10.1007/978-1-4020-4410-6_137

Publisher Name: Springer, Dordrecht

Print ISBN: 978-1-4020-5616-1

Online ISBN: 978-1-4020-4410-6