Usoi Landslide and Lake Sarez
Reference work entry
DOI:
https://doi.org/
10.1007/978-1-4020-4399-4_46
Introduction
On February 18, 1911, a strong
earthquake
in Pamirs (Tajikistan) caused a catastrophic failure of about 2.2 km
3
(six billion tons) of rock (Figure
1
) and resulted in the formation of the Usoi landslide dam named after the small village buried by the
landslide
. Fifty eight inhabitants lost their lives in this event. The Usoi landslide located at 38°16.5′N, 72°36′E is the world's largest non-volcanic landslide ever recorded in historical times. Despite the remoteness and inaccessibility of the site, Russian researchers performed their first studies of this feature soon after the event (Bukinich,
1913
; Shpilko,
1915
; Preobrajensky,
1920
). Regular studies started in the 1960s (Sheko and Lekhatinov,
1970
; Agakhanjanz,
1989
).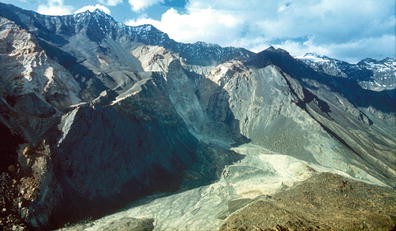 Copyright information
© Springer-Verlag Berlin Heidelberg 2013