Synonyms
Deep-seated gravitational deformation; Gravitational spreading; Slope sagging
Definition
Sackung is a German term denoting slow, deep-seated gravitational deformation of slopes.
Discussion
Sackung-type movements have typical surface expression as uphill-facing (antislope) scarps, tension cracks, grabens, and anomalous ridge-top depressions running roughly parallel to the contours in steep mountain topography. Individual scarps, grabens, and cracks (collectively referred to here as "linears") have a typical relief of 1–10 m and may be traced over distances of 100 m to more than 3 km. Linears may be arranged sub-parallel to one another, or en echelon, and comprise slope-movement complexes covering areas of 1–10 km
2
that are clearly visible on air photographs (Figure
1
).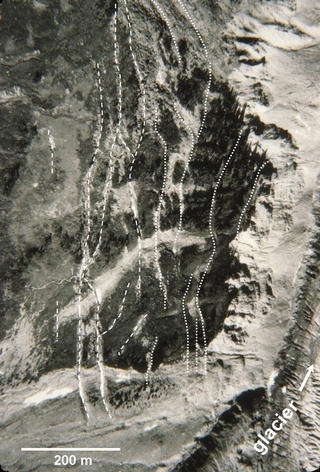 Copyright information
© Springer-Verlag Berlin Heidelberg 2013