Calcisols
Reference work entry
DOI:
https://doi.org/
10.1007/978-1-4020-3995-9_84
Calcisols are soils with a significant secondary accumulation of calcium carbonate resulting from precipitation from solution brought about by evaporation under arid or semi‐arid conditions. The following summary is taken from FAO (2001).
Connotation. Soils with substantial secondary accumulation of lime; from L. calcarius, calcareous
Synonyms. Desert soil is a common international term.
Definition.
Defined by FAO (
2001
) as soils having
1.

a calcic or petrocalcic horizon within 100 cm of the surface; and

2.

no diagnostic horizons other than an ochric or cambic horizon, an argic horizon which is calcareous, a vertic horizon, or a gypsic horizon.
Parent material. Mostly alluvial, colluvial and aeolian deposits of base‐rich, commonly calcareous, weathering material.
Environment.
Level to hilly land in arid and semi‐arid regions (see Figure
C5
). The natural vegetation is sparse and dominated by xerophytic shrubs and trees and/or ephemeral grasses.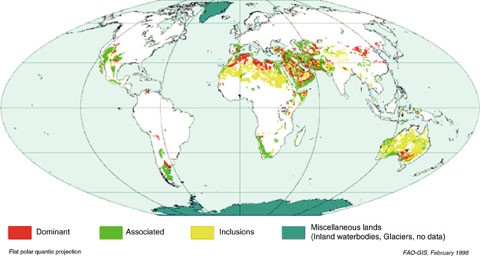 Bibliography
FAO. 2001. Lecture notes on the major soils of the world. World Soil Resources Reports, 94. Rome: Food and Agriculture Organization of the United Nations. 334 pp.

Google Scholar

Zech, W., and Hintermaier‐Erhard, G., 2007.

Soils of the World

. Heidelberg, Berlin: Springer-Verlag, 130 pp.

Google Scholar