Acid Soils
Reference work entry
DOI:
https://doi.org/
10.1007/978-1-4020-3995-9_7
Acid soils are defined in terms of redox‐pH master variables in Figure
A3
. In the WRB system of classification, the relevant reference soil groups with widest distribution are Acrisols, Ferralsols and Podzols, which are the main focus of this article (Table
A4
). Acid soils also occur in Andosols, Arenosols, Alisols, Albeluvisols, Cambisols, Histosols, Leptosols, Plinthosols, Planosols, Fluvisols, Regosols and Umbrisols. In those Fluvisols and mine soils (Espoli‐Anthropic Regosols) containing pyrite, extreme acidity develops on oxidation.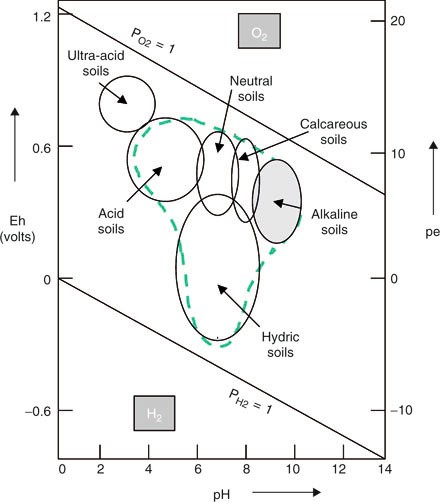 Bibliography
FAO, 2001. Lecture notes on the major soils of the world. World Soil Resources Reports, 94. Rome: Food and Agriculture Organization of the United Nations, 334 pp.

Google Scholar

Zech, W., and Hintermaier‐Erhard, G., 2007.

Soils of the World

. Heidelberg, Berlin: Springer‐Verlag, 130 pp.

Google Scholar