Glossary
Airtight construction:

A method of construction for building envelopes that targets less than 0.6 ACH or 0.5 cfm50/ft2 envelope – infiltration rates when tested for air leakage at 50 Pa pressure.

Balanced mechanical ventilation with heat recovery:

Highly energy-efficient mechanical equipment for airtight homes to provide constant amounts of fresh air (20 cfm/person [30 m3/h]) to the inhabitants and to exhaust the same amount of air to remove moisture, stale air, and indoor pollutants. The system must also recover the energy from exhaust air at the highest possible level, which helps maintain thermal comfort in the building.

Passive (house) building concept:

A building achieving close to thermal stasis by employing a set of building science principles to optimize heat loss and gain through the building shell. Primarily, this means limiting transmission losses by using climate-specific insulation levels of its components and appropriate window specifications to maintain thermal...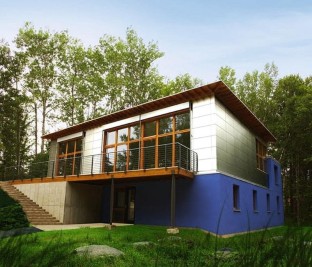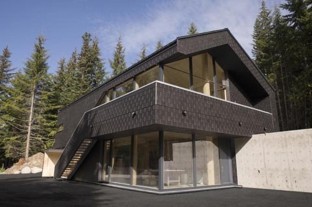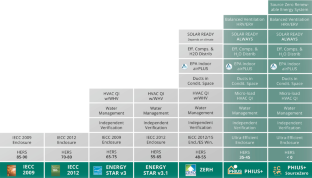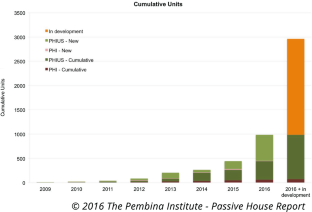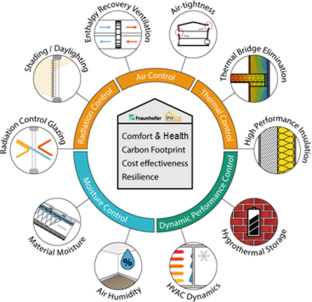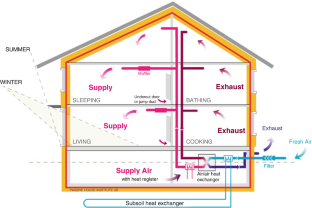 Bibliography
Shurcliff W (1988) Superinsulated houses and air-to-air heat exchangers. Brickhouse Publishing Company, Andover

Passive House Institute. Passive House requirements. http://www.passiv.de/en/02_informations/02_passive-house-requirements/02_passive-houserequirements.htm

Jacobson R (2013) Passive House certification in Scandinavia, http://www.phius.org/NAPHC2013/jacobson.pdf

Stecher D., Klingenberg K (2008) Design and performance of the Smith House, a Passive House. ASHRAE Transaction Papers, NY-08-027

Wright G, Klingenberg K (2015) Climate-specific passive building standards. U.S Department of Energy, Building America, Office of Energy Efficiency and Renewable Energy. National Renewable Energy Laboratory (NREL), Golden, CO

Frappé-Sénéclauze T, Heerema D, Tam Wu K (2016) Accelerating market transformation for high-performance building enclosures. Pembina Institute, Calgary, AB

http://www.phius.org, PHIUS+ 2015 Passive Building Standard North America: certification guidebook, Version 1.1 (2017). http://www.phius.org/PHIUSPlus2015docs/PHIUS+ Certification Guidebook v1.1.pdf
Section Editor information
Additional information
The Passive House Institute United States (PHIUS) is a nonprofit certifying, training, and research firm working to further the implementation of passive building standards in North America and globally. www.passivehouse.us.
Copyright information
© 2020 Springer Science+Business Media, LLC, part of Springer Nature
About this entry
Cite this entry
Klingenberg, K. (2020). Passive House (Passivhaus). In: Loftness, V. (eds) Sustainable Built Environments. Encyclopedia of Sustainability Science and Technology Series. Springer, New York, NY. https://doi.org/10.1007/978-1-0716-0684-1_351