Senile Plaques
Reference work entry
DOI:
https://doi.org/
10.1007/978-0-387-79948-3_491
Definition
Senile plaques are one of the neuropathological hallmarks of Alzheimer's disease (AD) and are found in the extracellular space between neurons in the brain. Fully formed senile plaques are characterized by a central beta-amyloid core and surrounded by elements of degenerating neurons (dystrophic neurites). Diffuse plaques, by contrast, are widely distributed in the brain, but lack the surrounding neurites. Senile plaque counts, along with neurobrillary tangles, form the basis by which a pathological diagnosis of AD is made. Senile plaques also occur in the brains of elderly individuals without dementia, but are generally of insufficient quantity to meet criteria for a pathological diagnosis of AD (Grabowski & Damasio,
2004
; Morris & Nagy,
2004
). Figure
1
displays senile plaques in brain.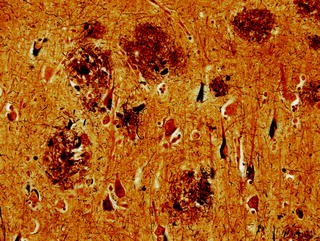 References and Readings
Grabowski, T. J., & Damasio, A. R. (2004). Definition, clinical features and neuroanatomical basis of dementia. In M. M. Esiri, V. M.-Y. Lee, & J. Q. Trojanowski (Eds.),

The neuropathology of dementia

(2nd ed., pp. 1–33). Cambridge: Cambridge University Press.

Google Scholar

Morris, J. H., & Nagy, Z. (2004). Alzheimer's disease. In M. M. Esiri, V. M.-Y. Lee, & J. Q. Trojanowski (Eds.),

The neuropathology of dementia

(2nd ed., pp. 161–206). Cambridge: Cambridge University Press.

Google Scholar
Copyright information
© Springer Science+Business Media, LLC 2011