Abstract:

Dyspnea is a subjective term. Psychosocial or cultural parameters may influence the reaction of individuals to a certain sensation of breathing discomfort. The context in which dyspnea occurs can also impact its perception. Most of underlying diseases of dyspnea are progressive, frustrating and debilitating and their influence permeates every aspect of the patient's life. In most elderly patients with chronic dyspnea, the specific cause of the dyspnea is usually elusive and because of coexistence of multiple causes a specific treatment is not available; so treatment should be aimed at symptom relief.

Research literature concerning dyspnea as a symptom in the elderly is scarce, although much has been written about specific diseases that may cause dyspnea, especially chronic obstructive pulmonary disease (COPD) and chronic heart failure (CHF). As the prevalence of these conditions increases with advancing age, dyspnea becomes an important cause of decrease in quality of life and morbidity in the elderly. To get a better view of this impact we need standardized means to quantify dyspnea. There are several objective instruments available to measure dyspnea. Much of them focus on quantifying the functional consequences of dyspnea, such as decreased activity, which have the potential to dramatically impact quality of life and translate into impairment and disability.

In this chapter diagnostic procedures and measurement of dyspnea and its consequences are discussed. Furthermore, current evidence based effective methods to manage and rehabilitate elderly patient with dyspnea are summarized.
Keywords
Chronic Obstructive Pulmonary Disease

Congestive Heart Failure

Chronic Obstructive Pulmonary Disease Patient

Panic Disorder

Pulmonary Rehabilitation
These keywords were added by machine and not by the authors. This process is experimental and the keywords may be updated as the learning algorithm improves.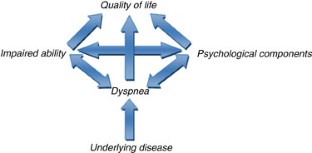 Abbreviations
ABG:

arterial blood gas

ADL:

BDI:

baseline dyspnea index

BNP:

brain natriuretic peptide

CAD:

coronary artery disease

CCQ:

CHF:

chronic heart failure

CHQ:

chronic heart failure questionnaire

COPD:

chronic obstructive pulmonary disease

CRP:

cardiac rehabilitation program

CRQ/CRQ-D:

chronic respiratory questionnaire/-dyspnea subscale

CXR:

chest X ray

ECG:

electrocardiography

FEV1:

forced expiratory volume in 1 s

HRQOL:

health related quality of life

KCCQ:

kansas cardiomyopathy clinical questionnaire

MBS:

modified borg scale

METs:

metabolic equivalent tasks

MLHF:

minnesota living with heart failure

MRC:

medical research council

MVO2:

myocardial volume oxygen (consumption)

NFPD:

non-fearful panic disorder

NYHA:

New York heart association

OT:

occupation therapy

PFSDQ/PFSDQ-M:

pulmonary functional status and dyspnea questionnaire/-modified

QLQ- QOL:

quality of life

SF-36:

short-form 36-item questionnaire

SGRQ:

St. George's respiratory questionnaire

SHF:

quality of life questionnaire in severe heart failure

SIP:

sickness impact profile

SOLQ:

seattle obstructive lung disease questionnaire

TDI:

transition dyspnea index

VAS:

visual analogue scale

WHO:

World Health Organization
References
Albert US, Koller M, Lorenz W, Kopp I, Heitmann C, Stinner B, Rothmund M, Schulz KD. (2002). Breast. 11: 324–334.

American Thoracic Society. (1999). Am J Respir Crit Care Med. 159: 321–340.

Anderson KL, Burckhardt CS. (1999). J Adv Nurs. 29: 298–306.

Apostolakis E, Akinosoglou K. (2007). Am J Cardiol. 100: 911–912.

Austin J, Williams R, Ross L, Moseley L, Hutchison S. (2005). Eur J Heart Fail. 7: 411–417.

Balady GJ, Williams MA, Ades PA, Bittner V, Comoss P, Foody JA, Franklin B, Sanderson B, Southard D. (2007). J Cardiopulm Rehabil Prev. 27: 121–129.

Beitman BD, Basha I, Flaker G, DeRosear L, Mukerji V, Lamberti J. (1987). Behav Res Ther. 25: 487–492.

Bunout D, Barrera G, de la Maza P, Avendano M, Gattas V, Petermann M, Hirsch S. (2001). J Nutr. 131: 2441S–2446S.

Carrasco Garrido P, de Miguel Diez J, Rejas Gutierrez J, Centeno AM, Gobartt Vazquez E, Gil de Miguel A, Garcia Carballo M, Jimenez Garcia R. (2006). Health Qual Life Outcomes. 4: 31.

Christenbery TL. (2005). Heart Lung. 34: 406–414.

Ciccone AM, Meyers BF, Guthrie TJ, Davis GE, Yusen RD, Lefrak SS, Patterson GA, Cooper JD. (2003). J Thorac Cardiovasc Surg. 125: 513–525.

Covey MK, Larson JL, Wirtz SE, Berry JK, Pogue NJ, Alex CG, Patel M. (2001). J Cardiopulm Rehabil. 21: 231–240.

Curkendall SM, DeLuise C, Jones JK, Lanes S, Stang MR, Goehring E Jr, She D. (2006). Ann Epidemiol. 16: 63–70.

Derom E, Marchand E, Troosters T. (2007). Ann Readapt Med Phys. 50: 615–626, 602–614.

Dolansky MA, Moore SM, Visovsky C. (2006). J Gerontol Nurs. 32: 37–44.

Fleet RP, Martel JP, Lavoie KL, Dupuis G, Beitman BD. (2000). Psychosomatics. 41: 311–320.

Guyatt GH, Feeny DH, Patrick DL. (1993). Ann Intern Med. 118: 622–629.

Hanania NA, Darken P, Horstman D, Reisner C, Lee B, Davis S, Shah T. (2003). Chest. 124: 834–843.

Havranek EP, Masoudi FA, Westfall KA, Wolfe P, Ordin DL, Krumholz HM. (2002). Am Heart J. 143: 412–417.

Huijnen B, Horst F, van der van Amelsvoort L, Wesseling G, Lansbergen M, Aarts P, Nicolson N, Knottnerus JA. (2006). Fam Pract. 23: 34–39.

Jaarsma T, Halfens R, Abu-Saad HH, Dracup K, Stappers J, van Ree J. (1999). Eur J Heart Fail. 1: 151–160.

Jolliffe JA, Rees K, Taylor RS, Thompson D, Oldridge N, Ebrahim S. (2004). Cochrane Database Syst Rev. CD001800.

Kayahan B, Karapolat H, Atyntoprak E, Atasever A,Ozturk O. (2006). Respir Med. 100: 1050–1057.

Kroenke K, Mangelsdorff AD. (1989). Am J Med. 86: 262–266.

Kubo SH, Schulman S, Starling RC, Jessup M, Wentworth D, Burkhoff D. (2004). J Card Fail. 10: 228–235.

Kuijpers PM, Honig A, Griez EJ, Braat SH, Wellens HJ. (2000). Ned Tijdschr Geneeskd. 144: 745–749.

Lareau SC, Meek PM, Roos PJ. (1998). Heart Lung. 27: 159–168.

Lesman-Leegte I, Jaarsma T, Sanderman R, Hillege HL, van Veldhuisen DJ. (2008). Eur J Cardiovasc Nurs. 7: 121–126.

Lorenzi CM, Cilione C, Rizzardi R, Furino V, Bellantone T, Lugli D, Clini E. (2004). Respiration. 71: 246–251.

Mahler DA, Fierro-Carrion G, Baird JC. (2003). Clin Geriatr Med. 19: 19–33, v.

Mahler DA, Weinberg DH, Wells CK, Feinstein AR. (1984). Chest. 85: 751–758.

Meek PM. (2004). Chron Respir Dis. 1: 29–37.

Morgan WC, Hodge HL. (1998). Am Fam Physician. 57: 711–716.

Nonoyama ML, Brooks D, Lacasse Y, Guyatt GH, Goldstein RS. (2007). Cochrane Database Syst Rev. CD005372.

O'Connor GT, Buring JE, Yusuf S, Goldhaber SZ, Olmstead EM, Paffenbarger RS Jr, Hennekens CH. (1989). Circulation. 80: 234–244.

Peruzza S, Sergi G, Vianello A, Pisent C, Tiozzo F, Manzan A, Coin A, Inelmen EM, Enzi G. (2003). Respir Med. 97: 612–617.

Puente-Maestu L, Sanz ML, Sanz P, Ruiz de Ona JM, Rodriguez-Hermosa JL, Whipp BJ. (2000). Eur Respir J. 15: 1026–1032.

Rector TS. (2005). J Card Fail. 11: 173–176.

Ries AL, Bauldoff GS, Carlin BW, Casaburi R, Emery CF, Mahler DA, Make B, Rochester CL, Zuwallack R, Herrerias C. (2007). Chest. 131: 4S–42S.

Rutten FH, Cramer MJ, Lammers JW, Grobbee DE, Hoes AW. (2006). Eur J Heart Fail. 8: 706–711.

Schrier AC, Dekker FW, Kaptein AA, Dijkman JH. (1990). Chest. 98: 894–899.

Spector WD, Katz S, Murphy JB, Fulton JP. (1987). J Chronic Dis. 40: 481–489.

Spilker, B, Revicki, DA. (1999). In: Taxonomy of Quality of Life. Quality of Life and Pharmacoeconomics in Clinical Trials. Lippincott-Raven, Philadelphia, pp. 25–32.

Strik JJ, van Praag HM, Honig A. (2003). Tijdschr Gerontol Geriatr. 34: 104–112.

Tessier JF, Nejjari C, Letenneur L, Filleul L, Marty ML, Barberger Gateau P, Dartigues JF. (2001). Eur J Epidemiol. 17: 223–229.

Thoonen BPA, van Weel C. (2002). Huisarts Wet. 45: 414–419.

Vallet G, Ahmaidi S, Serres I, Fabre C, Bourgouin D, Desplan J, Varray A, Prefaut C. (1997). Eur Respir J. 10: 114–122.

Molen T, van der Willemse BW, Schokker S, ten Hacken NH, Postma DS, Juniper EF. (2003). Health Qual Life Outcomes. 1: 13.

Zuwallack R. (2007). Proc Am Thorac Soc. 4: 549–553.
Copyright information

© 2010 Springer Science+Business Media LLC
About this entry
Cite this entry
Hooshiaran, A. et al. (2010). Quality of Life in Elderly Dyspnea Patients. In: Preedy, V.R., Watson, R.R. (eds) Handbook of Disease Burdens and Quality of Life Measures. Springer, New York, NY. https://doi.org/10.1007/978-0-387-78665-0_159
DOI: https://doi.org/10.1007/978-0-387-78665-0_159

Publisher Name: Springer, New York, NY

Print ISBN: 978-0-387-78664-3

Online ISBN: 978-0-387-78665-0

eBook Packages: MedicineReference Module Medicine