Definition
Signature features represent magnitudes that are extracted from digitized signature samples, with the aim of describing each signature as a vector of values. The extraction and selection of optimum signature features is a crucial step when designing a verification system. Features must allow each signature to be described in a way that the discriminative power between signatures produced by different users is maximized while allowing variability among signatures from the same user.
On-line signature features can be divided into two main types. Global features model the signature as a holistic multidimensional vector and represent magnitudes such as average speed, total duration, and aspect ratio. On the other hand, local features are time-functions derived from the signals, such as the pen-position coordinate sequence or pressure signals, captured with digitizer tablets or touch-screens.
In off-line signature verification systems, features...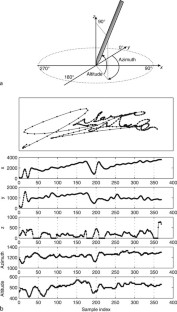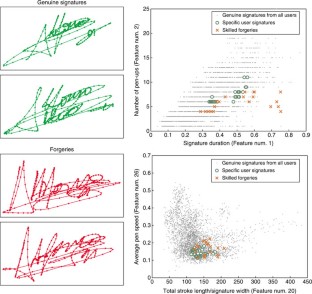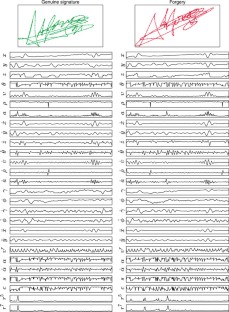 References
Plamondon, R., Lorette, G.: Automatic signature verification and writer identification: the state of the art. Pattern Recogn. 22(2), 107–131 (1989)

Lei, H., Govindaraju, V.: A comparative study on the consistency of features in on-line signature verification. Pattern Recogn. Lett. 26(15), 2483–2489 (2005)

Richiardi, J., Ketabdar, H., Drygajlo, A.: (2005)Local and global feature selection for on-line signature verification. In: Proceedings of IAPR eighth International Conference on Document Analysis and Recognition, ICDAR, Seoul, Korea

Kholmatov, A., Yanikoglu, B.: Identity authentication using improved online signature verification method. Pattern Recogn. Lett. 26(15), 2400–2408 (2005)

Fierrez, J., Ramos-Castro, D., Ortega-Garcia, J., Gonzalez-Rodriguez, J.: HMM-based on-line signature verification: feature extraction and signature modeling. Pattern Recogn. Lett. 28(16), 2325–2334 (2007)

Fierrez-Aguilar, J., Nanni, L., Lopez-Penalba, J., Ortega-Garcia, J., Maltoni, D.: An on-line signature verification system based on fusion of local and global information. In: Proceedings of IAPR International Conference on Audio- and Video-Based Biometric Person Authentication, AVBPA, Springer LNCS-3546, pp. 523–532 (2005)

Jain, A.K., Zongker, D.: Feature selection: evaluation, application, and small sample performance. IEEE Trans. Pattern Anal. Mach. Intell. 19(2), 153–158 (1997)

Nelson, W., Turin, W., Hastie, T.: Statistical methods for on-line signature verification. Int. J. Pattern Recogn. Artif. Intell. 8(3), 749–770 (1994)

Lee, L.L., Berger, T., Aviczer, E.: Reliable on-line human signature verification systems. IEEE Trans. Pattern Anal. Mach. Intell. 18(6), 643–647 (1996)

Dolfing, J.G.A., Aarts, E.H.L., van Oosterhout, J.J.G.M.: On-line signature verification with Hidden Markov Models. In: Proceedings of the International Conference on Pattern Recognition, IEEE Press, pp. 1309–1312 (1998)

Van, B.L., Garcia-Salicetti, S., Dorizzi, B.: On using the Viterbi path along with HMM likelihood information for online signature verification. IEEE Trans. Syst. Man Cybern. B 37(5), 1237–1247 (2007)

Muramatsu, D., Matsumoto, T.: Effectiveness of pen pressure, azimuth, and altitude features for online signature verification. In: Proceedings of IAPR International Conference on Biometrics, ICB, Springer LNCS 4642 (2007)

Martinez-Diaz, M., Fierrez, J., Galbally, J., Ortega-Garcia, J.: Towards mobile authentication using dynamic signature verification: useful features and performance evaluation. In: Proceedings International Conference on Pattern Recognition, ICPR, pp. 1–6 (2008)

Sabourin, R.: In: Off-line signature verification: recent advances and perspectives. Lect. Notes Comput. Sci. 1339 84–98 (1997)

Impedovo, D., Pirlo, G.: Automatic signature verification: The state of the art. IEEE Trans. Syst. Man Cybern. C Appl. Rev. 38(5), 609–635 (2008)
Copyright information
© 2009 Springer Science+Business Media, LLC
About this entry
Cite this entry
Martinez-Diaz, M., Fierrez, J., Hangai, S. (2009). Signature Features. In: Li, S.Z., Jain, A. (eds) Encyclopedia of Biometrics. Springer, Boston, MA. https://doi.org/10.1007/978-0-387-73003-5_139
DOI: https://doi.org/10.1007/978-0-387-73003-5_139

Publisher Name: Springer, Boston, MA

Print ISBN: 978-0-387-73002-8

Online ISBN: 978-0-387-73003-5