Abstract
The present Chapter deals with the wide-band-gap (defined here as greater than 2 eV) Zn chalcogenides, i.e. ZnSe, ZnS, and ZnO (mainly in bulk form). However, since recent literature on ZnS is minimal, the main coverage is of ZnSe and ZnO. In addition Zn1−x Be x Se (x ≤0.5) is included, since Be is expected to reduce degradation (from light irradiation/emission) in ZnSe. The main emphasis for all these materials is on doping, in particular p-type doping, which has been a problem in all cases. In addition, the origin of light emission in ZnO is not yet well established, so this aspect is also briefly covered.
Keywords
Electron Paramagnetic Resonance

Oxygen Vacancy

Electron Nuclear Double Resonance

Excimer Laser Annealing

Metalorganic Molecular Beam Epitaxy
These keywords were added by machine and not by the authors. This process is experimental and the keywords may be updated as the learning algorithm improves.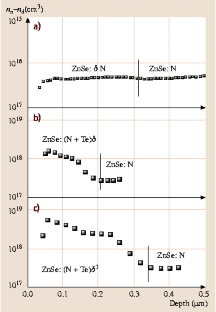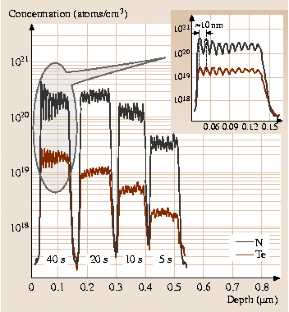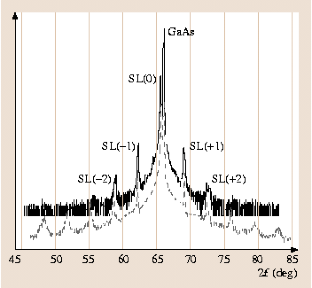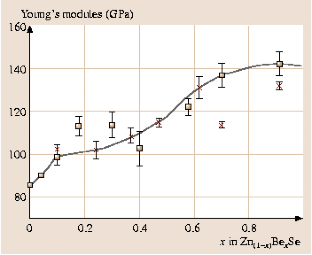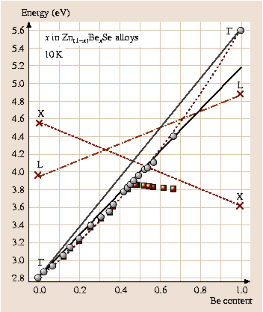 Abbreviations
CV:

chemical vapor

ENDOR:

electron–nuclear double resonance

EPD:

etch pit density

EPR:

electron paramagnetic resonance

HRXRD:

high-resolution X-ray diffraction

IR:

infrared

MBE:

molecular beam epitaxy

ML:

monolayer

MOCVD:

metal-organic chemical vapor deposition

MOMBE:

metalorganic molecular beam epitaxy

MOVPE:

metalorganic vapor phase epitaxy

PL:

photoluminescence

RTA:

rapid thermal annealing

SIMS:

secondary ion mass spectrometry

TEM:

transmission electron microscope

UV:

ultraviolet

XRD:

X-ray diffraction
References
L. Svob, C. Thiandourme, A. Lusson, M. Bouanani, Y. Marfaing, O. Gorochov: Appl. Phys. Lett. 76, 1695 (2000)

S. Kishimoto, T. Hasegawa, H. Kinto, O. Matsumoto, S. Iida: J. Cryst. Growth 214/215, 556 (2000)

S. Kishimoto, A. Kato, A. Naito, Y. Yakamato, S. Lida: Phys. Status Solidi B 229, 391 (2002)

Y. Abiko, N. Nakayama, K. Akimoto, T. Yao: Phys. Status Solidi B 229, 339 (2001)

S. Nakamura, J. Yamaguchi, S. Takagimoto, Y. Yamada, T. Taguchi: J. Cryst. Growth 237/239, 1570 (2002)

S. Kohiki, T. Suzuka, M. Oku, T. Yamamoto, S. Kishimoto, S. Iida: J. Appl. Phys. 91, 760 (2002)

K. Ichino, Y. Matsuki, S. T. Lee, T. Nishikawa, M. Kitagawa, H. Kobayashi: Phys. Status Solidi C 1, 710 (2004)

S. J. Pearton, D. P. Norton, K. Lp, Y. W. Heo, T. Steiner: J. Vac. Sci. Technol. B 22, 932 (2004)

D. C. Look, B. Claflin: Phys. Status Solidi B 241, 624 (2004)

G. F. Neumark: Mater. Lett. 30, 131 (1997)

D. Albert, J. Nürnberger, V. Hock, M. Ehinger, W. Faschinger, G. Landwehr: Appl. Phys. Lett. 74, 1957 (1999)

V. N. Jmerik, S. V. Sorokin, T. V. Shubina, N. M. Shmidt, I. V. Sedova, D. L. Fedorov, S. V. Ivanov, P. S. Kop'ev: J. Cryst. Growth 214/215, 502 (2000)

H. Ebe, B.-P. Zhang, F. Sakurai, Y. Segawa, K. Suto, J. Nishizawa: Phys. Status Solidi B 229, 377 (2002)

K. Katayama, T. Nakamura: J. Appl. Phys. 95, 3576 (2004)

A. Wagg, F. Fischer, H.-J. Lugauer, Th. Litz, T. Gerhard, J. Nürnberger, U. Lunz, U. Zehnder, W. Ossau, G. Landwehr, B. Roos, H. Richter: Mater. Sci. Eng. B 43, 65 (1997)

C. Verie: J. Cryst. Growth 184/185, 1061 (1998)

F. C. Peiris, U. Bindley, J. K. Furdyna, H. Kim, A. K. Raudas, M. Grimsditch: Appl. Phys. Lett. 79, 473 (2001)

S. J. Pearton, C. R. Abernathy, M. E. Overberg, G. T. Thaler, D. P. Northon, N. Theodorpoulou, A. F. Hebard, Y. D. Park, F. Ren, J. Kim, L. A. Boatner: J. Appl. Phys. 93, 1 (2003)

Y. W. Heo, D. P. Norton, L. C. Tien, Y. Kwon, B. S. Kang, F. Ren, S. J. Pearton, J. R. LaRoche: Mater. Sci. Eng. R 47, 1 (2004)

M. A. Haase, H. Cheng, J. M. DePuydt, J. E. Potts: J. Appl. Phys. 67, 448 (1990)

G. F. Neumark, S. P. Herko: J. Cryst. Growth 59, 189 (1982)

C. G. Van de Walle, D. B. Laks, G. F. Neumark, S. T. Pantelides: Phys. Rev. B 47, 9425 (1993)

G. F. Neumark, S. P. Herko, T. F. McGee III, B. J. Fitzpatrick: Phys. Rev. Lett. 53, 604 (1984)

W. Lin, S. P. Guo, M. C. Tamargo, I. Kuskovsky, C. Tian, G. F. Neumark: Appl. Phys. Lett. 76, 2205 (2000)

M. Takemura, H. Goto, T. Ido: Jpn. J. Appl. Phys. 36, L540 (1997)

H. Goto, T. Ido, A. Takatasuka: J. Cryst. Growth 214/215, 529 (2000)

H. Kalisch, H. Hamadeh, R. Rüland, J. Berntgen, A. Krysa, M. Hluken: J. Cryst. Growth 214/215, 1163 (2000)

M. Prokesch, K. Irmscher, U. Rinas, H. Makino, T. Yao: J. Cryst. Growth 242, 155 (2002)

Y. Hatanaka, M. Niraula, A. Nakamura, T. Aoki: Appl. Surf. Sci. 175/176, 462 (2001)

I. Suemune, H. Ohsawa, T. Tawara, H. Machida, N. Shimoyama: J. Cryst. Growth 214/215, 562 (2000)

M. Yoneta, H. Uechi, K. Nanami, M. Ohishi, H. Saito, K. Yoshino, K. Ohmori: Physica B 302, 166 (2001)

J. Hirose, I. Suemune, A. Ueta, H. Machida, N. Shimoyama: J. Cryst. Growth 214/215, 524 (2000)

I. L. Kuskovsky, Y. Gu, Y. Gong, H. F. Yan, J. Lau, G. F. Neumark, O. Maksimov, X. Zhou, M. C. Tamargo, V. Volkov, Y. Zhu, L. Wang: Phys. Rev. Lett. B 73, 195306 (2006)

O. Schulz, M. Strassburg, T. Rissom, U. W. Pohl, D. Bimberg, M. Klude, D. Hommel: Appl. Phys. Lett. 81, 4916 (2002)

E. D. Sim, Y. S. Joh, J. H. Song, H. L. Park, S. H. Lee, K. Jeong, S. K. Chang: Phys. Status Solidi B 229, 213 (2002)

H. D. Jung, C. D. Song, S. Q. Wang, K. Arai, Y. H. Wu, Z. Zhu, T. Yao, H. Katayama-Yoshida: Appl. Phys. Lett. 70, 1143 (1997)

S. Z. Wang, S. F. Yoon, L. He, X. C. Shen: J. Appl. Phys. 90, 2314 (2001)

M. Yoneta, K. Nanami, H. Uechi, M. Ohishi, H. Saito, K. Yoshino: J. Cryst. Growth 237/239, 1545 (2002)

Y. Gu, I. L. Kuskovsky, G. F. Neumark, X. Zhou, O. Maksimov, S. P. Guo, M. C. Tamargo: J. Lumin. 104, 77 (2003)

D. C. Oh, J. S. Song, J. H. Chang, T. Takai, T. Handa, M. W. Cho, T. Yao: Mater. Sci. Semicond. Process. 6, 567 (2003)

D. C. Oh, J. H. Chang, T. Takai, J. S. Song, K. Godo, Y. K. Park, K. Shindo, T. Yao: J. Cryst. Growth 251, 607 (2003)

H. Kato, H. Udono, I. Kikuma: J. Cryst. Growth 229, 79 (2001)

M. Yoneta, T. Kubo, H. Kato, K. Yoshino, M. Ohishi, H. Saito, K. Ohmori: Phys. Status Solidi B 229, 291 (2002)

K. Lott, O. Volobujeva, A. Öpik, T. Nirk, L. Türn, M. Noges: Phys. Status Solidi C 0, 618 (2003)

J. F. Wang, D. Masugata, C. B. Oh, A. Omino, S. Seto, M. Isshikim: Phys. Status Solidi A 193, 251 (2002)

U. W. Pohl, J. Gottfriedsen, H. Schumann: J. Cryst. Growth 209, 683 (2000)

M. U. Ahmed, S. J. C. Irvine: J. Electron. Mater. 29, 169 (2000)

P. J. Dean, W. Stutius, G. F. Neumark, B. J. Fitzpatrick, R. N. Bhargava: Phys. Rev. B 27, 2419 (1983)

P. Prete, N. Lovergine: Prog. Cryst. Growth Char. Mater. 44, 1 (2002)

Y. Fujita, T. Terada, T. Suzuki: Jpn. J. Appl. Phys. 34, L1034 (1995)

C. M. Rouleau, D. H. Lowndes, G. W. McCamy, J. D. Budai, D. B. Poker, D. B. Geohegan, A. A. Puretzky, S. Zhu: Appl. Phys. Lett. 67, 2545 (1995)

T. Baron, K. Saminadayar, N. Magnea: J. Appl. Phys. 83, 1354 (1998)

S. Takagi: Acta Crystallogr. 15, 1311 (1962)

D. Taupin: Bull. Soc. Franc. Miner. Crystallogr. 88, 469 (1964)

M. A. G. Halliwell, M. H. Lyons, M. J. Hill: J. Cryst. Growth 68, 523 (1984)

Y. Gu, I. L. Kuskovsky, M. van der Voort, G. F. Neumark, X. Zhou, M. C. Tamargo: Phys. Rev. B 71, 045340 (2005)

W. Lin, B. S. Yang, S. P. Guo, A. Elmoumni, F. Fernandez, M. C. Tamargo: Appl. Phys. Lett. 75, 2608 (1999)

N. J. Duddles, K. A. Dhese, P. Devine, D. E. Ashenford, C. G. Scott, J. E. Nicholls, J. E. Lunn: J. Appl. Phys. 76, 5214 (1994)

S. W. Lim, T. Honda, F. Koyama, K. Iga, K. Inoue, K. Yanashima, H. Munekata, H. Kukimoto: Appl. Phys. Lett. 65, 2437 (1994)

G. F. Neumark, R. M. Park, J. M. Depudyt: Phys. Today 47 (6), 26 (1994)

M. Strassburg, O. Schulz, U. W. Pohl, D. Bimberg, S. Itoh, K. Nakano, A. Ishibashi, M. Klude, D. Hommel: IEEE J. Sel. Top. Quant. Electron. 7, 371 (2001)

K. W. Kwak, R. D. King-Smith, D. Vanderbilt: Physica B 185, 154 (1993)

B.-H. Cheong, C. H. Park, K. J. Chang: Phys. Rev. B 51, 10610 (1995)

W. Faschinger, S. Gundel, J. Nürnberger, D. Albert: Proc. Conf. Optoelectronic and Microelectronic Materials and Devices (IEEE, Piscataway 2000) p. 41

S. Gundel, W. Faschinger: Phys. Rev. B 65, 035208 (2001)

I. L. Kuskovsky, G. F. Neumark, J. G. Tischler, B. A. Weinstein: Phys. Rev. B 63, 161201 (2001)

P. Desgardin, J. Oila, K. Sarrnen, P. Hautojärvi, E. Tournié, J.-P. Faurie, C. Corbel: Phys. Rev. B 62, 15711 (2000)

S. Tomiya, S. Kijima, H. Okuyama, H. Tsukamoto, T. Hino, S. Taniguchi, H. Noguchi, E. Kato, A. Ishibashi: J. Appl. Phys. 86, 3616 (1999)

F. El. Akkad: Semicond. Sci. Technol. 2, 629 (1987)

A. Kamata, H. Yoshida: Jpn. J. Appl. Phys. (Pt. 2) 135, L87 (1996)

S. E. Grillo, M. Ducarrori, M. Nadal, E. Tournié, J.-P. Faurie: J. Appl. Phys. D: Appl. Phys. 35, 3015 (2002)

C. Chauvet, E. Tournié, J.-P. Faurie: Phys. Rev. B 61, 5332 (2000)

V. Bousquet, E. Tournié, M. Laügt, P. Venéguès, J.-P. Faurie: Appl. Phys. Lett. 70, 3564 (1997)

J. P. Faurie, V. Bousquet, P. Brunet, E. Tournié: J. Cryst. Growth 184/185, 11 (1998)

M. Malinski, L. Bychto, S. Legowski, J. Szatkowski, J. Zakrzewski: Microelectron. J. 32, 903 (2001)

S. P. Guo, W. Lin, X. Zhou, M. C. Tamargo, C. Tian, I. L. Kuskovsky, G. F. Neumark: J. Appl. Phys. 90, 1725 (2001)

D. C. Look, G. M. Renlund, R. H. Burgener II, J. R. Sizelove: Appl. Phys. Lett. 85, 5268 (2004)

Y. R. Ryu, T. S. Lee, H. W. White: Appl. Phys. Lett. 83, 87 (2003)

K.-K. Kim, H. S. Kim, D.-K. Hwang, J.-H. Lim, S.-J. Park: Appl. Phys. Lett. 83, 63 (2003)

J. M. Bian, X. M. Li, C. Y. Zhang, W. D. Yu, X. D. Gao: Appl. Phys. Lett. 85, 4070 (2004)

B. S. Li, Y. C. Liu, Z. Z. Zhi, D. Z. Shen, Y. M. Lu, J. Y. Zhang, X. W. Fan, R. X. Mu, D. O. Henderson: J. Mater. Res. 18, 8 (2003)

C. C. Lin, S. Y. Shen, S. Y. Cheng, H. Y. Li: Appl. Phys. Lett. 84, 5040 (2004)

W. Xu, Z. Ye, T. Zhou, B. Zhao, L. Zhu, J. Huang: J. Cryst. Growth 265, 133 (2004)

X. Li, Y. Yan, T. A. Gessert, C. L. Perkins, D. Young, C. DeHart, M. Young, T. J. Coutts: J. Vac. Sci. Technol. A 21, 1342 (2003)

J. G. Lu, Z. Z. Ye, F. Zhuge, Y. J. Zeng, B. H. Zhao, L. P. Zhu: Appl. Phys. Lett. 85, 3134 (2004)

J. M. Bian, X. M. Li, X. D. Gao, W. D. Yu, L. D. Chen: Appl. Phys. Lett. 84, 541 (2004)

Y. W. Heo, K. Ip, S. J. Park, S. J. Peaton, D. P. Norton: Appl. Phys. A 78, 53 (2004)

A. B. Djurišić, Y. Chan, E. H. Li: Mater. Sci. Eng. R 38, 237 (2002)

D. C. Look, J. W. Hemsky, J. R. Sizelove: Phys. Rev. Lett. 82, 2552 (1999)

S. B. Zhang, S.-H. Wei, A. Zunger: Phys. Rev. B 63, 075205 (2001)

C. G. Van de Walle: Phys. Rev. Lett. 85, 1012 (2000)

D. M. Hofmann, A. Hofstaetter, F. Leiter, H. Zhou, F. Henecker, B. K. Meyer, S. B. Orlinskii, J. Schmidt, P. G. Baranov: Phys. Rev. Lett. 88, 045504 (2002)

E. V. Lavrov, J. Weber, F. Börnert, C. G. Van de Walle, R. Helbig: Phys. Rev. B 66, 165205 (2001)

M. D. McCluskey, S. J. Jokela, K. K. Zhuravlev, P. J. Simpson, K. G. Lynn: Appl. Phys. Lett. 81, 3807 (2002)

D. C. Look, R. L. Jones, J. R. Sizelove, N. Y. Garces, N. C. Giles, L. E. Halliburton: Phys. Status Solidi A 195, 171 (2003)

B. K. Meyer, H. Alves, D. M. Hofmann, W. Kriegseis, D. Forster, F. Bertram, J. Christen, A. Hoffmann, M. Straßburg, M. Dworzak, U. Haboeck, A. V. Rodina: Phys. Status Solidi B 241, 231 (2004)

F. A. Kroger, H. J. Vink: J. Chem. Phys. 22, 250 (1954)

K. Vanheusden, C. H. Seager, W. L. Warren, D. R. Tallent, J. A. Voigt: Appl. Phys. Lett. 68, 403 (1996)

K. Vanheusden, W. L. Warren, C. H. Seager, D. R. Tallent, J. A. Voight: J. Appl. Phys. 79, 7983 (1996)

C. Morhain, M. Teisseire-Doninelli, S. Vézian, C. Deparis, P. Lorenzini, F. Raymond, J. Guion, G. Neu: Phys. Status Solidi B 241, 631 (2004)

H. J. Ko, Y. F. Chen, S. K. Hong, H. Wenisch, T. Yao, D. C. Look: Appl. Phys. Lett. 77, 3761 (2000)

D. C. Look, B. Claflin, Ya. I. Alivov, S. J. Park: Phys. Stat. Sol. A 201, 2203 (2004)

C. H. Park, S. B. Zhang, S.-H. Wei: Phys. Rev. B 66, 073202 (2002)

S. Orlinskii, J. Schmdit, P. G. Baranov, D. M. Hofmann, C. de M. Donegá, A. Meijerink: Phys. Rev. Lett. 92, 047603 (2004)

H.-J. Ko, Y. Chen, S.-K. Hong, T. Yao: J. Cryst. Growth 251, 628 (2003)

L. G. Wang, A. Zunger: Phys. Rev. Lett. 90, 256401 (2003)

M. Sumiya, A. Tsukazaki, S. Fuke, A. Ohtomo, H. Koinuma, M. Kawasaki: Appl. Surf. Sci. 223, 206 (2004)

S. Limpijumnong, S. B. Zhang, S.-H. Wei, C. H. Park: Phys. Rev. Lett. 92, 155504 (2004)

C. Morhain, M. Teisseire, S. Vézian, F. Vigué, F. Raymond, P. Lorenzini, J. Guion, G. Neu, J.-P. Faurie: Phys. Status Solidi B 229, 881 (2002)

D. C. Look, B. Claflin, Ya. I. Alivov, S. J. Park: Phys. Status Solidi A 201, 2203 (2004)

E.-C. Lee, K. J. Chang: Phys. Rev. B 70, 115210 (2004)

G. F. Neumark: Phys. Rev. Lett. 62, 1800 (1989)

G. Blattner, C. Klingshirn, R. Helbig, R. Meinl: Phys. Status Solidi B 107, 105 (1981)

C. Klingshirn, W. Maier, G. Blatter, P. J. Dean, G. Klobbe: J. Cryst. Growth 59, 352 (1982)

J. Gutowski, N. Presser, I. Broser: Phys. Rev. B 38, 9746 (1988)

D. Block, A. Hervé, R. T. Cox: Phys. Rev. B 25, 6049 (1982)

C. Gonzalez, D. Block, R. T. Cox, A. Hervé: J. Cryst. Growth 59, 357 (1982)

X. Liu, X. Wu, H. Cao, R. P. H. Chang: J. Appl. Phys. 95, 3141 (2004)

B. Lin, Z. Fu, Y. Jia: Appl. Phys. Lett. 79, 943 (2001)

D. Banejee, J. Y. Lao, D. Z. Wang, J. Y. Huang, Z. F. Ren, D. Steeves, B. Kimball, M. Sennett: Appl. Phys. Lett. 83, 2061 (2003)

T.-B. Hur, G. S. Jeen, Y.-H. Hwang, H.-K. Kim: J. Appl. Phys. 94, 5787 (2003)

P. H. Hasai: Phys. Rev. 130, 989 (1963)

M. Liu, A. H. Kitai, P. Mascher: J. Lumin. 54, 35 (1992)

D. C. Reynolds, S. C. Look, B. Jogai, H. Morkoc: Solid State Commun. 101, 643 (1997)

D. C. Reynolds, S. C. Look, B. Jogai: J. Appl. Phys. 89, 6189 (2001)

N. Y. Garces, L. Wang, L. Bai, N. C. Giles, I. E. Halliburton, G. Cantwell: Appl. Phys. Lett. 81, 622 (2002)

D. Li, H. Leung, A. B. Djurišić, Z. T. Liu, M. H. Xie, S. L. Shi, S. J. Xu, W. K. Chan: Appl. Phys. Lett. 85, 1601 (2004)

Y. Gu, I. L. Kuskovsky, M. Yin, S. O'Brien, G. F. Neumark: Appl. Phys. Lett. 85, 3833 (2004)

H. S. Kang, J. S. Kang, J. W. Kim, S. Y. Lee: Phys. Status Solidi C 1, 2550 (2004)

Y. Harada, S. Hashimoto: Phys. Rev. B 68, 045421 (2003)
About this entry
Cite this entry
Neumark, G., Gong, Y., Kuskovsky, I. (2006). Doping Aspects of Zn-Based Wide-Band-Gap Semiconductors. In: Kasap, S., Capper, P. (eds) Springer Handbook of Electronic and Photonic Materials. Springer Handbooks. Springer, Boston, MA. https://doi.org/10.1007/978-0-387-29185-7_35
DOI: https://doi.org/10.1007/978-0-387-29185-7_35

Publisher Name: Springer, Boston, MA

Print ISBN: 978-0-387-26059-4

Online ISBN: 978-0-387-29185-7