Angiospermae
Reference work entry
DOI:
https://doi.org/
10.1007/3-540-31078-9_8
The angiosperms are plants bearing reproductive structures organized as flowers. They constitute the major element of the modern flora, with some 220,000 species distributed among 12,000 genera and 330 families. The characteristic feature of the angiosperms is the flower which, phylogenetically, represents a vegetative shoot modified for reproduction (
Fig. 1
). According to this view, proposed by the German philosopher Goethe in 1790, the sepals, petals, stamens, and pistil are modified leaves borne on an axis with shortened internodes. The product of reproduction in the angiosperms, as in the gymnosperms, is the seed; but in the flowering plants, this structure is borne within a fruit, as opposed to the gymnosperm seed, which is exposed on the surface of the cone scale.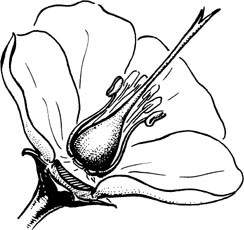 Copyright information
© Dowden, Hutchinson & Ross, Inc. 1979