Arctic beaches
Reference work entry
DOI:
https://doi.org/
10.1007/3-540-31060-6_13
The major difference between beach processes in the arctic and elsewhere in the world is the cessation of wave action during extensive periods when the sea is covered by ice. Processes related to freezing affect only the uppermost part of an arctic beach, so evidence for such processes is rarely preserved in the geologic record. Disruption of the beach sediment by wind-blown and current-driven pack ice tends to be rather superficial. A shelf of sea ice freezes to the bottom along the shore (
Fig. 1
), and usually this shelf stops any landward movement of the ice. Where part of an ice floe may be driven onto the land, it generally rides up over the shelf of fast ice and builds a spectacular and chaotic pile on the frozen beach behind but does not disturb its sediment greatly. An aerial inspection of the arctic coast of Alaska in the spring of 1960 revealed that such piles of ice occurred along about 10% of the shore.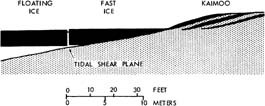 References
Hume, J. D., and Schalk, M., 1967, Shoreline processes near Barrow, Alaska: A comparison of the normal and the catastrophic, Arctic, 20, 86–103.

Google Scholar

Moore, G. W., 1966, Arctic Beach Sedimentation, in (Wilimovsky, N. J., and Wolfe, J. N., editors) Environment of the Cape Thompson Region, Alaska. pp. 587–608, Oak Ridge, Tenn., U.S. Atomic Energy Commission Rept. PNE-481.

Google Scholar

Moore, G. W., and Giddings, J. L., 1962, Record of 5000 years of Arctic wind direction recorded by Alaskan beach ridges, Geol. Soc. Am. Spec. Paper 68, 232.

Google Scholar
Copyright information
© Reinhold Book Corporation 1968