Blowpipe analysis
Reference work entry
DOI:
https://doi.org/
10.1007/0-387-30844-X_11
Blowpipe analysis
refers to the series of physical and chemical tests made using the flame of a
blowpipe
. The blowpipe is a metal tube about 25 cm long, tapering from a diameter of about 8 mm to an orifice of about 0.3 mm at the tip. It is usually made of brass and bent at the right angle near the tip so the operator can observe the flame (
Berzelius, 1845
; Fletcher, 1894). The operator places the tip of the blowpipe in the luminous flame of a Bunsen burner, alcohol lamp, or broad wick candle and blows a jet of air into the flame. This produces an elongated flame (
Fig. 1
) composed of a low–temperature inner blue cone of unburned gases, a visible flame in which gases are rapidly oxidized (the reducing flame), and an invisible outer zone of high temperature in which no gas combustion takes place (the oxidizing flame) (
Butler, 1910
).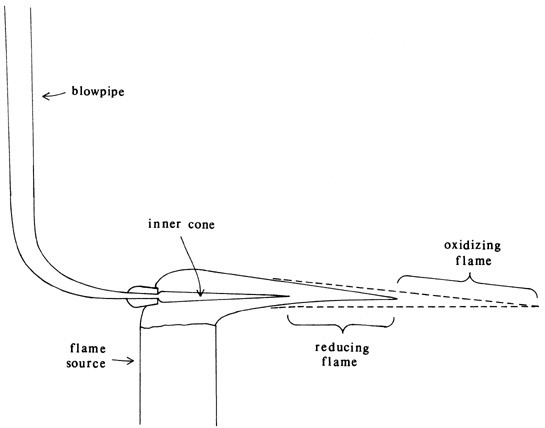 Copyright information
© Van Nostrand Reinhold Company Inc. 1988