Abstract
Gram-negative gliding bacteria that form helical, multicellular filaments are grouped in the genus Saprospira (Fig. 1). All known species live in aquatic environments. They are moderately common but relatively difficult to isolate and therefore have not been studied very well, although some of them can be cultivated without problems. Relatively little has been added to our knowledge of Saprospira since the first edition of The Prokaryotes (Reichenbach and Dworkin, 1981).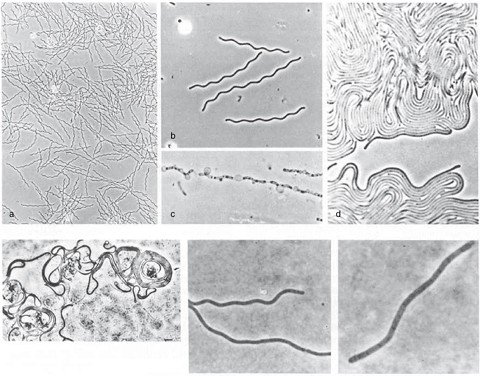 The genus Saprospira was defined by Gross (1911). He described two marine species, S. grandis and S. nana, of which only the former has since been isolated by other investigators. The two organisms differed considerably in their dimensions, as shown in Table 1, which lists some characteristics of the known strains of the genus.
Table 1.
Characteristics of the Saprospira strains.
Strain

Morphological characteristic (µm)a

GC content (mol%)

Habitat

Length of filament

Diameter of filament

Width of helix

Pitch of helix

Length of cell

S. grandis, Gross 1911

6–100

0.8

 

6–6.5

1.5–2.2

 

Marine

S. grandis, Lewin 1962

10–500

0.8–1.2

1.5–2

4–10

1–2.5

46–48

Marine

S. grandis, Dimitroff 1926b

50–90

1.2–1.4c

 

20–28

 
 

Oyster, marine

S. grandis, Reichenbach 1980

15–450

0.8–0.9

1.4–1.8

5–6.5

2.7–5.5

47

Marine

S. nana, Gross 1911

36

0.5

 

2.3–3

1.5–3

 

Marine

S. gigantea, Warming 1875

About 400

1.5–3

5–9

25–40

 
 

Marine

S. toviformis, Lewin and Mandel 1970

10–500

0.8

1.5

4–9

1–2.5

38

Marine

S. lepta, Dimitroff 1926b,d

54–92

0.5

1.6–4.8

5–13

 
 

Oyster, marine

S. puncta, Dimitroff 1926b,d

60–100

0.9–1.2

 

4–8

 
 

Oyster, marine

S. albida, Kolkwitz 1909

 

1

4–5

 
 
 

Fresh water

S. albida, Dyar 1947

About 400

 

2

3–6.5

 
 

Fresh water

S. albida, Lewin 1965b

10–500

0.8–1.2

1.5–2

3–7

2–3

40–43

Fresh water

S. albida, Ashton and Roberts 1987

10–450

0.8–0.9

1.4–1.6

2.9–4.9

2.1–2.7

 

Fresh water

S. flexuosa, Dobell 1912e

3–50

0.8

2

3

 
 

Fresh water

S. spiroidea, Skuja 1948f

10–250

0.3–0.5

2.8–5.7

9–25

3–15

 

Fresh water

S. flammula, Lewin 1965b

10–500

1.0

1.5

3–4

2–3

48

Fresh water

S. thermalis, Lewin 1965a

10–500

1.0

1.5–2.5

7–17

2–5

35–37

Fresh water
It seems, however, that at least three other investigators had observed saprospiras before Gross. Kolkwitz (1909) described a freshwater saprospira under the name of Spirulina albida. He obviously believed his organism to be an apochlorotic blue-green "alga" (cyanobacterium).
In 1875, van Tieghem (1880) observed a delicate white scum that resembled Beggiatoa covering the mud in the water course of an old mill. Under the microscope, he discovered that the organism consisted of long, fine, helical filaments that were so tightly wound up that the coils touched. The helices moved by rotation around their long axis. The long filaments were also actively bending. He called this organism Spirulina alba, thereby deliberately emphasizing its close affinity to the blue-green algae of the same genus. Although his description is rather scant, it seems almost certain that he was dealing with a Saprospira species.
In the same year, Warming (1875) observed a very large helical organism in marine debris from the Danish coast and named it Spirochaeta gigantea. From his careful description, one can deduce that this organism, too, may have been a Saprospira species.
Not much was published in the five decades following the definition of the genus. In addition, until the middle of the 20th century, Saprospira was regularly regarded as belonging to the spirochetes, which caused considerable confusion. Gross (1912) himself stressed the similarity between Cristispira, which was also first defined by him, and Saprospira. To him and most other investigators at the time, the latter was essentially a spirochete without a crista or an axial filament. Unfortunately, in stained preparations, both organisms also showed a multichambered aspect, which was in fact a staining artifact but obscured the difference in organization of the two bacteria. Dobell (1912) described a new freshwater species, Saprospira flexuosa. From the careful description given by Dobell, one may deduce that his organism really was a Saprospira, perhaps S. albida as suggested by Lewin (1962), although this point cannot be decided because we do not know how many different freshwater saprospiras exist. During a study on helical bacteria in the digestive tract of oysters, Dimitroff (1926) observed several types of organisms which he regarded as saprospiras. One he identified with S. grandis, the others he described as new species, S. lepta and S. puncta. His account of the movements of his isolate of S. grandis leaves considerable doubt whether the bacterium was really Saprospira. On the other hand, he observed true cristispiras under the microscope and distinguished their very fast movements quite clearly from those of Saprospira. If one takes into account the fact that before the days of the phase contrast microscope, it was not so easy to observe living bacteria, it is easier to understand this uncertainty. It might be worthwhile to investigate again for the presence of saprospiras in shellfish. The two new species could never be observed by Dimitroff in the living state so their motility behavior is not known. They both had long, tapering ends with a sharp point, which is not known for any Saprospira species. The giant, gliding "spirochete" observed by Soriano in an enrichment culture and very briefly mentioned by him in the legend to a rather suggestive drawing (Soriano, 1945), was probably a (freshwater) saprospira. Dyar (1947) described the isolation and cultivation of a freshwater "spirochete." This organism resembled Saprospira in many respects and indeed was later identified with S. albida by Pringsheim (1963). Skuja (1948) described the new species, Achroonema spiroideum, from Swedish lakes. The organism was later equated with S. albida (Lewin, 1962), but the very lax coils typical for Achroonema spiroideum leave some doubts whether this assignment is correct.
Many details about the morphology and physiology of the saprospiras were elucidated between 1960 and 1970 through the research of Lewin and his collaborators, who also defined several new species and emended the taxonomic position of the genus (Lewin, 1962, 1965a, 1965b, 1969, 1972; Lewin and Lounsbery, 1969; Lewin and Mandel, 1970). The phylogenetic relationship of Saprospira grandis was recently established by 16S rRNA oligonucleotide cataloging: The organism belongs to the Bacteroides-Flavobacterium-Cytophaga phylum (Paster et al., 1985). A relationship with the cyanobacterium Spirulina has specifically been ruled out (Reichenbach et al., 1986).
A short review of the genus Saprospira has recently been published (Reichenbach, 1989). A movie showing the movements and the development of the swarm colonies of Saprospira is also available (Reichenbach et al., 1975/1976; Reichenbach, 1980).
Keywords
Artificial Seawater 
Freshwater Species 
Casamino Acid 
Axial Filament 
Crude Culture 
These keywords were added by machine and not by the authors. This process is experimental and the keywords may be updated as the learning algorithm improves.