Phytotelmata are pools of water impounded by terrestrial plants. The structures that impound them are modified leaves, leaf axils, flowers, perforated internodes of plants that have internodes (such as bamboos), rot-holes in tree trunks or branches (henceforth called treeholes), open fruits, and fallen leaves. This expression, derived from the Greek words for plant and pool, was coined by Varga (1928) who wrote in German, with a companion paper in Hungarian. Maguire (1971) popularized its acceptance into English. The plural is phytotelmata (correctly pronounced phyto.TELM.ata, where the capital letters indicate location of the stressed syllable), in keeping with other plural words ending in -ata in Greek such as stemmata and stomata. The singular is phytotelma (compare with soma, stemma and stoma). The singular has been further Anglicized to phytotelm, which serves as a noun and as an adjective.
Phytotelmata formed by leaves, flowers and internodes of living plants are found in members...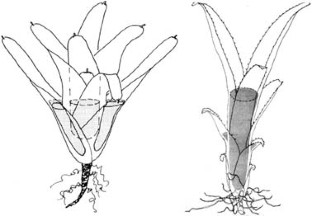 References
Frank, J. H. 1996. Bromeliad phytotelmata. (available: http://bromeliadbiota.ifas.ufl.edu)

Frank, J. H., and L. P. Lounibos (eds.). 1983.Phytotelmata:terrestrial plants as hosts for aquatic insect communities. Plexus, Medford, New Jersey. 293 pp.

Kitching, R. L. 2000. Food webs and container habitats: the natural history and ecology of phytotelmata. Cambridge University Press, Cambridge, England. 431 pp.

Kitching, R. L. 2001. Food webs in phytotelmata: "bottom-up" and "top-down" explanations for community structure. Annual Review of Entomology 46: 729–760.

Maguire, B. 1971. Phytotelmata: biota and community structure determination in plant-held waters. Annual Review of Ecology and Systematics 2: 439–464.

Varga, L. 1928. Ein interessanter Biotop der Biocönose von Wasserorganismen. Biologisches Zentralblatt 48: 143–162.
About this entry
Cite this entry
Frank, J.H. (2004). Phytotelmata. In: Encyclopedia of Entomology. Springer, Dordrecht. https://doi.org/10.1007/0-306-48380-7_3252
DOI: https://doi.org/10.1007/0-306-48380-7_3252

Publisher Name: Springer, Dordrecht

Print ISBN: 978-0-7923-8670-4

Online ISBN: 978-0-306-48380-6