XtalFluor Deoxofluorination
Living reference work entry
DOI:
https://doi.org/
10.1007/978-981-10-1855-8_65-1
Introduction
The introduction of fluorine atoms into organic molecules often alters the latter's chemical, physical, and biological properties [1]; and many developed pharmaceuticals and agrochemicals contain at least one fluorine atom. The unique effect of fluorine substitution has intrigued widespread interest and increasing demand for the synthesis of organofluorine compounds. Among various methodologies for incorporating fluorine atoms [2, 3, 4, 5, 6], deoxofluorination plays a significant role and numerous deoxofluorination reagents have been developed [6, 7, 8, 9, 10].
Nowadays, diethylaminosulfur trifluoride (DAST) and bis(2-methoxyethyl)aminosulfur trifluoride (Deoxo-Fluor) are the most widely used sulfur-based deoxofluorination reagents [
11
]. Compared to their parent gaseous reagent SF
4
[
12
], DAST and Deoxo-Fluor are liquid, which means that they are easier to operate and more convenient to store. These two deoxofluorination reagents show high reactivity towards alcohols, aldehydes, ketones, and carboxylic acids without pre-activation. Therefore, DAST and Deoxo-Fluor have been widely used in deoxofluorination reactions. However, they are proved to be thermally unstable and highly explosive [
13
]. To address the safety problem associated with their applications, diethylaminodifluorosulfinium tetrafluoroborate (XtalFluor-E) and morpholinodifluorosulfinium tetrafluorobotate (XtalFluor-M) were developed as crystalline solid reagents, which are more stable and convenient than DAST, Deoxo-Fluor, and other analogues (Fig.
1
) [
14
]. This short review focuses on the use of XtalFluor-E and XtalFluor-M as deoxofluorination reagents. Herein, we give a brief introduction on the synthesis, properties, and C-F bond formation reactions of XtalFluor reagents.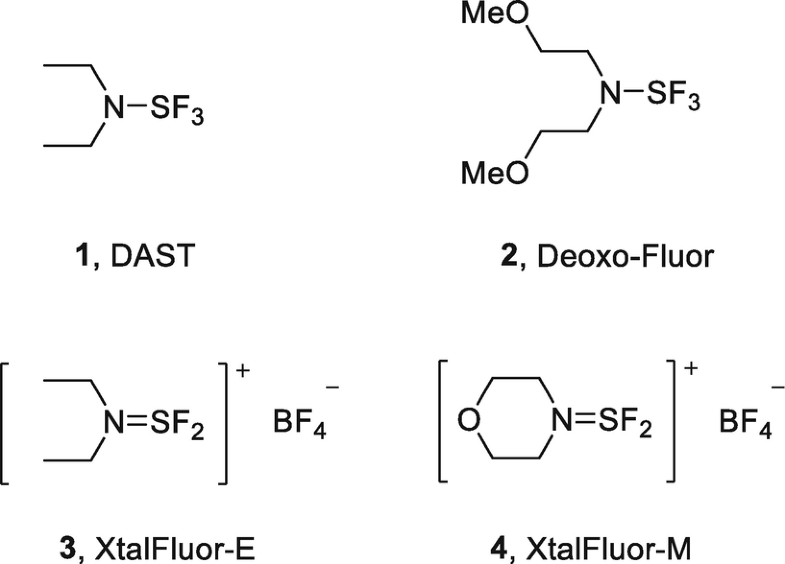 Synthesis of Dialkylaminodifluorosulfinium Tetrafluoroborates
Early in 1977, Markovskii and co-workers described that diethylaminosulfur trifluoride (DAST) and the dimethylamino, piperidino, and morpholino analogues all reacts with BF
3
·Et
2
O to form the corresponding diakylamniodifluorosulfinium tetrafluoroborates [
15
]. After that, various dialkylaminodifluorosulfinium salts were prepared [
16
,
17
,
18
,
19
,
20
]. The deoxofluorination capability of these compounds had been neglected for more than three decades. In 2009, Couturier and coworkers modified Markovskii's original procedures, and synthesized several dialkylaminodifluorosulfinium salts by direct addition of BF
3
THF into crude dialkylaminosulfur trifluoride (prepared from
N
,
N
-dialkyltrimethylsilylamine and SF
4
in dichloromethane) [
21
,
22
]. Crystalline XtalFluor-E can be prepared in the polymorphic form with an isolated yield of 90% (Scheme
1
) [
22
]. An evaluation on their reactivity first demonstrated that both XtalFluor-E and XtalFluor-M can act as efficient deoxofluorination reagents [
22
].

DSC Analysis of Dialkylaminodifluorosulfinium Tetrafluoroborates
An assessment on the thermal stability of several deoxofluorination reagents is conducted using differential scanning calorimetry (DSC) analysis (Table
1
) [
22
]. DAST decomposes at 140 °C, releasing 1700 J/g of energy, and Deoxo-Fluor decomposes at 140 °C with 1100 J/g. On the other hand, XtalFluor-E with a melting point of 83–84 °C showed decomposition at 215 °C with a release of 661 J/g, and XtalFluor-M melting at 122–125 °C decomposed at 242 °C with a release of only 388 J/g. These data suggested that the temperatures of reactions using DSAT or Deoxo-Fluor should be carefully controlled in case of explosion. Compared to DSAT and Deoxo-Fluor, XtalFluor-E and XtalFluor-M each having a higher decomposition temperature and a lower exothermic heat generated during decomposition tend to be more stable and safer reagents.
Table 1
DSC analyses of Dialkylaminodifluorosulfinium Tetrafluoroborate salts
Compound

Mp (°C)

DSC

Tdec (°C)

−ΔHdec (J/g)

DAST

 

140

1700

Dexo-Fluor

 

140

1100

XtalFluor-E

83–84

215

661

XtalFluor-M

122–125

242

388
Deoxofluorination with Dialkylaminodifluorosulfinium Tetrafluoroborates
Conclusion and Future Directions
In conclusion, we showed a brief introduction on the synthesis, properties, and deoxofluorination reactions of dialkylaminodifluorosulfinium tetrafluoroborates (XtalFluors). These new crystalline reagents are more easily handled and significantly more stable than DAST and Deoxo-Fluor. Moreover, fluorination with XtalFluor reagents exhibited greater selectivity by providing less elimination byproduct as compared to DAST and Deoxo-Fluor.
Copyright information
© Springer Nature Singapore Pte Ltd. 2019