SelectFluor and Its Analogs Fluorination for Preparing Aryl Fluorides
Living reference work entry
DOI:
https://doi.org/
10.1007/978-981-10-1855-8_51-1
Introduction
Selectfluor (Fig.
1
) is a mild, reliable, effective, and stable source of electrophilic fluorine, which lends itself to large-scale synthesis and is commercially available [
1
]. In 1992, Banks et al. first reported its preparation and application as a competent reagent for the direct synthesis of organofluorides, including aryl fluorides [
2
]. Since then, a variety of aryl fluorides have been synthesized by using Selectfluor as the fluorine source under transition metal-free conditions.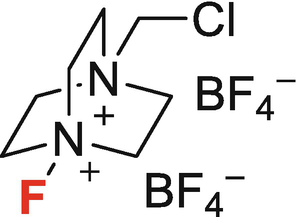 Copyright information
© Springer Nature Singapore Pte Ltd. 2019