Modern Venom Profiling: Mining into Scorpion Venom Biodiversity
Living reference work entry
Abstract
Scorpions and their sting are infamous for causing pain, morbidity, and, in some cases, death. However, research into scorpion venoms has revealed the presence of components that potentially have beneficial properties for humans. Such components may be developed into therapeutics or bioinsecticides. In order to assess the biodiversity of components present in scorpion venoms, proteomic and transcriptomic approaches have been applied to numerous scorpion species. This chapter presents our current knowledge in the field of venom-wide studies of scorpions. Discussions on the pros and cons of several proteomic and transcriptomic techniques used to investigate scorpion venoms are also included.
Keywords
Electron Capture Dissociation 
Electron Transfer Dissociation 
Venom Gland 
Scorpion Venom 
Scorpion Toxin 
These keywords were added by machine and not by the authors. This process is experimental and the keywords may be updated as the learning algorithm improves.
Introduction
For millennia, scorpions and the ability of their venom to cause morbidity and death have inspired fear, awe, and superstition across many human cultures. Such was the influence of scorpions in ancient civilizations that their image was lent to mythological deities such as the Egyptian goddess Serket and Scorpio of Greek mythology (Cloudsley-Thompson
1990
). In contemporary times, scorpion stings are still a significant source of human fear, illness, and injury, with an estimated 1.2 million human envenomations per year resulting in approximately 3,000 deaths (Chippaux and Goyffon
2008
). Modern science has revealed scorpion venoms are complex mixtures of components including salts, lipids, small molecules, and proteins (Eauclaire-Martin and Couraud
1995
). The constituents primarily responsible for physiological effects and, hence, of medical interest are the venom peptides (Sofer
1995
). In the 1970s and 1980s, advancements in chromatographic techniques, such as the development of high-performance liquid chromatography (Martin and Rochat
1986
; Michaelis et al.
1973
), enabled the separation and purification of venom peptides to homogeneity, thus allowing for the first time the study of individual peptides to determine their function. The first scorpion toxin peptides characterized were found to affect action potentials through either modulation of voltage-gated sodium channel activity or blockade of voltage-gated potassium channels (Rodriguez de la Vega and Possani
2004
). Toxins that affected potassium channels were found to be around 35 residues in length, while those that targeted sodium channels were about 65 residues long . Consequently, potassium channel toxins were termed "short chain" and sodium channel toxins called "long chain" (Rodriguez de la Vega and Possani
2004
,
2005
). Crystallographic and spectroscopic analyses of both short- and long-chain toxins revealed their peptide backbone adopts a fold consisting of an alpha helix connected to three antiparallel beta sheets via three or four disulfide bonds, named the cysteine-stabilized alpha/beta (CSαβ) motif (Bontems et al.
1991
; Cornet et al.
1995
). Currently, about 600 of the ~750 identified scorpion venom peptide sequences are classified as CSαβ folded sodium or potassium channel toxins (Jungo et al.
2012
). Although CSαβ toxins dominate the literature on scorpion venoms, scorpion venom peptides are known to adopt numerous other folds, including linear alpha helices, the inhibitor cystine knot motif, and the cysteine-stabilized alpha/alpha (CSαα) motif (Dai et al.
2001
; Mosbah et al.
2000
; Srinivasan et al.
2002
). Moreover, their molecular targets are not restricted to sodium or potassium channels, as toxins have been found that affect other channels such as intracellular ryanodine receptors and voltage-gated calcium channels (see Fig.
1
) (Lee et al.
2012
; Valdivia et al.
1992
).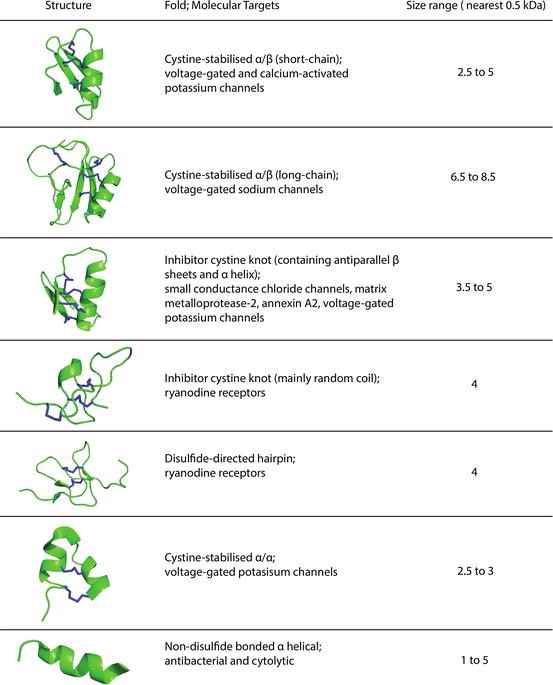 Of the 1,900 scorpion species worldwide, the venom from only ~100 species has been researched, with about 30 species containing venom that is harmful to humans. Nearly all of these dangerous species belong to the Buthidae family (Isbister et al. 2003). Due to the historical partiality of studying medically important species, it is perhaps not surprising that current literature is biased toward the research of buthid venoms, with over 85 % of known scorpion venom peptides originating from less than 50 Buthidae species (Jungo et al. 2012). The remaining 14 scorpion families encompassing approximately 900 species are likely to contain a plethora of peptides with novel function and structure. The sheer enormity of this virtually untapped resource of venoms makes assembling a picture of the diversity of peptides and proteins in scorpion venoms a significant challenge. However, recent advancements in technology now enable the compilation of accurate and comprehensive profiles of venom components, namely, through a combination of modern proteomic and transcriptomic approaches.
Transcriptomic Profiling
In the past 12 years, the price of sequencing DNA has dropped drastically, from over USD$5,000 per megabase in 2001 to USD$0.06 in 2013 (Wetterstrand 2013). The cost breakthrough occurred in 2008 with the development of "next-generation" sequencing methods such as Illumina and SOLiD technologies. Since 2007, venom gland transcriptomes of 16 scorpion species spanning 6 families have been published. However, all but one of these studies employed the traditional method of cDNA plasmid library generation followed by random selection of clones for Sanger sequencing of expressed sequence tags (ESTs) (Almeida et al. 2012; D'Suze et al. 2009; Diego-Garcia et al. 2012; Kozminsky-Atias et al. 2008; Luna-Ramirez et al. 2013; Ma et al. 2009, 2010, 2012; Morgenstern et al. 2011; Rendon-Anaya et al. 2012; Ruiming et al. 2010; Schwartz et al. 2007; Silva et al. 2009; Valdez-Velazquez et al. 2013; Abdel-Rahman et al. 2013). Only one study to date has used the newer 454 pyrosequencing method in which approximately one million reads were obtained per sample analyzed (Rendon-Anaya et al. 2012). Even though Illumina and SOLiD technologies are less expensive, Sanger and 454 sequencing (USD$2,400 and USD$10 per megabase, respectively) are still the preferred method of choice for transcriptomic analyses of venom glands. This is mainly due to the considerably longer read lengths achievable using Sanger (400–900 bp with the AB3730xl) and 454 (700 bp with GS FLX) methods compared to Illumina (90 bp with the Hiseq 2000) and SOLiD (85 bp with the 5500xl) (Liu et al. 2012). The time-consuming, challenging, and costly process of de novo transcriptome assembly is assisted by longer reads, which allows for better identification of overlapping sequences and improved accuracy of contig construction.
Although the depth of coverage varied considerably between the 16 studies using traditional Sanger methods, with the number of high-quality readable clones ranging from ~100 to over 800, a wide variety of toxin families were still detected in the studies with smaller cDNA libraries. These families include toxins that affect sodium, potassium, and calcium channels, as well as metalloproteases, phospholipases, and antimicrobial peptides (Figs.
1
and
2
) (Rodriguez de la Vega et al.
2010
). Notably, transcripts that encode sodium channel toxins are of low abundance or entirely absent in non-Buthidae scorpions, while they are the most prevalent toxin type in Buthidae transcriptomes (Ma et al.
2012
). This evolutionary divergence between Buthid and non-Buthid scorpions may be helpful to genetic studies of phylogenetic relationships between different scorpion species.
Most scorpion transcriptomes have been obtained using RNA from venom glands harvested 2–5 days after venom milking. This time period is when the glands are regenerating their venom and mRNA levels are at a maximum, which is referred to as the "active" or "replenishing" state (Alami et al. 2001; Zeng et al. 2002). In active venom glands, transcripts that encode homologues of known toxins and venom peptides account for between 24 % and 78 % of ESTs with a discernable open reading frame (Diego-Garcia et al. 2012; Kozminsky-Atias et al. 2008). Currently, there are only two transcriptomic investigations of venom glands that had not been milked in the days before harvesting, i.e., glands in their "resting" or "replete" state (Morgenstern et al. 2011; Rendon-Anaya et al. 2012). Both resting gland studies were of Buthidae scorpions, and it appears transcripts encoding toxins, especially sodium channel toxins, are not as highly expressed in the resting gland compared to the active gland. Lower transcript levels of certain toxins may indicate the encoded peptides are still in adequate quantities in the venom, as they may possess high chemical stability and resistance to degradation; thus the metabolically demanding process of transcription and translation of those peptides are unnecessary (Morgenstern et al. 2011; Rendon-Anaya et al. 2012). Moreover, resting glands have a higher representation of transcripts corresponding to cellular and environmental information processing, such as membrane transport and signal transduction pathways (Rendon-Anaya et al. 2012). It is important, therefore, to analyze actively transcribing venom glands in order to capture maximal toxin transcript diversity.
Transcriptomic analysis has proved to be a valuable tool in providing an overview of the variety of peptides and toxins that can be found in scorpion venoms. Nevertheless, there is not necessarily a correlation between levels of transcription and venom peptide expression. Furthermore, a large percentage of ESTs in all scorpion venom transcriptomic studies to date encode putative venom peptides with no homology to existing toxins and no known function. Next-generation sequencing methods can also introduce erroneous variation in transcriptomic libraries through sequencing errors and insertions and deletions (indels). Although sequencing errors are very low (usually <0.1 %) (Liu et al. 2012) and indels usually occur in homopolymer regions, which, except for the polyA tail, do not occur as frequently in mRNA as in genomic regions, these errors could be incorrectly assigned as sequence variations. Conversely, overstringent library assembly could lead to exclusion of low abundance transcripts, resulting in an underrepresentation of venom diversity. Therefore, additional methods such as proteomic, genomic, and biochemical characterization of venom peptides are required to accurately assign and assess the range of diversity in the venom peptidome. The first genome study of a scorpion species, Mesobuthus martensii (Cao et al. 2013), was recently reported, and future publications of reference scorpion genomes will help to deconvolute transcriptomic data.
Proteomic Profiling
While transcriptomic analyses can deduce all the peptide sequences that may potentially be expressed in the venom of a particular species, it cannot provide information on posttranslational modifications (PTMs) that may be present or whether the venom peptides are even expressed at all. In order to validate the expression of sequences obtained through transcriptomes, mass spectrometric and proteomic analyses are required. Currently, there are only five studies on scorpion venoms that use a combined transcriptomic and peptidomic approach (Diego-Garcia et al. 2012; Luna-Ramirez et al. 2013; Ma et al. 2010; Valdez-Velazquez et al. 2013; Abdel-Rahman et al. 2013). In four of these studies, the peptide masses of chromatographically separated venom components were compared to the theoretical masses of predicted peptide sequences obtained from the cDNA library. Surprisingly, only a handful of masses predicted from the venom gland transcriptomes matched the masses of actual components found in the venom. In one report, the masses of just two predicted peptides corresponded to experimentally determined masses (Diego-Garcia et al. 2012). Since mass alone is a poor predictor of the presence of a corresponding peptide, sequence tags obtained by MS/MS are needed to correlate mass and transcriptome data. Indeed, experimental validation of predicted sequences on a transcriptome-wide level has only been demonstrated in one study, where crude venom was digested with trypsin prior to nano-LC-ESI-MS/MS of the resulting peptide fragments (Ma et al. 2010). The MS/MS fingerprints of the peptide fragments were then matched to databases composed of the translated transcriptome. Using this approach, fragments corresponding to the majority of predicted venom peptide families were found. Venom peptides that were highly transcribed but not found in the venom typically possessed features that made mass spectrometric detection difficult. These characteristics include either a lack of positively charged residues (Arg or Lys) or an abundance at every second or third residue resulting in tryptic fragments too small to be detected by the MS acquisition method used (Ma et al. 2010). It may also be possible that contributing factors to the poor correlation seen between the peptidomes of undigested scorpion venoms and their corresponding venom gland transcriptomes are posttranslational modifications such as phosphorylation and N-glycosylation (Hassani et al. 1999; Verano-Braga et al. 2013). Also, proteolysis of peptides occurs within some scorpion venoms, producing successions of serially truncated peptides that would only appear as one sequence in a transcriptome (Verano-Braga et al. 2013; Rates et al. 2008; Smith et al. 2012). Another contributing factor to the deficiency of observable masses consistent with full-length predicted peptides may be that current methods might not be able to ascertain the correct processing of scorpion venom peptide mRNA transcripts, such as cleavage or retainment of proposed "pro regions"; thus accurate predictions of some mature toxin sequences and their masses may not be possible (Diego-Garcia et al. 2005). Future studies of transcript processing and better methodologies for predicting cleavage and posttranslationally modified sites may enable consolidation between the transcriptome and peptidome of scorpion venom glands.
A factor to be mindful of when trying to associate the peptidome with the transcriptome is ensuring the search engine used to correlate the MS/MS peptide fingerprints to the transcriptome library is set up to accommodate PTMs such as amidation and phosphorylation, which are frequently present in scorpion peptides. Common search engines and software used include MASCOT, Spectrum Mill, ProteinPilot, and X! Tandem. The majority of these programs can be modified or instructed, with varying degrees of success, to account for PTMs as well as limited degrees of sequence variation; however, differences in the identification and assignment of peptides can result from the use of different software.
Besides combined transcriptome and proteome studies, venoms from more than another 20 scorpion species, 14 of which are buthids, have been profiled using only proteomic techniques (Rodriguez de la Vega et al.
2010
; Smith et al.
2012
; Caliskan et al.
2012
; Newton et al.
2007
; Rodriguez-Ravelo et al.
2013
) (Table
1
). Over 100 peptides were present in the venom of each species. From current proteomic studies, it is apparent that there is a difference in mass profiles between buthid and non-buthid species, with buthid venoms containing more masses between 6 and 9 kDa than non-buthids (Rodriguez de la Vega and Possani
2005
). Scorpion peptides in this mass range are typically sodium channel toxins, and their scarcity in non-buthid venoms agrees with the lack of sodium channel transcripts in non-buthid transcriptomic studies (Ma et al.
2009
,
2010
; Schwartz et al.
2007
). Peptides in this mass range that are present in non-buthid venoms are usually long-chain potassium channel toxins or long antimicrobial peptides that include homologues of scorpine (Conde et al.
2000
; Diego-Garcia et al.
2007
). The dominant components of both buthid and non-buthid venoms are linear alpha helical or randomly coiled peptides under 2 kDa that are typically antimicrobial or cytolytic, such as the opistoporins and IsCT homologues, or hormonelike, such as bradykinin-potentiating peptides and hypotensins (Rodriguez de la Vega et al.
2010
). Another large group of venom components are between masses of 2 and 5 kDa, which usually correspond to short-chain potassium channel toxins, although a number of scorpion peptides that target other receptors are also found in this mass range. These include peptides that adopt a three-dimensional fold called the inhibitor cystine knot and whose targets include small conductance chloride channels, intracellular calcium release channels known as ryanodine receptors, and potassium channels (Mosbah et al.
2000
; DeBin et al.
1993
; Gao et al.
2013
). Ryanodine receptor toxins that adopt the two-disulfide fold called the disulfide-directed hairpin also fall in this mass range (Smith et al.
2011
). Proteins above 9 kDa comprise a small proportion of scorpion venom components and have not been well characterized, with only a few proteins found to have homology to phospholipase A2, lysozyme, or hyaluronidase enzymes (Batista et al.
2007
; Cologna et al.
2009
; Schwartz et al.
2008
) (Fig.
3
).
Table 1
Scorpion venom species and analyses performed on their venom and/or venom glands
 

Analyses performed

Species name

Transcriptomic

Mass spectrometric

Centruroides noxius

Yes

No

Scorpiops jendeki

Yes

No

Tityus discrepans

Yes

Yes

Opisthacanthus cayaporum

Yes

Yes

Heterometrus petersii

Yes

Yes

Pandinus cavimanus

Yes

Yes

Lychas mucronatus

Yes

No

Isometrus maculatus

Yes

No

Scorpiops margerisonae

Yes

No

Tityus stigmurus

Yes

Yes

Hottentotta judaicus

Yes

No

Urodacus yaschenkoi

Yes

Yes

Hadrurus gertschi

Yes

No

Buthus occitanus israelis

Yes

No

Centruroides tecomanus

Yes

Yes

Tityus serrulatus

No

Yes

Tityus cambridgei

No

Yes

Tityus costatus

No

Yes

Tityus pachyurus

No

Yes

Androctonus crassicauda

No

Yes

Androctonus mauretanicus mauretanicus

No

Yes

Liocheles australasiae

No

Yes

Parabuthus transvaalicus

No

Yes

Tityus bahiensis

No

Yes

Leiurus quinquestriatus quinquestriatus

No

Yes

Leiurus quinquestriatus hebraeus

No

Yes

Heterometrus longimanus

No

Yes

Scorpio maurus

Yes

Yes

Urodacus armatus

No

Yes

Urodacus elongatus

No

Yes

Lychas marmoreus obscurus

No

Yes

Vaejovis spinigerus

No

Yes

Opistophthalmus glabrifrons

No

Yes

Pandinus imperator

No

Yes

Buthacus macrocentrus

No

Yes

Rhopalurus junceus

No

Yes

Mesobuthus tamulus

No

Yes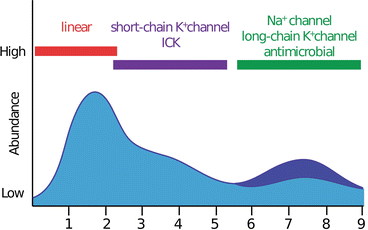 Currently, the most common workflow when analyzing the proteome of scorpion venoms involves fractionation using one or more chromatographic steps, such as ion exchange, size exclusion, reversed-phase, and the more recently developed zwitterionic-hydrophilic interaction chromatography, followed by mass spectrometric analysis of fractions (Xu et al. 2012). The two primary methods of mass spectrometry in use are electrospray ionization (ESI) and matrix-assisted laser desorption ionization-time of flight (MALDI-ToF) (Ashton et al. 1994; Hillenkamp et al. 1991). The abundance of low molecular weight scorpion toxins makes them amenable to top-down peptidomic analyses. Partial sequences can be obtained with de novo sequencing using tandem mass spectrometry or through the use of MALDI-ToF matrices such as 1,5-DAN and 5,1-ANL that enable in-source decay (ISD) fragmentation of peptides (Fukuyama et al. 2006; Osaka et al. 2013). 1,5-DAN also causes partial reduction of cystines in the MALDI-ToF laser plume, thus providing important information on the number of disulfide bonds that are present in peptides (Fukuyama et al. 2006). The use of ISD fragmentation for analysis of venom peptides is relatively new, and further development of the technique is required to overcome its limitations, such as the undetectability of many peptides with current ISD matrices.
In MS/MS, the most commonly used method of generating peptide fragments is by collision-induced dissociation (CID). However, CID often yields selective backbone fragmentation, resulting in incomplete sequence information, and PTMs are frequently not retained. Newer techniques of generating fragment ions, namely, electron transfer dissociation (ETD) and electron capture dissociation (ECD), circumvent these problems associated with CID. However, the primary limitation of these newer techniques is the requirement for precursor ions with a high charge, i.e., a low m/z ratio, in order to produce useful fragmentation. Although low m/z ratios are achieved with ESI, ETD and ECD analysis of peptides with MALDI-ToF requires strategies to increase the charge state, e.g., through chemical modification of cysteine residues to convert them to a dimethyl lysine analogue (Ueberheide et al. 2009).
In order to collect a comprehensive mass list, it is important to analyze venom fractions using both ESI and MALDI-ToF methods. This is because the masses obtained using MALDI-ToF and ESI are vastly different, with studies showing common masses between both methods can be as low as 12 % of the total observable masses (Smith et al. 2012). Most studies have also checked their mass lists for potential modifications caused by user handling of venoms, such as oxidation (+16 Da) and acid-driven glutamine to pyroglutamic acid formation (−18 Da), which may result in overestimation of peptide components. Overall, the proteomic approach of analyzing scorpion venoms has successfully yielded insights into the diversity of components found within.
Conclusion and Future Directions
The combined approach of transcriptomic and proteomic profiling is essential to garner the range of peptides and proteins found in the venom of each scorpion species. Innovations in mass spectrometric techniques such as the development of novel MALDI-ToF matrices facilitate detailed analysis of venom components and improvements in detection limits of mass spectrometers enable mass profiling of venoms from scorpions that yield low venom volumes. With ever-lowering prices and rapidity, transcriptomic sequencing of venom glands will become more routine and their integration with accompanying proteomic data essential for a full interpretation of the peptidic venom components. The main obstacle in the pursuit of exploring the diversity of scorpion venom peptides is the pharmacological characterization of novel peptides. Since computer modeling and simulations of toxin-receptor interactions are not yet able to predict the target of a novel peptide, the molecular target for new peptides still needs to be delineated through screening techniques such as organ bath preparations, cell-based assays, and oocyte-expressed receptor testing. This blind screening approach is the bottleneck in exploring the biodiversity of scorpion venom components as it can take months, if not years, to ascertain the target of peptides with no homology to existing toxins.
Future proteomic, genomic, and transcriptomic studies promise to reveal peptides with new folds and receptor targets, which may be useful as drug leads, pharmacological tools, and bioinsecticides (Smith et al. 2013).
Copyright information
© Springer Science+Business Media Dordrecht 2014