Sarcocystis Species: Animals as Intermediate Hosts
Reference work entry
DOI:
https://doi.org/
10.1007/978-3-662-43978-4_4491
Sarcocystis Species in Ruminants
Name
Greek – sarx = meat, flesh; sporos = seed, cyst.
Species names are composed of names of intermediate and final host species (e.g., bovicanis – Latin: bos = cattle; canis = dog).
Geographic Distribution/Epidemiology
Worldwide, high prevalence rates (occasionally of 50 %) in animals on meadows.
Morphology/Life Cycle
After ingestion of sporulated oocysts, two generations of schizonts occur in cells of the wall of blood vessels of the omentum (Fig.
1
). Beginning after one month cyst formation starts in muscle cells (Fig.
2
). The formerly as Miescher's tubes (Miescher) described tissue cysts can be found as different species in all ruminants. The following species (see others in Table
1
,
Sarcocystis
) are of importance for humans, since they may infect humans directly or lead to economic losses in cattle/sheep/goat production.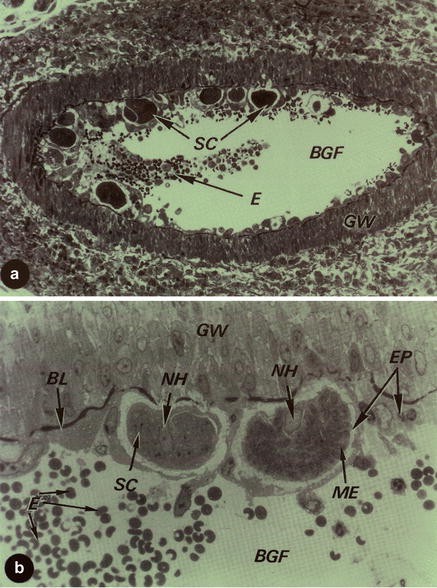 Copyright information
© Springer-Verlag Berlin Heidelberg 2016