Strongyloides Species of Animals
Reference work entry
DOI:
https://doi.org/
10.1007/978-3-662-43978-4_4483
Name
Greek: strongylos = rounded; oides = similar. Latin: papillosus = with papillae; sus = pig; rattus = rat; aves = birds; stercoralis = within feces; procyon = racoon; robustus = strong. Fuelleborn: German parasitologist.
Geographic Distribution/Epidemiology
Worldwide, mostly in countries with warmer climates.
Morphology/Life Cycle
The life cycle of the different species runs as is diagrammatically depicted in Fig.
1
. All species which are mostly very tiny with diameters of 0.1 mm or less live in the intestines of their hosts (parthenogenic females)) and outside of the body (free living male and female stages). The free living females reach a length of 0.9 mm, the males 0.7 mm, and thus are considerably shorter than the parthenogenic females in the intestines of their hosts (see Table
1
). Eggs are depicted in Fig.
2
, parthenogenic females in Fig.
3
.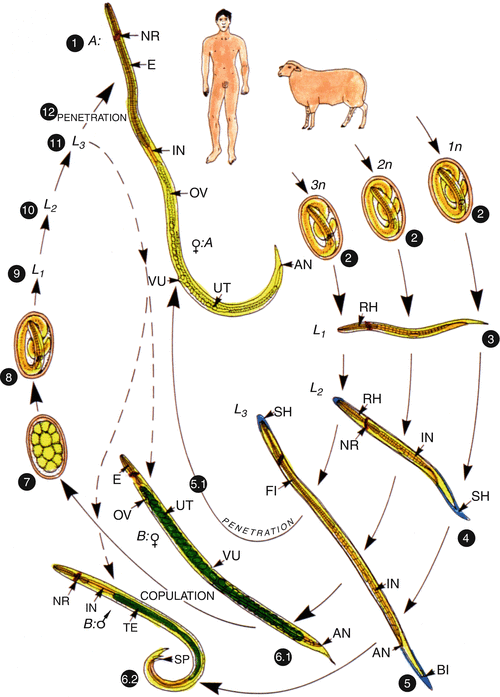 References
Hasegawa H et al (2009) Hypervariable regions in 18S rDNA of

Strongyloides

spp. as markers for species-specific diagnosis. Parasitol Res 104:869–874

PubMed

CrossRef

Google Scholar
Copyright information
© Springer-Verlag Berlin Heidelberg 2016