Salmincola salmonea
Reference work entry
DOI:
https://doi.org/
10.1007/978-3-662-43978-4_4299
This species belongs to the Copepoda among the crustaceans. Already the freshly hatched female nauplius larva becomes anchored by help of their hooks and claws (= former mouthparts) at the surface of fish and grow up to adult females (Fig.
1
). Adult females reach a length of only 3–4 mm, while the males measure only 1 mm at the maximum and wander on the fish surface searching for females. Heavy infections may lead to death of infected fish due to increasing wounds and bacterial infections.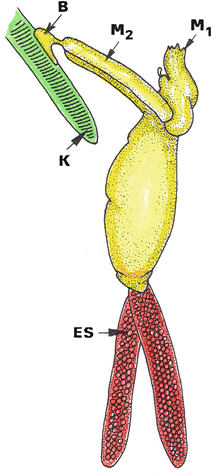 Further Readings
Mehlhorn H, Piekarski G (2002) Basics of parasitology, 7th edn. Springer Spektrum

Google Scholar
Copyright information
© Springer-Verlag Berlin Heidelberg 2016