Membrane Transport Proteins: The Amino Acid-Polyamine-Organocation (APC) Superfamily
Living reference work entry
DOI:
https://doi.org/
10.1007/978-3-642-35943-9_772-1
Definition
The proteins listed below belong to the amino acid-polyamine-organocation (APC) superfamily as defined by Wong et al. (2012) and Vastermark and Saier (2014). Structurally, this superfamily can be divided into two groups: the LeuT superfamily (Krishnamurthy et al. 2009), also known as the five-helix inverted repeat (5HIR) transporter superfamily (Adelman et al. 2011), and transporters with a seven-helix inverted repeat. These latter transporters are more distantly related.
Introduction
The general transport reactions of this superfamily (Fig.
1
) can be represented as follows:
Substrate (out) + nH+ (out) → Substrate (in) + nH+ (in)

Substrate (out) + nNa+ (out) → Substrate (in) + nNa+ (in)

Substrate-1 (out) + Substrate-2 (in) → Substrate-1 (in) + Substrate-2 (out)

Substrate-(out) ↔ Substrate-(in)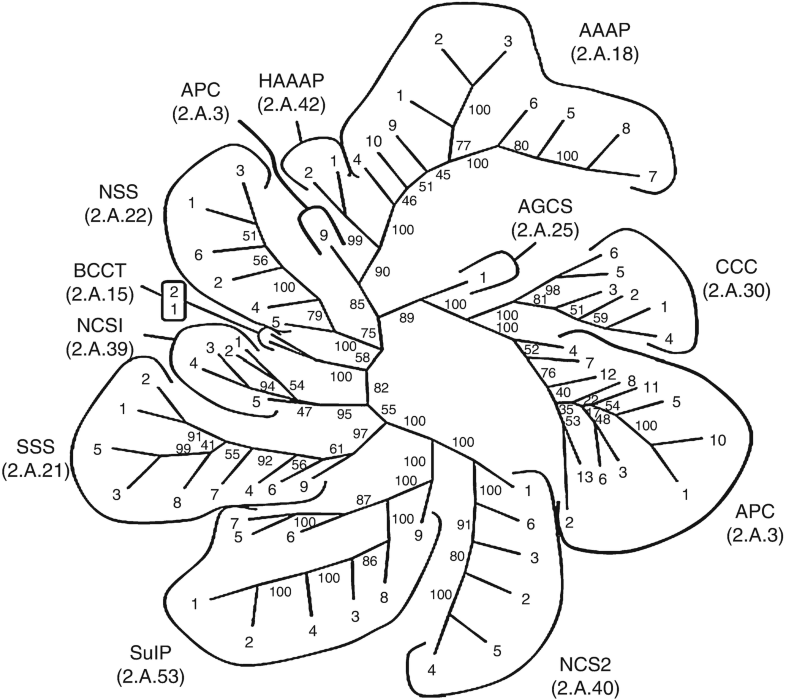 Copyright information
© European Biophysical Societies' Association (EBSA) 2019
Section editors and affiliations