Droplet Networks, from Lipid Bilayers to Synthetic Tissues
Living reference work entry
DOI:
https://doi.org/
10.1007/978-3-642-35943-9_567-1
Introduction
An aqueous droplet in a solution of lipid in oil acquires a lipid monolayer coat. When two such droplets are brought together, they adhere through the formation of a droplet interface bilayer (DIB) (Fig.
1a
). A high contact angle at the interface (Fig.
1a
) indicates a strong interaction between the droplets (Thiam et al.
2012
). DIBs in droplet pairs were first developed as a means to simplify and miniaturize planar bilayer experiments in which transmembrane channels and pores are characterized by ionic current recording (Bayley et al.
2008
). They have additional technical advantages, for example, bilayers with lipid asymmetry can be formed reliably (Hwang et al.
2008
). Droplet-hydrogel bilayers (DHB) allow the simultaneous recording of current and fluorescence (Weatherill and Wallace
2015
).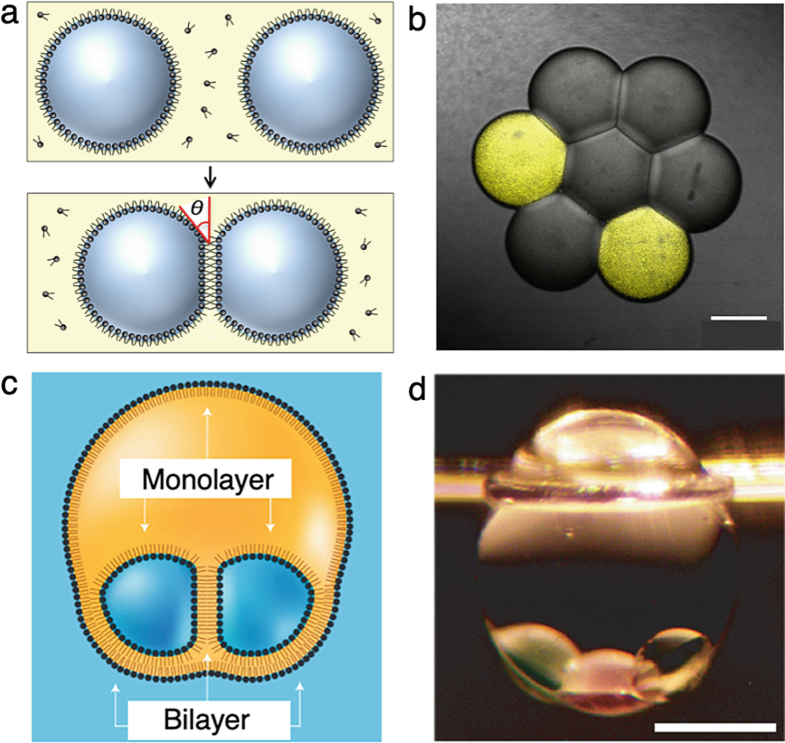 Copyright information
© European Biophysical Societies' Association (EBSA) 2019
Section editors and affiliations