Seismic Analysis of Wind Energy Converters
Reference work entry
DOI:
https://doi.org/
10.1007/978-3-642-35344-4_328
Synonyms
Aerodynamic damping; Response spectrum; Seismic risk; Soil structure interaction; Wind energy converter
Introduction
Wind power is one of the fastest-growing renewable energy segments on a percentage basis. In 2013, over 35 GW of new wind capacity was installed all over the world, bringing the total wind capacity to 318 GW at the end of 2013 (GWEC 2014). The total installed wind capacity is expected to reach 365 GW by the end of 2014, enough to provide about 4 % of the global electricity demand (GWEC 2014).
While many different design solutions have been considered in the early stages, for commercial use the modern wind industry has now stabilized on horizontal axis wind turbines (HAWT). A typical example is shown in Fig.
1
: a land-based tower with a nacelle mounted on the top, containing the generator, a gearbox, and the rotor. Typically, three-bladed upwind rotors are used.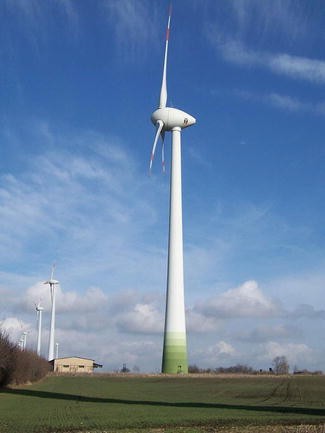 Copyright information
© Springer-Verlag Berlin Heidelberg 2015