Structural Optimization Under Random Dynamic Seismic Excitation
Reference work entry
DOI:
https://doi.org/
10.1007/978-3-642-35344-4_324
Synonyms
Optimal design; Random vibration; Response surface; Seismic isolation; Structural reliability
Introduction
In civil engineering, the design of structures has always been governed by fulfilling the needs of both safety and economy. Ideally, the designer would want to minimize cost while simultaneously maximizing safety. To a large extent, these objectives are in conflict; therefore, suitable compromises need to be found. A well-established tool for finding this set of best compromises is Pareto optimization. Figure
1
illustrates the trade-off between two conflicting objectives, both of which should be minimized. Reducing one objective automatically implies increasing the other one. Good compromises are to be found on the Pareto front.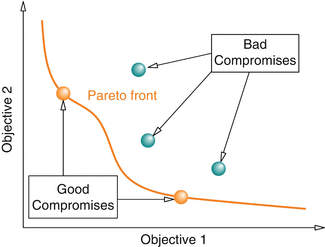 Copyright information
© Springer-Verlag Berlin Heidelberg 2015