EXPOSE
Living reference work entry
DOI:
https://doi.org/
10.1007/978-3-642-27833-4_1744-4
Definition
EXPOSE-E, EXPOSE-R, and EXPOSE-R2 are exposure facilities developed by ESA in the 2000s to investigate the effect of space environment (especially energetic radiations) on various chemical and biological samples. EXPOSE-E was installed on the International Space Station outside of the European Columbus module on the European Technology Exposure Facility (EuTEF), from February 2008 to August 2009, while EXPOSE-R was installed outside of the Russian module Zvezda from March 2009 to March 2011. EXPOSE-R2 is a reload of EXPOSE-R with new experiments which departed to the space station in July 2014, and should return to Earth early 2016.
Overview
A typical EXPOSE facility is presented in Fig.
1
. Data from six temperature sensors connected to the three trays, four UV-B sensors, and one radiometer are recorded every 10 s.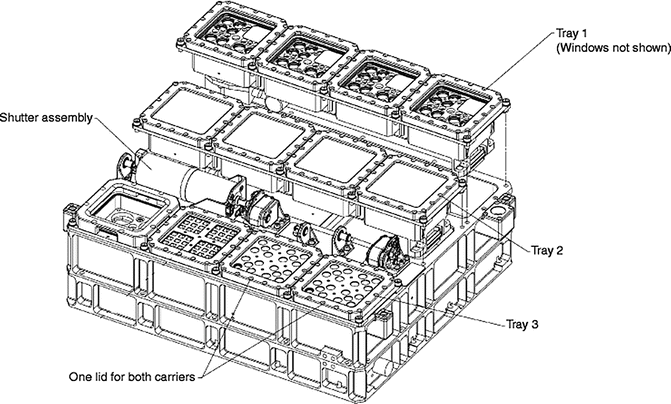 Keywords
Exposure facility 
International Space Station 
Low Earth orbit 
Photobiology 
Photochemistry 
Space radiations 
References and Further Reading
Cottin H et al (2008) Heterogeneous solid/gas chemistry of organic compounds related to comets, meteorites, Titan and Mars: in laboratory and in lower Earth orbit experiments. Adv Space Res 42:2019–2035

CrossRef

ADS

Google Scholar

Rabbow E et al (2009) EXPOSE, an astrobiological exposure facility on the International Space Station – from proposal to flight. Orig Life Evol Biosph 39:581–598

CrossRef

ADS

Google Scholar

Rabbow E et al (2012) EXPOSE-E, an ESA Astrobiology mission 1.5 years in space. Astrobiology 12:374–386

Google Scholar
Copyright information
© Springer-Verlag Berlin Heidelberg 2014