Ultrasonic Pumps
Living reference work entry
DOI:
https://doi.org/
10.1007/978-3-642-27758-0_1646-8
Definition
Ultrasonic pumps are the pumps that use acoustic streaming effect to create fluid flow. The acoustic streaming effect arises from the interaction between the surface acoustic waves (SAW) traveling inside a piezoelectric substrate and the fluid. Attenuation of the SAW traveling inside the fluid (via reflection, diffraction, etc.) generates a body force within the fluid which is in the direction of wave propagation and converts acoustic energy into kinetic energy of the fluid [
1
]. SAW devices can be used to transport droplets on a free surface between the input and output piezoelectric transducers (also known as interdigital transducer (IDT)). A schematic drawing of such a device is given in Fig.
1
. Moreover, the same mechanism can be used to drive droplets as well as bulk fluid inside closed microchannels.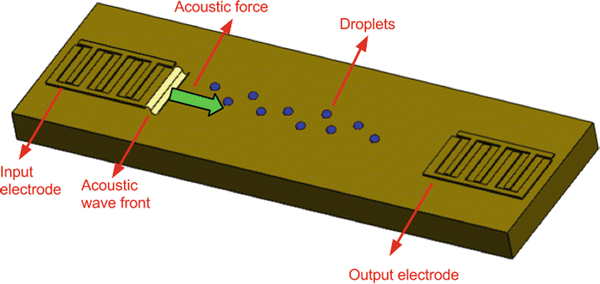 Copyright information
© Springer Science+Business Media New York 2014