Lysophosphatidylcholine
Reference work entry
DOI:
https://doi.org/
10.1007/978-3-642-16483-5_3471
Definition
Lysophosphatidylcholine (LPC) is a major plasma lipid constituent that is produced from phosphatidylcholine (PC).
Characteristics
LPC is produced from PC under a variety of physiological and pathological conditions. LPC is present at high levels (about 100 μM) in plasma under normal conditions and exists mainly in albumin- or lipoprotein-bound forms. The biochemical conversion from PC to LPC is mediated by
phospholipase A1
or
phospholipase A2
. Sequentially, LPC is converted to
lysophosphatidate
(LPA) by lysophospholipase D (autotaxin) (Fig.
1
).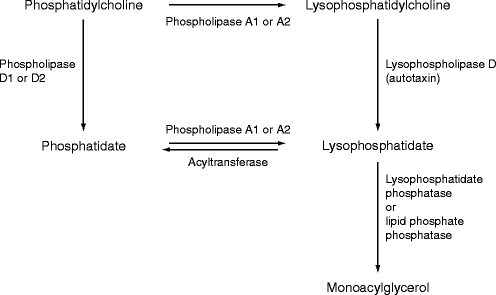 Copyright information
© Springer-Verlag Berlin Heidelberg 2011