Giotto Spacecraft
Reference work entry
DOI:
https://doi.org/
10.1007/978-3-642-11274-4_648
Keywords
Comet, nucleus, coma, water, dust, organics, CHON, Giotto, Giotto Extended Mission, spacecraft, ESA, Halley, Grigg-Skjellerup
Definition
The Giotto spacecraft (Fig.
1
), the first
ESA
(European Space Agency) interplanetary probe, was designed to flyby
comet Halley
. Launched on 2 July 1985 by an Ariane-1 rocket from Kourou, Giotto succeeded in approaching the
cometary nucleus
to within 600 km on 14 March 1986. Through its first accurate images of a nucleus and in situ studies of gases and dust particles within a coma, the mission has revealed the complexity of comets. Afterwards, the Giotto spacecraft was re-oriented in order to study comet Grigg-Skjellerup, which was flown by on 10 July, 1992, at a nucleus distance in the 150–200 km range.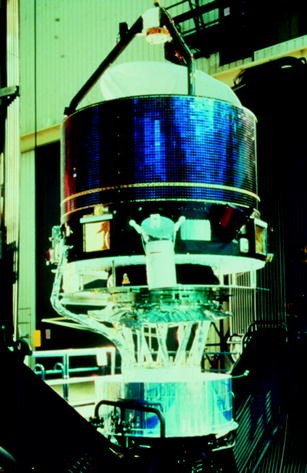 References and Further Reading
Copyright information
© Springer-Verlag Berlin Heidelberg 2011