Critical Care Admissions and Discharge Criteria in Cancer Patients
Living reference work entry
Abstract
More and more patients with solid or hematological tumors are admitted to the Intensive Care Units. The improvement in the physiopathological understanding of this group of patients, as well as the increasingly better and more targeted treatment options for their underlying disease, have led to a significant increase in their survival over the past two decades. We are living in an era in which we are defining the standards that offer the best way to care for them: From the organization and running of ICUs, the definition of clear admission criteria from the available evidence, and the development of new admission policies that expand the classic dichotomous view of whether or not they are candidates for admission to ICUs to analyzing the best treatment for them, avoiding excessive treatment, and, above all, respecting their principle of autonomy.
Keywords
Oncologic patients 
Admission policies 
Multidisciplinary care 
Early response team 
Critical care transition programs 
Full code admission 
ICU trial 
Palliative care 
Introduction
Cancer patients are increasingly common in intensive care units around the world. One out of every six to eight patients admitted to intensive care units (ICUs) worldwide presents a neo-proliferative process [1, 3]. Those of us who treated this type of patient two decades ago in hospitals dedicated to cancer treatment were accused of using very expensive resources in patients with a short life expectancy. At the time, some scientific societies, such as the American College of Chest Physicians or the Society of Critical Care Medicine in its 1992 Consensus Conference, pointed out the futility of admitting oncology patients to Intensive Care Units, arguing that if they needed mechanical ventilation, catecholamine, or renal replacement therapies, their mortality rate of over 90% was not worth the therapeutic effort. At the time, the fact of being a cancer patient was an independent risk factor for refusing to admit the patient to the ICUs [2].
The incidence of cancer does not stop growing; diagnosis is made at an earlier stage, which increases the treatment and life expectancy of these patients; the social and healthcare level in developed countries increases, and we find ourselves with an increasingly aging population and therefore more prone to suffering mutations in genetic structure that make it develop a neo-formative process. The age-adjusted incidence of cancer is 533.8 cases (532.6–535.1) per 100,000 population with a 95% CI [3]. To give you an idea of its magnitude, in 2009 there were 1.4 million and 3.2 million newly diagnosed cases of cancer in the USA and Europe, respectively (100,000 and 230,000 cases of oncological blood disorders in the same period). And this increase in the number of cases leads to more and more people being admitted to Intensive Care Units. During the first 100 days after the diagnosis of cancer, the risk of entering the ICU is considerably high and this exponential growth is subsequently reduced. Nearly 5.2% of all cancer patients develop a complication requiring ICU admission within 2 years of diagnosis [4]. If we are talking about patients with allogeneic hematopoietic stem cell transplantation (HSCT), up to 20% of them will require ICU admission after their procedure.
This whole process is underpinned by scientific research. While the first studies on cancer patients in the 1990s were rare and merely observational about their occurrence and survival (mainly developed in France, Brazil, and the USA), today, on the other hand, there is a proliferation of articles written all across the world by single-unit ICUs, general ICUs, including multicentric ICUs that bring together large numbers of patients. Contributions include retrospective or prospective articles aimed both at describing the experience of specialized centers with regard to their patients, for example with lung cancer [5] or after cytoreductive surgery Mogal et al. [51], and above all, studies aimed at reviewing signs of admission, studies that assess factors that influence their short- and long-term prognosis or those aimed at finding the best organization of units to treat them [6]. The societies of Intensive Care and Oncology seek meeting points and create work units to improve the outcome for their patients, as is the case with the SEOM and SEMICYUC in Spain [7]. A section within the new working guidelines [8] on admission, discharge criteria, and patient triage from the Society of Critical Care Medicine (SCCCM) has included a section on the admission criteria for cancer patients.
What Has Changed to Improve the Prognosis of Cancer Patients in ICUs?
Comparative mortality studies have shown a significant improvement in the life expectancy of cancer patients in ICUs in recent years. Of these, the systematic reviews of Puxty et al. [4] and Soubani [9] are noteworthy. The first one deals with the review of 48 articles between 1997 and 2011 with a total of 74,061 patients with solid tumors in which the overall mortality in ICU was 31.2% and in hospitalized patients 38.2%, but with such a wide range of intra-Intensive Care Unit mortality between 4.5% and 85% due to the great heterogeneity of the sample. Soubani [9] compares studies from the 1980s and 1990s where mortality of patients with cancer and mechanical ventilation was around 80–90%, while more recent studies describe mortalities between 27% and 30% in solid tumors, 40% in autologous transplants, and around 60% in allogeneic transplants.
The reasons for this improvement in outcome results are multifactorial and due to improvements and innovations in all fields of cancer research, diagnosis, and treatment, as well as intensive care.
In the field of Critical Care, the main change has been the return to the physiological understanding of the different pathologies and its application in their treatment. Understanding and using optimal peep, limiting plateau pressure or tidal volume, meaning of the response or non-response to volume administration during resuscitation, assessing weaning-related cardiac dysfunction, limiting airway pressure to optimize cardiovascular function, understanding why prone positioning minimizes lung damage and improves gas exchange, understanding that small changes in creatinine can lead to significant kidney damage, all of these are some examples of practices that we all develop today and whose basis is our physiology [10]. The use of noninvasive ventilation or high-flow systems capable of generating positive pressure has been shown to be effective in reducing intubation and mortality due to respiratory distress [11]. Improvements in sedation and analgesia techniques, with less depth in them and with periodic interruptions to improve weaning; being attentive to the psychological needs of the patient and the family, preventing and diagnosing delirium of our critical patients early; the daily use for bedside diagnosis or for safer techniques through ultrasound; the improvement of nutrition for critical patients; better understanding of common processes such as polyneuropathy or myopathy of the critically ill, etc., and thus small advances in all areas of intensive care have contributed to a more physiological and less aggressive management of our patients. From an organizational point of view, the systematic work carried out using operating protocols, the progressive distribution of our Intensive Care Units and medium level units according to the need for monitoring, the complexity of each patient, and the nursing care ratios allow us to attend to each of our patients with a specific level of priority, thereby being more cost-effective.
In the field of Oncology, surgery is becoming more and more sophisticated, more advanced supplemented before, after, and even at the same time with chemotherapy or radiotherapy. Other developments include advances in conventional RT or brachytherapy, improving optimal doses and minimizing damage to healthy tissues, development, and augmentation of proton RT indications. Furthermore, we have the increasingly physiological hormone therapy in those dependent tumors and the great advancement in immunotherapy. Regarding chemotherapy, on the one hand, the use of intensive schemes that allow a greater response or cure and, on the other, the development of therapies directed at certain genetic and biological targets.
Just as important as these advances are, there is also the development of a better and earlier supportive treatment: nutritional, psychological, and pharmacological; the importance of a correct nutritional and psychological assessment to prepare the patient for treatment. Other factors include pharmacological development with potent antiemetics, granulocyte stimulators that decrease the duration of neutropenia, and new bisphosphonates or recombinant rasburicase that decrease the toxicity of chemotherapy.
Nowadays, early diagnosis of infections is fundamental through the systematic use of b-D glucan, galactomannan, PCR, or procalcitonin tests [12] as well as the use of noninvasive ventilation (NIV) or high-flow devices to perform fibrobronchoscopies and thus obtain samples for culture. Also the early use of better targeted antibiotics and the development of new antifungals and antibiotics after a long period without new patents have caused mortality around the treatment to decrease. Because of all this, from the 1990s to the present day, mortality from cancer has fallen by 23% [13].
But multidisciplinary collaboration and patient care decisions between oncologists, hematologists, and Intensive Care specialists have undoubtedly been fundamental, as demonstrated in numerous articles such as Soares et al. [6]. Primary care physicians are able to inform us of the prognosis, treatment options, and adverse effects of the traditional and new chemotherapy regimens. Intensivists can make the overall situation about the patient be understood from the real expectation of the medical situation that is being developed. And together, a plan can be agreed on in terms of time, in terms of limiting efforts, and together informing the patient and the family. The inclusion of other specialists such as pharmacists in cancer patient care has been shown to be beneficial because of the combination of polymedication and potential toxicity and interactions [6].
Better Results, but at What Cost?
The cost of this improvement in survival rates entails not only economic costs, even though this is very high (the cost of intensive care beds amounts to between 16.9% and 38.4% of hospital costs; approximately 200 billion dollars per year) but also more and more sick people those are dying in our units. A US review of Medicare of over 85,000,000 patients shows that the percentage of patients who were in ICU in their last month of life increased [14], rising from 24.3% in 2000 to 29.2% in 2009. Because of this, it has come to be considered as a quality measurement factor in many health care systems. Although the majority of cancer patients would prefer to die at home, the truth is that in the USA 40% of citizens die in hospital and nearly 60% do so after being admitted to the ICUs. One in five Americans dies in our units.
Organizational Aspects of the ICUs
In the following points, we will describe what organizational characteristics of our Intensive Care Units have proven to be beneficial in the treatment of cancer patients.
Admission Criteria
The criteria that the intensivist must assess to admit a patient into the unit should include:
The true indication or need for management in the ICU

Presence of a trained specialist in the field

Prioritizing depending on the patient's condition

Reason for admission

Bed availability

Objective vital data

Patient prognosis

Potential benefit of interventions performed on the patient
This is really what is done every day when patients are assessed. According to the beds available in the unit, the patient is assessed, taking into account his/her background, prognosis, acute condition, and whether or not his/her needs can be met in the ICU.
There are four pillars of assessment (Fig.
1
) when it comes to determining whether to admit a cancer patient to the ICU from the patient's perspective.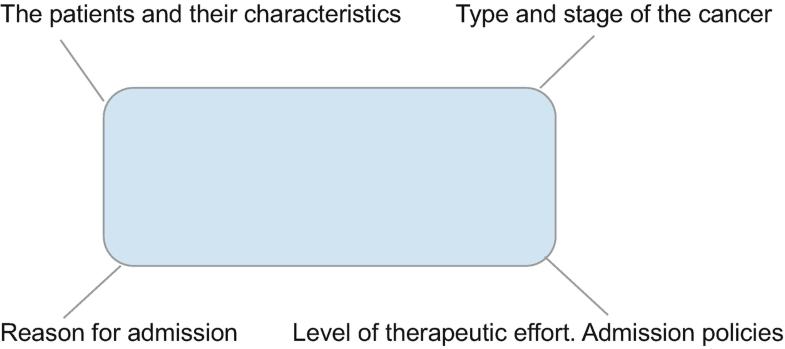 In the following paragraphs, what factors within each of these pillars will be explained and how they can and should affect our decision when deciding to admit a cancer patient.
ICU Discharge
Related literature in the last few years is full of admission criteria, patient and disease characteristics, causes for admission, and its policies, but few articles evaluate the reasons, timing, and follow-up of ICU discharges, especially in relation to cancer patients.
A meta analysis of Hosein et al. [46] on the discharge from ICU of almost two million patients found that, of every 100 patients discharged alive from ICU, between 4 and 6 are re-admitted and 3–7 die before being discharged again from hospital. This has led to the search for safety predictors in patients discharged from the ICUs, as well as to the enabling of discharge or follow-up policies that reduce these complications.
The discharge APACHE II score and hospital length of stay before ICU admission are significant independent factors in predicting post-ICU mortality and is superior to the admission APACHEII score in predicting early ICU readmission in surgical ICU patients.
On the other hand, seeing how the rapid response teams have demonstrated their usefulness in reducing the mortality of cancer patients in ICUs by detecting their organic dysfunction early, an attempt has been made to transfer this model to close monitoring by intensive care doctors, nurses, and respiratory specialists of those patients who are discharged from ICUs during the first 48–72 h. These Critical care transition programs have been widely assessed by Stelfox et al. [47]. After analyzing 32,234 patients over 10 years in eight hospitals, he has observed that, although there is a certain trend towards a decrease in readmissions in the patients followed by these teams compared to the control group (also described in the meta-analysis by Niven et al. for the NHS), a significant difference in mortality cannot be determined for both groups.
The SCCM in its guidelines on admission and discharge policy for ICUs recommends a series of actions, most of them lacking any compelling evidence, but which are widely accepted and usually carried out by the majority of intensive care physicians.
Discharge patients when they are physiologically stable and do not require monitoring or their own intensive care treatment.

Discharge patients at a lower level of acute care depending on patient disposition, prognosis, stability, or the need for patient interventions.

Taking into account, as we discussed previously APACHE II at discharge, the rates as an aid in identifying those patients at high risk of deterioration following discharge from the ICU.

Whenever possible, especially with frail patients, talk to the doctor receiving the patient to tell him/her about their progress, treatment, and management. This could reduce the frequency of readmissions.

With level 2C, patients would not be discharged at night, hospital mortality has increased (OR1.31), but there is no difference between discharging them on weekdays and weekends.

Also, with level 2C there would be the use of intermediate care units or long-stay hospitals for those patients who are still fragile, either because of the severity of the disease, their multiple comorbidities, physiological instability, or because they still have the support of a vital organ at discharge.
Regarding the survival and quality of life outcomes of cancer patients, studies tend to focus on intra-ICU mortality, hospital mortality or mortality at 30–90 days. Such short results do not give us valid conclusions as to the actual benefits and overall cost-effectiveness of ICU care in cancer patients. Fifteen years ago, the one-year survival rate for cancer and haematological patients was 25% [48], whereas more recent studies place it between 18 and 64% [49].
In general, it seems to be shown that the long-term survival of cancer patients does not depend on the severity of the process or the time spent in the ICUs, but rather on the prognosis of the tumour disease [50].
Summary
The progressive increase in the incidence of cancer cases (mainly solids), the technological advance, the accumulated experience, and, above all, the better knowledge of the etiopathogenesis of the neoformative processes have sparked interest in this type of patients from all areas. The ICUs are not alien to this interest, seeing in these patients the possibilities that they did not see before, considering this group of patients in a similar way to another subgroup of severe diseases. But not everything goes, sensibly they have been developing guidelines of action or strategies against them according to the moment of the diagnosis and treatment options, with special attention to the moment in which they develop failure of some organ and evaluating each day this dysfunction. This careful monitoring within a multidisciplinary team, far from the usual loneliness of the intensivist, has brought the possibilities of survival in our units closer to that of any other type of seriously ill patient. Today we can say that no cancer patient should have fewer opportunities for treatment than another critical patient, always respecting personal autonomy.
Copyright information
© Springer Nature Switzerland AG 2019