Violence Against Women in the Arab World: Eyes Shut Wide Open
Living reference work entry
Abstract
Violence against women and girls is a global phenomenon that is not confined to any particular geographical region, race, ethnicity, society, culture, age group, or socioeconomic status. Recent reviews have emphasized that it has reached epidemic proportions and that it has major negative consequences, not only for the victims, but for the whole society. However, it remains a socially accepted and hidden issue in many parts of the world including the Middle East and North Africa region. Despite the scarcity of scientific data and the systematic under-reporting, consistent findings show that in Arab countries, as well as worldwide, at least one out of three women has been exposed to domestic violence which is the most prevalent form that affects women of all social strata across the world.
As well as traditional forms of violence such as wife-battering and sexual abuse, Arab women suffer, throughout their lives, from specific types of domestic violence: carelessness, female genital mutilation, lack of education/access to education, confinement at home, sexual abuse, child marriages, forced marriages, temporary and polygamous marriages, repudiation, honor-related violence directed at both married and unmarried women, and abuse by other family members (such as in-law, parents, and brothers). Outside the home, they experience many forms of sexual violence and commercial exploitation. Moreover, the risks of violence have increased with the crises sweeping the region (war, armed conflicts, and uprisings) and the rise of Muslim extremism.
Violence against women is not only tolerated but also often justified, and this discourages the victims from disclosing it and withholding punishment from the perpetrators. Violence stems from deep cultural roots in a "shame-honor" society that fosters a culture of violence against women, through the crucial importance attached to the "kinship spirit," through the subordinate status of women, and through a misinterpretation of Islam. However, arguably the most important factor currently underpinning violence against women was expressed by Hannah Arendt, when she stated: "The reign of pure violence starts when power begins to be lost."
As a consequence, fighting violence against women and girls is of the highest priority as it comes at a very high cost, at the levels of human rights, public health, and financial expenses and is an impediment to development and democracy. It should be based on two pillars: legislation to adequately repress the offences and crimes and to protect the victims, along with the promotion of gender equality. But, as said by Mao-Tse-Toung: "Obviously, in matters of women's rights, we must begin with laws, but since then, all remains to be done." This means that legislation is necessary to debunk the myth that domestic violence is a "private affair," but insufficient to win the fight. Legislation must be accompanied by access to education for all females to change the mentality of a patriarchal society. The challenge in combating gender-based violence is that most governments deny there is a problem. Such a challenge cannot be met without a strong political will and the adhesion of the civil society.
Keywords
Violence against women and girls 
Arab world 
Specific features of violence 
Cultural issues 
Tolerance towards violence 
List of Abbreviations
BWS

Battered woman syndrome

CEDAW

Convention on the Elimination of All Forms of Discrimination against Women

CRC

Convention on the Rights of the Child

CSW

Commission on the Status of Women

FGM

Female genital mutilation

GBV

Gender-Based Violence

MDG

Millennium Development Goal

NGO

Non-governmental organization

UNDP

United Nations Development Programme

UNFPA

United Nations Fund for Population Activities

UNICEF

United Nations Children's Fund

UN-Women

United Nations Entity for Gender Equality and the Empowerment of Women

VAW/G

Violence against women/girls

WHO

World Health Organization
Introduction: The Gap between Reality and Awareness
In spite of growing international awareness of the problem and the declared willingness of states to fight gender-based violence, women and girls continue to suffer disproportionately from violence (both in peacetime and in the context of armed conflicts), at the hands of close relatives or strangers as well. Moreover, violence against women and girls (VAWG) is not only frighteningly common but also highly tolerated within many societies in developing countries in general and in Arab and Islamic countries in particular, under the garb of "cultural values." Thus, very little is known about the topic, in these parts of the world, at least from the scientific literature which is very limited. Nevertheless, existing research shows consistently that domestic violence, especially, is as prevalent as in Western countries, but highly under-reported. International news coverage, however, is far more informative and has been reporting for years the many kinds of violence suffered by Muslim and non-Muslim women in these geographical areas. Moreover, it seems that the risk keeps steadily growing, because of the various conflicts that are devastating the Middle-East and North-Africa. Despite these alarming facts, both the governments and civil society do not seem to be really concerned about addressing the problem. So, while this phenomenon is largely addressed in Western countries and adequate policies formulated to deal with it, in Arab and Islamic societies, gender-based violence (GBV) is not yet considered of major concern despite its increasing frequency and its tragic consequences. We are going to report some data about the magnitude of the problem and its characteristics, and then address the issue of its under-recognition and the impact of "cultural roots," in order to propose some appropriate recommendations to fight it.
Eyes Wide Open: Facts and Figures
Research data is scarce but sufficient enough to provide a fairly accurate picture of the situation.
Eyes Shut: A Troublesome Tolerance
What Violence Are We Talking About?
The meaning of violence varies from one culture to another, and sometimes within the same culture. Women from Arab cultures are brought up in a belief system that stresses the greater importance of the family than that of individual members. So, all forms of violence are not treated in the same way. Some of them are not considered as such and performed, because they belong to the tradition and culture and considered as protection for young girls against sexual abuse and temptation: FGM, early veiling, confinement at home, or early marriage. As a matter of fact, FGM is publicly celebrated, like the circumcision of boys and sometimes even claimed by the young girls. Wife battering is recognized as abuse but accepted as part of the order of things, and regarded by many, including the victims, as private and often legitimate. Consequently, it is highly condoned and largely under-reported. On the other hand, sexual assaults (from harassment to rapes) are not tolerated at all but should never be disclosed, because they bring shame and dishonor on the family. Indeed, they implicate the victim as guilty somewhere; at worst, she was consenting, at best, she provoked her aggressor, by being unveiled, for example. Finally, what is recognized as violence is at the same time defined as private and locked in family secrets.
The Look of Society: No Right of Interference
Wife Abuse Is a Private Affair
In Arab societies, the tendency is to view wife abuse as a private, personal, and family affair rather than a social and criminal problem requiring external intervention. For 80% of the 625 men and the women participating in Haj-Yahia's study (Haj Yahia 1998), "marital violence doesn't justify reporting the husband to the legal authorities." Two decades later, this mentality has not changed much. In Morocco, 60% of men consider that wives should tolerate violence to keep the family united, and that number goes up to 90% in Egypt (IMAGES 2017).
Wife Abuse Is "Justified"
DV is above all widely justified. In Tunisia, only 60% of women and 51% of men considered marital violence intolerable (Belhadj et al.
1998
); in another study (Aouidj
2001
), wife abuse was acceptable or sometimes acceptable for 77.6% of Tunisian women! In the Tunisian National Survey (Zemni
2010
), 55% of the victims accepted violence as part of the order of things because of shame and fear of aggravating the situation. In Palestine (Haj Yahia
2000
), only 41% of respondents strongly agreed or agreed that "there is no excuse for a man to beat his wife." However, 60% of men and 50% of women strongly agreed or agreed that "a violent husband is not solely responsible for his behavior." Marital violence is justified by:
Nearly, 49% of men and 43% of women in Palestine strongly agreed or agreed that "a battered woman is solely responsible for being beaten because she obviously did something that irritated her husband." In Tunisia, 32.3% of men and 21.6% of women consider that "the husband is sometimes obliged" to beat his wife! Battered women are to blame for violence against them under different circumstances (Douki et al.
2003
): if the husband believes she is sexually unfaithful, if she refuses sex to her partner, if she challenges her husband's masculinity, chatters, talks too much, nags, complains too often, disobeys and undermines his authority, interferes with her husband's social life, and does not respect his parents and siblings. The Egypt 2008 Demographic and Health Survey revealed that around 30% of women in the sample who were or had been married believed a husband was justified in beating his wife if she went out without his permission, neglected her children, or refused to have sexual intercourse with him (IMAGES
2017
).
The conditions of the husband's daily life
Some respondents (13% in Palestine) expressed support for the husband; they strongly agreed or agreed that the husband is justified in beating his wife, based on his personal and life conditions: work pressure and debt, and the feeling that no one understands or helps him.
The religious commandment
"Men are the maintainers of women […]. the good women are therefore obedient, guarding the unseen as Allah has guarded; and for those who show rebellion, you shall FIRST enlighten them, then desert them in bed, AND THEN beat them; once they obey you, do not seek a way against them; surely Allah is High, Great." (Koran, IV, 34). It is on the basis of this verse that violent husbands claim the right to discipline their wives as they see fit.
The perception that domestic violence in general, and wife-abuse in particular, is a family issue rather than a criminal act requiring a sanction, has a strong impact on the decision of the wife and her family to keep the problem to themselves. Indeed, all the protagonists in this drama are partners in a real conspiracy of silence.
The Conspiracy of Silence
The Victims
More than 6 in every 10 women survivors of violence refrain from asking for support or protection of any sort and remain silent rather than seek protection or support. They were 73% in the ENVERT who did not seek help from anyone.
Women are reluctant to report marital violence because of the risk of facing social isolation and ostracism. Battered Arab women who use the law to remove violent husbands from the home or issue a protection order against them may be ostracized by their community and blamed for undermining family stability and unity. This can be attributed to the prevailing belief that the children's best interests, the woman's personal reputation, and the reputation of her family of origin take precedence over her own well-being and safety.
Under-reporting of spousal violence is also common as a result of shame, fear of retaliation, lack of information about legal rights, lack of confidence in, or fear of, the legal system, and the legal costs involved. Also, as everywhere, women often feel guilty, believing that they deserve the beatings because of some wrong action on their part. Although women in traditional societies are probably most inclined to believe that men are justified in beating their wives, in all settings, in developed and developing countries, abused women tend to hold more beliefs which justify violence against them. Under-reporting is highest in the case of sexual violence as it remains highly stigmatized in all settings (UNICEF 2000)).
The remaining ones who do speak up mostly turn to family and friends for support or protection. In Tunisia, only 3.8% turn to the police station and 2.3% to the health services. However, in the majority of cases, even if violence is disclosed, family, police, and even health professionals are not of great help, given the importance attached to maintaining the marital link.
The Environment
For the family, the marital bond must be preserved at all costs. The family is viewed as a highly important social institution whose unity and cohesiveness should be maintained. Battered women are generally advised to forgive their husbands in order to protect their children and their home.
The police generally use (especially when they know the husband) the same arguments to deter the woman from filing a complaint. Law enforcement authorities routinely dismiss domestic violence as "private" disputes. Female victims attempting to register complaints of abuse are often turned away and advised, or pressured, by the police to reconcile with their abusive spouses.
Physicians also collude in this conspiracy. The lack of abuse detection by health professionals is alarming. Women's reports of abuse are often denied, minimized, interpreted as delusional, or ignored. Women in relationships with violent men are often labeled as "masochistic" and "self-defeating." Frequently, victims of wife-assault, incest, rape, and other forms of abuse are not addressed in individual treatment, marital and family interventions, or discharge plans. There is also a systematic underrating of the health consequences and the traumatic injuries that occur.
If the victims do manage to break the silence, they will confront justice that is as blind as deaf and dumb!
The Look of Justice: An Incomprehensible Leniency
"The law is in favour of men, not women" declared Lubna Taweel, a Jordanian lawyer, to The Arab Weekly, on 05/08/2015. Indeed, the leniency of justice on this subject reflects the general tolerance of the society at large, especially in countries implementing Islamic laws and rules. The perpetrators of violence against women often escape punishment and its victims rarely receive reparation. Rare are the Arab countries, where laws condemning violence against women are legislated.
First of all, many forms of VAW are not considered crimes or offences and consequently are allowed, if not encouraged. This is the case with FGM, child, temporary and polygamous marriages, repudiation, or domestic violence, in particular marital rape, in most countries.
As for wife abuse, according to Islamic law, many countries recognize the husband's right to discipline his wife for disobedience and consider that a refractory wife has no legal right to object to her husband's exercising his disciplinary authority. However, even when a repressive law exists, it is rarely used to charge violent partners. In Tunisia, the law on violence against women has been amended for the first time to increase the sentence against the offender when he was a spouse but, at the same time, it offered the possibility for the victim to withdraw her complaint. Thus, about 6000 complaints for marital violence were lodged every year but most of them were withdrawn and only 0.3% referred to a court! This clause has been repealed in 2017, under pressure of the women's and human rights organizations. Likewise, Tunisia became the first Arab country, and up to the present time, the only one, to recognize and punish marital rape.
Muslim scholars and jurists argue that Islam does not set limits on the freedom of man in the practice of sex with his wife without her consent. They base their opinion on the Koranic verse which says: "Women are the land which is yours to plough – you may therefore plough them wherever you wish." (II: 22). On the other hand, Islamic teachings forbid women to desert their husbands in bed. According to the Hadiths (sayings of the Prophet), a woman is sinful if she refuses sex, without a reasonable cause, to her husband. Among these sayings, are the followings: "If a man invites his wife to sleep with him and she refuses to come to him, then the angels sends their curses on her 'til morning." Or, "When a man calls his wife to satisfy his desire, she must go to him even if she is occupied at the oven" (Mishkat 1, p. 691).
Muslim scholars explained later that all these commands were made for the security of the social order, to prevent men satisfying their sexual needs with prostitutes. The same explanation has been used to justify the practice of polygamy.
Regarding sexual violence, the perpetrators are often shown leniency or even acquitted! For example, rapists can escape being sentenced if they marry the victim! In Morocco, article 475 of the penal code which allowed rapists to avoid prosecution if they marry their victims was only repealed in 2014 following the suicide of a rape victim who was forced to marry her aggressor. Similarly, honor killings enjoy extenuating circumstances and run the risk of 3-year imprisonment, at worst. The example of Jordan is very eloquent, in terms of cultural barriers. The Arab Weekly (Nahhas 2015) reported that King Abdullah II and his wife, Queen Rania, fought an uphill battle to impose harsher punishments on rapists and those who commit honor killings. Parliament argued that sentences longer than the prevailing 6 months in jail would encourage women to commit "vice." But the King wanted honor killings to be considered the same as other murders, punishable by a minimum of 10 years in prison. It took at least 3 years to amend the penal code, specifically Article 98, and even then not quite as much as the King had sought. Article 98 obliges judges to give high regard to extenuating circumstances, such as male fits of rage, when handing down sentences.
It is time to question this intolerable tolerance!
The Cultural Roots of Violence Against Women
Gender-based violence seems to stem from cultural roots, including sociological and psychological factors, which foster violence and its acceptance, and contribute to the perpetuation of this problem. It is of crucial importance to identify these factors in order to fight them appropriately.
The Heavy Toll
Arab countries are paying a very heavy price for gender-based violence in terms of human rights, public health, economic development, and democracy.
Violence against women is indeed the most pervasive yet least recognized human rights abuse in the world. Numerous international and regional treaties and conventions recognize violence as a fundamental violation of girls' and women's rights. It prevents women and girls from living a life free from harm; compromises their dignity, security and autonomy; and contributes to grave health consequences.
Indeed, it is also a "priority health issue" as declared, since 1997, by WHO which added further in 2013 "a global public health problem of epidemic proportions."
A growing body of evidence shows that women's experience of violence has direct consequences not only for their own well-being but also for that of their families and communities. Worldwide, it has been estimated that violence against women is as serious a cause of death and incapacity among women of reproductive age as cancer, and a greater cause of ill-health than traffic accidents and malaria combined (WHO 1997).
Victims are at risk for serious injury and death. In addition to various bodily injuries (broken bones, third-degree burns), abuse can have long-term mental health consequences, including depression, suicide attempts, substance abuse, and post-traumatic stress disorder (PTSD). A specific form of PTSD has been described as "battered woman syndrome" which results from long-term domestic abuse. Violence, including sexual assaults may also cause sexually transmitted diseases, unwanted pregnancies, and other sexual and reproductive health problems. Abused pregnant women are exposed to many obstetrical and perinatal complications as are the new-born. For girls, the health consequences can carry on into their adult life. Finally, violence against women is a profound health problem, sapping women's energy, compromising their physical and mental health, and eroding their self-esteem.
VAW can also have repercussions on subsequent generations. Children of battered women may suffer from injury themselves and later develop substance abuse, problems at school, violent behavior, enuresis, sleep disorders and chronic somatic diseases, or even suicide. For example, boys who witness their mothers being beaten by their husbands are more likely than other boys to use violence to solve disagreements in their adult lives. Girls who witness the same sorts of violence are more likely than other girls to be involved in relationships in which their partners abuse them. Thus, violence tends to be carried over from one generation to the next, thereby creating a culture of brutality. IMAGES (2017) presented evidence that one of the root causes of gender-based violence was found in highly violent childhoods. In all four countries surveyed, half to three-quarters of men reported having experienced physical violence in their homes growing up, and two-thirds or more reported having experienced physical violence by teachers or peers in school. The violence men and women experienced as children turns into violence against their own children. Across all four countries, 29% to 50% of men and 40% to 80% of women reported using some form of physical punishment or other violence against their own children.
Violence against women incurs tremendous costs, from greater health care and legal expenses to losses in productivity, impacting on national budgets and overall development (WHO 2012). On the one hand, violence negates women's autonomy and undermines their potential as active members of society. On the other hand, the cost going into services for victims and lost productivity could have been directed into projects and other activities that benefit everyone in society. Estimation of the cost of the violence is viewed as an important tool to bring about constitutional reform and push forward for implementing laws and enforcement. Day et al. (2005) affirm that "Economic development is limited as long as violence against women exists. The sooner countries bring in effective policies and programmes to end violence against women, the sooner they will begin to reduce the economic cost of that violence to their society and benefit in the long run […]. While it is recognised that VAW represents a loss to the State in terms of the cost of service provision, the loss of productive work by women suffering from the effects of violence also represents a loss to GDP."
Globally, the total direct and indirect costs of violence against women are estimated to be as high as 1–2% of Gross National Product. At the global level, this amounts to millions of dollars. With some exceptions, Arab countries do not generally focus on the economic cost of neglecting the grave issue of violence against women and girls. According to the ESCWA report, among Arab countries, only Egypt, Morocco, and Qatar appear to pay attention to this issue. In Egypt, the cost of violence that women and their families experienced was estimated to be at least $208 million in 2015 and possibly as high as $780 million, according to the Egypt Economic Cost of Gender Based Violence Survey 2015 (http://egypt.unfpa.org). The 2009 Violence Against Women Costing Study in Morocco revealed that the cost of women seeking help from the justice system may total around $6 million annually; health providers indicated that the cost of tending to each female victim of violence amounted to $196 (Barker et al. 2009; UN Women 2013a). In Qatar, the 2011–2016 National Development Strategy explicitly refers to the social and economic costs of violence against women and children, "which includes physical, emotional and sexual abuse that directly undermine Qatar's goal of providing social care and protection for all its citizens" (Qatar, General Secretariat for Development Planning, 2010, p. 170).
Finally, violence against women, which is rooted in gender inequality, power imbalance, and human rights' violations, is an absolute impediment to democracy. "Democracy is as much about citizenship rights, participation and inclusion as it is about political parties, elections, and checks and balances," wrote Valentine Moghadam (2008). (Valentine M. Moghadam is director of women's studies and professor of sociology at Illinois State University. Dr. Moghadam is the author of "Modernizing Women: Gender and Social Change in the Middle East" (Boulder, CO: Lynne Rienner Publishers, 2003, second ed.)) It means that empowerment of women and establishment of gender equality are crucial to democracy. Everywhere, the expansion of women's rights has gone hand-in-hand with the establishment of democracy, and women have played a key role in the transition from authoritarianism to democracy. They have proved it again during the recent "Arab Spring." Therefore, fighting violence against women is fighting for democracy. It was beautifully said by John Stuart Mill stating: "Whatever crushes individuality is despotism, by whatever name it may be called and whether it professes to be enforcing the will of God or the injunctions of men."
Fighting Violence Against Women
Women's right to live free from violence is upheld by international agreements such as the Convention on the Elimination of All Forms of Discrimination against Women (CEDAW), especially through General Recommendations 12 and 19 and the 1993 UN Declaration on the Elimination of Violence against Women. Besides this, there are a number of internationally agreed norms and standards related to ending violence against women. Fighting violence against women, as advocated by "UN Women," needs the adoption of comprehensive legislative and policy frameworks that are aligned with international standards. A comprehensive legislative approach would encompass the criminalization of all forms of VAW, the effective prosecution and punishment of perpetrators, and the support and protection of survivors, along with the promotion of gender equality and the strengthening of women's empowerment. Gender-based violence is closely connected with discrimination against women. Violence against women and girls is not only a consequence of gender inequality but reinforces women's low status in society and the multiple disparities between women and men (UN General Assembly 2006).
However, to fight a problem which affects health and security, in the whole society, it is not enough to talk about repression; we must also recommend solutions and bring hope for a better life for women and men. Furthermore, any strategies must be conducive to its own environment and circumstances and must address the specific causes and risk factors which feed violence against women.
Addressing the Causes and Risk Factors
A variety of factors have been shown that interact to increase the risk of violence against women and girls (UN WOMEN
2010
).These factors include:
Witnessing or experiencing abuse as a child (associated with future perpetration of violence for boys and experiencing violence for girls)

Substance (including alcohol) abuse (associated with increased incidences of violence) (World Bank 1993)

Women's membership in marginalized or excluded groups

Low levels of education (for boys associated with perpetrating violence in the future and for girls, experiencing violence)

Limited economic opportunities (an aggravating factor for men associated with perpetrating violence; and as a risk factor for women and girls, of experiencing domestic abuse, child and forced marriage, and sexual exploitation and trafficking)

The presence of economic, educational, and employment disparities between spouses

Conflict and tension within an intimate partner relationship or marriage

Women's insecure access to and control over property and land rights

Male control over decision-making

Attitudes and practices that reinforce female subordination and tolerate male violence (e.g., dowry, bride price, child marriage)

Lack of safe spaces for women and girls that allow free expression and communication; a place (physical or virtual) to develop friendships and social networks, to seek advice, if needed, from a supportive environment

Normalized use of violence within the family or society to address conflict

A limited legislative and policy framework for preventing and responding to violence

Lack of punishment (impunity) for perpetrators of violence

Low levels of awareness among service providers, law enforcement, and judicial actors
On the other hand, there are protective factors that can reduce women and girls' risk of violence against them, including:
Completion of secondary education for both girls and boys

Delaying age of marriage to 18

Women's economic autonomy and access to skills training, credit, and employment

Social norms that promote gender equality

Quality response services (judicial, security/protection, social and medical) staffed with knowledgeable, skilled, and trained personnel

Availability of safe spaces or shelters

Access to support groups
It seems that all the risk factors are prevalent while the protective factors are lacking in the region and need to be addressed.
The Present Situation
The Legal Framework
The situation is very different from one country to the other, but none of the Arab countries until now grants equal rights to both genders. Likewise, none of them have a comprehensive legislative framework to address VAW. When there is a constitutional reform, it is not transformed into law. If there is a law, there is no policy and if there is policy, there is no budget.
The Economic and Social Commission for Western Asia (ESCWA 2013) conducted a study in 18 Arab countries to examine the legal framework in place. The analysis of national constitutions and basic laws, penal legislation and personal status laws indicates that laws and regulations pertaining to violence against women are not only dispersed among various sources but may also be contradictory. Faith-based personal status laws may contradict other sources of legislation upholding women's rights. For example, Tunisia which is the most advanced Arab country regarding women's rights is still combating the last inequality related to inheritance and fiercely defended by sharia supporters.
Even when legislation combating violence against women exists, it often fails to comprehensively address all forms of violence (like child marriage, spousal rape or FGM) and enforcement mechanisms are frequently inadequate or ineffective.
Similarly, harmonization of national legislation with international human rights instruments on gender equality remains a key challenge. With the exception of the Sudan, all the countries in the Arab region have ratified CEDAW. However, the majority of Arab countries have raised reservations about certain articles that call for equal rights for women and men. Most countries include the caveat that ratification must not contradict Islamic sharia norms or principles. These contradictions hinder the ability of Arab countries to address manifestations of violence against women, especially modes of violence that are socially taboo, such as spousal and sexual violence in the family.
Many Arab countries do not explicitly cover domestic violence in their penal code. On the contrary, some allow it. Thus, in Iraq, penal law permits husbands to punish their wives. In the United Arab Emirates, penal law decrees the male guardian's right to use physical violence against female kin, including wives. In Egypt, the judiciary may consider domestic violence by males against females to be in accordance with sharia (Human Rights Watch 2004). Even when penal legislation is in place, there are impediments to implementing the rule of law. For example, in Jordan, the court requires two witnesses in order to rule in the case of wife battery. In some countries, such as Bahrain, the court does not accept testimony of relatives in cases of domestic violence or it may accept testimony of only one female witness. Apart from Tunisia, no Arab country explicitly refers to spousal rape as a criminal offence.
As for rape, it is criminalized in all Arab countries. However, in Algeria, Bahrain, Libya, Palestine, Sudan, and the Syrian Arab Republic, the male rapist escapes punishment if he marries the victim. In some countries, such as Sudan, the distinction between rape and adultery tends to be blurred and victims have to prove they have been raped.
Regarding so-called "honor crimes," with the exception of Tunisia, where such crimes may entail the death penalty, penal regulations in Arab countries generally include leniency clauses.
As for gender equality, dispositions like age at marriage, forced, unregistered or polygamous marriages, repudiation, inheritance, ban on marrying a non-Muslim, imposed dress code, and duty of obedience to the husband, who is the head of the family, are clearly discriminatory but are highly defended by the proponents of sharia, arguing that they comply with the religious prescriptions.
The Service Provision
The lack of essential multisectoral and coordinated services to respond effectively to survivors of violence also adds to the magnitude of the problem in the region. Many women and girls who experience physical and sexual violence still lack access to the core services they need to survive and recover. Nongovernmental organizations (NGOs) in Arab countries play a crucial role in filling gaps left by the States in combating violence against women and girls. Through their "counselling and listening" centers, NGOs help victims of domestic violence cope with their situations by providing legal, psychological, and social support; they operate hotlines and shelters; provide health services, including the detection of domestic violence and group therapy; they organize sensitizing campaigns, training seminars, and follow-ups for survivors. However, protection services provided by the NGO sector are generally limited in coverage and dependent on donor funding, a fact that limits their ability to combat violence against women and girls effectively. There is an urgent need for increasing shelters, listening centers, and hotlines nationwide.
The Fight Begins, But the Resistance Continues
Some progress has been made, suggesting at least that the culture of silence hitherto surrounding the subject has begun to be addressed. This was recently illustrated by a conference held in Tunis in November 2017 by the Coalition of Women MPs from Arab Countries Combating Violence against women and girls, which gathered representatives from the 13 Arab States members (Egypt, Lebanon, Jordan, Tunisia, Morocco, Palestine, Iraq, Djibouti, Sudan, Bahrain, Kuwait, Saudi Arabia, and Libya) and the Tunisian Ministry for Women, Family and Childhood. The summit was convened to review efforts to end gender-based violence and a Tunis Declaration listing several propositions was agreed upon.
The coalition is an independent organization established in December 2014, with the support of the Westminster Foundation for Democracy, formed by Members of Parliaments from both legislative chambers of different Arab countries that believe in combating violence against women. In just a few years, it has already registered some success, such as the development of the draft Arab Convention to combat violence against women and girls, launched in 2016 with the Arab League. At the national level, through the Coalition, parliaments in Lebanon, Jordan, Iraq, Tunisia and Palestine put violence against women and girls on the political agenda. The first results are very promising. Thus, after Morocco in 2014, Lebanon, Jordan, Tunisia, and Palestine repealed the "marry your rapist's law" from their penal code in 2017. Moreover, Morocco and Tunisia have withdrawn their reservations to CEDAW. And last, but not least, Tunisia enacted a pioneering "Domestic Violence Bill" which recognizes domestic violence including marital rape for the first time as criminal offence and places a responsibility on the state to act in situations previously considered part of the private sphere. It also established the Arab Day to Combat Violence against Women to raise awareness about the treatment of women in the region. It now takes place every year on 12 January.
Since 2012, the Palestinian Cabinet adopted the Arab region's first national strategy to combat violence against women. With the support of UN Women, survivors of violence took part in drafting it. The strategy unifies existing efforts to end violence against women, covering: improved policing, the application of forensic science to violence cases, extended social services and better training of social workers. As one step towards implementation, the Cabinet agreed on a by-law allowing the Ministry of Social Affairs to require all shelters for survivors of violence to uphold quality and human rights standards. It draws from good practices developed at the UN Women-backed Mehwar Centre, a pioneering initiative offering women a full range of services to recover from violence, seek legal redress and develop livelihood skills. A new helpline, backed by web-based counselling and referral mechanisms, has given 18,000 callers access to potentially life-saving information.
Unfortunately, at the same time, an opposite movement is developing, showing that the combat is not won in advance. After the Arab Spring, the Woodrow Wilson Centre (ESCWA 2013) reported an increase of violence against women: "Women are experiencing physical violence against their persons in the form of rape, beatings, arrests, prison, and torture. There is more. Women political activists are subjected to virginity tests. Little girls are forced into marriage. Under the threat of physical punishment, women are told what to wear and how to behave in public. Women face a creeping segregation; they are being pushed out of the political arena and the workplace." Very recently, according to The Independent (2019-03-14), women have been arrested in May 2018, subjected to "imprisonment, solitary confinement, and torture by the Saudi Arabian government as part of its brutal crackdown on individuals who raise their voices in defence of women's rights in the Kingdom." The writer-activists have publicly spoken out against the government and the oppressive guardianship system in Saudi Arabia, which restricts women's travel, education, and other rights unless a male guardian gives permission. The Woodrow Wilson report adds: "There are other danger signs. Progressive personal status laws in the countries of the Arab Spring are under threat. In Egypt, there was a move to lower the marriage age for girls to nine and to permit female genital mutilation. In Egypt, Libya, and Tunisia, there is talk of permitting polygamy once again."
It means that vigilance is necessary and that the fight is just beginning.
The Way to Go
Laws Matter: GBV Is Not a Private Affair
Even though laws are insufficient, by themselves, to eliminate VAW, as shown in Western countries, they are necessary and of crucial importance to highly affirm that violence is not a private matter and that the state has the final say. The CEDAW Committee's General Recommendation No. 19 on VAW makes clear that "States may also be responsible for private acts if they fail to act with due diligence to prevent violations of rights or to investigate and punish acts of violence, and for providing compensation." It was recently confirmed by Sayida Ounissi, a Tunisian minister from the Islamist Ennahda Party, saying: "The state is now being pushed to acknowledge that even if you [are violent towards women] behind closed doors, you are accountable to the rest of society for what you are doing because we are together paying the cost of your actions […] in terms of insecurity, in terms of health, in terms of violence." Once laws are in place, they convey a strong message that violence against women is not tolerated and that it is the right of every woman to live free of violence. Domestic violence and harmful traditional practices are not "outside justice." It was one of the recommendations of the Tunis Summit: "We encourage States that have not yet adopted legislation and comprehensive frameworks to eliminate violence against women and girls and domestic violence to work towards the establishment of national systems in this field that are in conformity with international standards and are consistent with the contents of the draft Arab Convention."
The first step, at the international level, is to ratify the CEDAW or to withdraw the reservations raised to the articles that call for gender equality. Article 3 of the United Nations Declaration on the Elimination of Violence against Women (DEVAW) stipulates that "States should condemn violence against women and should not invoke any custom, tradition or religious consideration to avoid their obligations with respect to its elimination."
At the national level, "the time has come" was the campaign launched in Sudan in March 2019 to denounce sexism. Actually, it is about time to implement a comprehensive policy starting with a Constitutional reform. This is what was done in Tunisia. Article 21 of the new Constitution (2014) states: "All citizens, male and female alike, have equal rights and duties, and are equal before the law without any discrimination […]." Article 46 adds: "The state shall commit to protecting women's achieved rights and seek to support and develop them […]. The state shall take the necessary measures to eliminate violence against women."
States have to translate this commitment into specific laws. This is how a "Law on Eliminating Violence against Women" passed in Tunisia on 26 June 2017 which has been hailed as a "landmark" of progress by human rights groups. The new law, which came into force in 2018, is the first piece of legislation which recognizes domestic abuse, "physical, moral, and sexual," as a crime. The legislation allows women to seek protection from acts of violence committed by their husbands and other relatives. It leads the way to the prosecution of abusers and psychological and practical assistance for victims of domestic violence. It also includes provisions on harassment in public spaces and abolished the controversial clause that allowed rapists to escape punishment if they marry their victims.
However, authorities then have to ensure that there is adequate funding and political will to put the law into effect. Unfortunately, the law does not specify how the state will fund the programs and policies it brings into being. As an example, while it requires authorities to refer women to shelters if they are in need, it provides no mechanisms for funding either governmental or nongovernmental shelters. It also does not set out provisions for the government to help women with timely financial assistance to meet their needs or assistance in finding long-term accommodation. Consequently, a year after Law 58 was implemented, its assessment by NGOs, government officials, and victims revealed a host of shortcomings, from logistical barriers that prevent some women from filing complaints to social pressures that keep others from even trying.
A specific law combating violence against women and girls would be incomplete and ineffective if it does not put an end to the legal loopholes that contribute to perpetuating impunity and ineffective enforcement of the rule of the law such as mitigating circumstances for perpetrators, and if it does not address all forms of violence. It means that it must be completed by other legal measures to fight the real sources of gender-based violence, namely, discrimination, gender inequality, and women's lack of empowerment.
In Tunisia, before the promulgation of this specific law, many legislative measures were already brought to prevent violence against women: abolition of the dowry, postponing the age of marriage for both genders at 18, outlawing of polygamy, unregistered marriages and repudiation, suppression of the clause of obedience for the wife, co-responsibility of the two spouses in the management of the household, and compulsory schooling to prevent girls from being withdrawn early from school.
Maybe the most urgent reform is to promote equality between spouses and to suppress the "clause of obedience." Many personal status laws recognize the husband as the head of the household, which is an approach that undercuts the equality of men and women within the family. A majority of these laws still include an obedience clause that grants the husband the right to discipline both his wife and his children. Additionally, these laws also perceive the wife's "duty" to be to obey her husband, a fact that further obscures the issue of marital rape. This law is not only discriminatory but also unsuited to the modern world, where more and more women are de facto today heads of household, given the frequent migration of men. It ignores the existence of female-headed households which is an increasing trend, particularly in conflict and post-conflict countries in the Arab region.
Maybe it is finally time to end criminalizing of women's clothing or behavior, like in Sudan, where thousands of women are arrested and flogged every year, according to article 152 of the Criminal Code which applies to "indecent acts" in public. This includes wearing an "obscene outfit" (trousers, for example) or "causing an annoyance to public feelings"!
This last question is being debated: must mandatory reporting be introduced? Some argue that the number of unreported cases of abuse is likely to decrease if health and legal professionals, educators, social workers, clergymen, and local community leaders who may witness this violence report it to the police or to the relevant social institutions. For them, better data about the incidence of domestic violence will allow to better address the problem. It is the case of the National Coalition to Protect Women from Family Violence in Lebanon which has lobbied for a mandatory reporting of violence against women.
Finally, the most perfect laws would be useless if they do not meet the real needs of the survivors, namely, a "safe environment." It means that the provision of services is a crucial piece in the prevention and response to VAWG. The Coalition of women MPs put their "emphasis on the need to allocate shelter centres for women and children victims of violence and domestic violence and to monitor the human and material resources necessary to safeguard the dignity of women and children," and on "the importance of ensuring special protection against violence for women with disabilities." However, in the region, there is still a wide gap between the legal commitments for the provision of services for women experiencing violence and actual country level implementation. Although progress is being made globally, many victims still lack access to quality multisectoral services. These services are essential as they provide much-needed support to survivors of violence, by keeping them safe, providing health care for their injuries, responding to their sexual and reproductive health needs, including provision of post-rape care and counselling, and facilitating their access to the police and justice system. Particularly vulnerable groups – such as migrants, women living with disabilities, or women living in remote areas – have even more limited options and often lack access to basic services. The Joint Global Programme for Essential Services for Women and Girls Subject to Violence (the "Programme"), a partnership by UN Women, UNFPA, WHO, UNDP, and UNODC, has developed an "Essential Services Package" including the essential services to be provided by the health, social services, police, and justice sectors as well as guidelines for the coordination of Essential Services and the governance of coordination processes and mechanisms.
This lag between the law and its practical impact lies in the cultural barriers that curb the enforcement of the law. As has been stated by Mohammad Naciri, Regional Director, Arab States UN Women, "Still, the biggest obstacle of all is society: you and me and our neighbours, and the stereotypes and norms we harbour and perpetuate. We are all guilty of it."
Mao Tse-tung used to say: "In matters of women's rights, we must begin with laws, but since then, all remains to be done." It is the role of education, because combating violence is the responsibility of society as a whole and not only its institutions.
Education Matters
Violence against women and girls is rooted in gender-based discrimination as well as in social norms and gender stereotypes that perpetuate such violence. Given the devastating effect violence has on women, efforts have mainly focused on responses and services for survivors. However, the only way to end VAWG is to prevent it from happening in the first place by addressing its roots and structural causes. Violence is anchored in the persistent social acceptance of discrimination against women among both males and females in the region. As a matter of fact, IMAGES 2017 showed that "too many men in the region continue to uphold norms that confine women to conventional roles […], and they act on these attitudes in ways that cause harm to women, children, and themselves. There is a long and winding road that must be travelled before most men – and many women, too – reach full acceptance of gender equality in all domains." For example, two-thirds to more than three-quarters of men support the notion that a woman's most important role is to care for the household. Women often internalize these same inequitable views: about half of women across the four countries surveyed support the same idea. In addition, majority of men believe it is their role to monitor and control the movements of women and girls in their households, a practice starting in childhood. In some countries, majorities of women not only affirm but also appear to accept male guardianship; in others, they challenge the idea, in theory if not in practice.
To address these cultural factors is the second crucial step in fighting GBV. But challenging these cultural practices is not the sole responsibility of the State, but of all of us, everyone. And the only means is education which, according to Nelson Mandela, is "the most powerful weapon that can be used to change the world." Education that aims to change mentalities, attitudes, and behaviors must target the widest possible audience. We have chosen four priorities to fight and prevent violence in the short and long term: training of professionals, education of women to open the way to their empowerment, education of the youth about gender equality, education of the public to the reality, and the devastating effects of GBV on the society.
Training Professionals
Many sectors are involved in the struggle against gender-based violence: health care, judicial, police, and social services. However, those systems are largely ill-prepared to deal with the consequences of violence. Specialized training must be included in the education curriculum of all these professionals who have a crucial role to play in the management of victims. They must learn how to be empathetic, how to listen to a survivor, how to guard against moral judgment, and how to take care of them professionally, within their field of expertise.
Educating Women: Open Door to Empowerment
Illiteracy is highest amongst women. Of the 781 million adults over the age of 15 estimated to be illiterate, 496 million, full two-thirds, were women, according to the World's Women Report 2015. This proportion has remained unchanged for two decades. The 2013/2014 Education for All Global Monitoring report highlights that more than 60% of adult women in Arab states, south and west Asia, and sub-Saharan Africa are illiterate. The 2015 report points out that illiteracy still affects almost 52 million adults, in the Arab World, most of whom are women. Universal primary education is far from being achieved in the region. And while there has been progress towards gender parity in primary and secondary education, gender equality remains elusive. Despite the parity gap being halved, the region remains one of those furthest from the target of gender parity. Besides, gender disparities widen as the level of education increases, although girls tend to perform better than boys. This gap may be the result of girls' being early drop-outs from school.
Despite the fact that promoting women's education is beneficial for all, in terms of education, health, and development. Rita Levi-Montalcini, winner of the Nobel Prize for Medicine in 1986 said: "If you educate a boy, you will have an educated man. If you educate a girl, you will have a woman, a family and a society educated." Even Sheikh Abdelaziz Ibn El Baz, who was until his death Grand Mufti of Saudi Arabia, recognized that "women are half the society and educate the other half."
According to WHO, closing the gender gap in education is the most valuable investment a country can make after primary health care (World Bank 1993). The World Bank came to a similar conclusion when it declared that ensuring girls' rights to education and to nondiscrimination within the education system represented one of the most powerful strategies for improving health in the developing world. The education of girls is a key factor in improving family health, reducing infant mortality, and changing reproductive behavior. As a matter of fact, there is a strong relationship between a higher level of education and a decrease in infant mortality rates: in developing countries, where access to care is limited, and each additional year of schooling is associated with a reduction of 5–10% in infant mortality rates (UNDP 1999).
Education is an open door to empowerment. With education comes increased confidence and self-esteem; educated women assume responsibility, are more likely to stand up for themselves, communicate more with their husbands, enjoy a higher status in the family, giving them more say in all decisions. They may above all participate in the labor force and contribute to the economic development of their countries.
However, the right to education
without sex discrimination
must be confirmed by law. Thus, in Tunisia, the law of July 29, 1991 instituted compulsory education with penalization of contravening parents, in order to struggle against discrimination, and against the dropout phenomenon which affected a large number of girls in rural areas. This law resulted in a significant increase in girls' enrolment at all three levels of education (Table
3
).
Table 3
Evolution of the rate of girls' enrolment in school
|   | Rate of school enrollment at the age of 6 | % of girls in the primary school population | % of girls in the secondary population | % of females in institutions of higher education |
| --- | --- | --- | --- | --- |
| 1975–1976 |   | 38.6 | 32.4 | 25.8 |
| 1997–1998 | 99% | 47.3 | 50.2 | 45 |
Today, women outnumber men in the higher education with a rate of 56% (Table
4
).
Table 4
Evolution of the rate of girl's enrolment in school at age 6
|   | % of BOYS | % of GIRLS |
| --- | --- | --- |
| 1981–1982 | 97.6% | 82.5% |
| 2000–2001 | 98.8% | 99.1% |
At the same time, the country targeted adult illiteracy, giving a special priority to fighting female and rural illiteracy. For example, the national campaign to eradicate illiteracy, launched in 1993–1994, targeting a population of 67,000 girls and women between the ages of 15 and 29, won the 1994 UNESCO prize for literacy, awarded to the National Union of Tunisian Women (UNFT) (Worl Bank 2013).
But money matters too. Tunisia's investment in education is 19.9% of the State Budget and 6.2% of GDP; in 2012, amongst 194 countries, Tunisia (preceded only by Libya) ranked 23, Saudi Arabia 55, Syria 79, Algeria 103, Qatar 114, Oman 121, Egypt 123, and Kuwait 125. According to Mohamed Faour (2008) "Education is not a priority in many national budgets in the region, with the percentage of the government budget allocated to education being below 20% in all the nine countries with data in 2012." UNESCO concluded that "according to projections, Tunisia will be the only Arab State likely to achieve universal primary education by 2015, ensuring that all children who have access to school also complete it." (2013/14 Education For All Global Monitoring Report)
Educating Young People About Gender Equality
Prevention aims at changing social norms and gender stereotypes. Therefore, it should start early in life, by educating and working with young boys and girls promoting healthy, respectful relationships, non-violence, and gender equality. Working with the youth is a "best bet" for faster, sustained progress on preventing and eradicating gender-based violence. While public policies and interventions often overlook this stage of life, it is a critical time when values and norms around gender equality are forged. Freud warned: "Be careful, […] the child accomplishes all his evolution in the first five years of his life" (S. Freud, My life and my psychoanalysis, p. 131).
At Home
This education must begin inside the family. Yet, it is the period when Arab fathers are virtually absent in the lives of their children. Children are totally raised and educated by their mothers, as shown by the results of the Tunisian Family Health Survey, conducted in 2001, as part of the Pan Arab Project for Family Health (PAPFAM). The study which covered 6083 households revealed that mothers are two to four times more involved than fathers in the caring and raising of their children, including disciplining the child!
Figure
1
illustrates the real inequality between genders. Power lies in the hands of men, certainly, but in that of mothers as well. Herein lies the roots of gender inequality. Mothers and their sons share power at the expenses of girls and their fathers. "You will be a man, my son" should be replaced by "You will be a father, my son." If we want young boys to become not only men but fathers, we must change our approach to education. The best means is to bring back fathers (and not women) at home, from the time of the birth of a child. When men find their place at home, besides mothers, women will find a place in the public space, besides men. Children have to be raised by both parents who are father and mother and also man and woman, in order not to differentiate between "sacred" mothers and demeaned women! It is in the sharing of responsibilities as a couple that children will learn that there is no gender hierarchy and will appreciate the importance of dialogue. The hierarchical nature of human relationships carries in them the seeds of violence.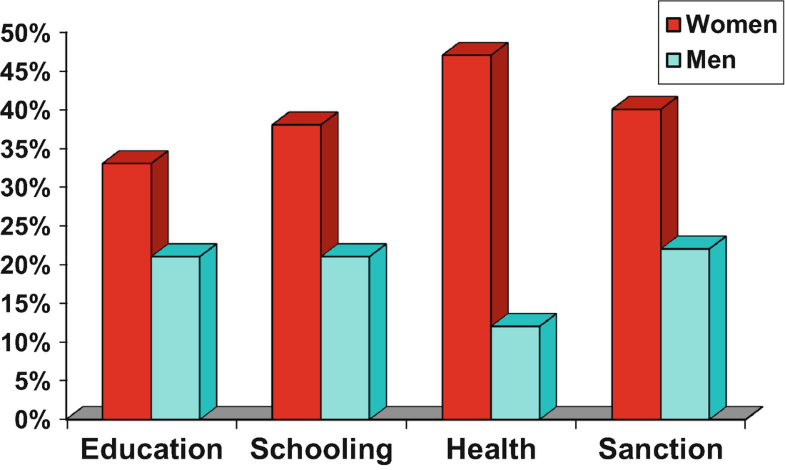 Promoting men's role of caregivers and fatherhood is necessary to alleviate the highly inequitable burden of unpaid caregiving work that is shouldered by women and to allow them to participate fully in the work place. This is above all the best example of equality and complementarity between men and women that one can give to children.
As a matter of fact, IMAGES showed that young men whose mothers were more educated and whose fathers carried out more traditionally "feminine" tasks in their childhood homes were generally most likely to favor gender equality. At the same time, results affirm that many men appreciate and value their role as fathers and caregivers, and that men's involvement in caregiving could become the key driver of intergenerational change in gender relations in the region.
It is clear, therefore, that promoting equality in the region requires dual, concerted efforts to promote both women's participation in the workplace and men's participation in domestic chores and caregiving. For these efforts, it is necessary that education outside the family takes over in the same direction.
At School
Achieving gender equality in education requires not only that girls and boys have an equal chance to access and participate in education but also that students benefit from a gender-sensitive learning environment. Unfortunately, this is not the case, according to Mohamed Faour (2008) who undertook "a review of citizenship education in Arab nations" and observed that "the state of women's rights leaves much to be desired" in the content of programs, and that "Tunisia's constitution is unique among all Arab nations in recognizing the rights of women according to international declarations." Everywhere else, the reference to sharia prevails. Since all Arab nations, except for Lebanon and Tunisia, consider Islam to be a reference source of legislation; they do not endorse laws or declarations that contradict any of the rules or concepts that are explicitly stated in the sharia. Accordingly, they disapprove of parts of Article 16 in the Universal Declaration of Human Rights, which states: "men and women of full age […] are entitled to equal rights as to marriage, during marriage and at its dissolution." In the Cairo Declaration, an alternative article, 5(a), was presented with the word "equal" deleted from Article 16 of the Universal Declaration. Article 5 (a) states that "men and women have the right to marriage." According to the Cairo Declaration, gender equality in Islam is displayed in certain aspects of life such as human dignity, financial independence, and the right to retain maiden names, but "the husband is responsible for the maintenance and welfare of the family." The Arab Charter left the issue of gender rights in marriage to national law, which gives wide powers to religious courts on issues related to marriage, divorce, and inheritance.
Furthermore, in Tunisia, a thorough overhaul of children's textbooks was also undertaken to affirm the status of women and teach the principles of equality between men and women and the concept of mutual respect. Empowering the youth as agents of change for gender equality must go hand in hand with public education at large.
Public Education: Raising Knowledge and Awareness
It is time to lift the "cloak of silence" about GBV. And all of us are accountable for disseminating evidence-based information on the violation of women's human rights and its tragic consequences for the whole society. There is a terrible situation that prevails in the Arab world that of confounding identity and equality. Certainly, men and women are different but why would they have different rights? Condorcet said: "Or, all humans have the same rights or nobody." It is the role of community leaders, academia, and the media to convey the essential message of gender equality through equal rights and mutual respect.
Role of the Healthcare System
According to WHO, violence is also a health problem and of epidemic proportions. Thus the health sector has a critical role to play in helping women and girls who experience violence, although it cannot solve the problem alone. Health workers are often the first professionals to be in contact with the victims: those working in the community, in primary care centers or clinics, where women seek treatment for other conditions; those working in hospital emergency departments, where they may examine injured women; those working in institutions such as prisons and retirement homes, where they may be the only qualified witnesses of abuse and sources of help. However, they are ill-prepared for managing these kinds of situations and often share their society's prejudices, with a bias toward the private nature of domestic violence. This is why they need special training. WHO underlines the importance of training health care workers to recognize both the obvious and more subtle signs of violence and meet women's health needs in this regard. Many authors even recommend including the topic in the curriculum of medical, paramedical, and nursing studies. They can, however, be very helpful in identifying, informing, and referring victims of abuse to specialized settings.
Identification
Survivors are also often reluctant to disclose their abuse even to the physician who is member of the same community, unless they come to get a medical certificate to support a complaint to the justice system. In those conditions, the primary care physician is a key-person in detecting violence and providing a culturally sensitive service to victims (Usta and Taleb 2014). Given the assurance of confidentiality and privacy, battered women are more likely to confide in them. However, opinions are divided as to the method. For some, the health professional should only begin their investigation if they suspect any abuse, observing bruises or scars, anxiety or depressive symptoms, for example. For others, because of the magnitude of the problem, all women and girls, especially the pregnant ones, should be routinely asked about any experience of abuse. Two screening questions have been found to have a sensitivity of 71% and a specificity of almost 85% in detecting domestic violence: "Do you ever feel unsafe at home?" and "Has anyone at home hit you or tried to injure you in any way?" (Eisenstat and Bancroft 1999).
Once the violence is recognized, the physician has to complete his history taking about it and try to determine what stage of the process the victim is going through in order to adapt his management approach. Domestic abuse typically follows an extremely predictable cycle, starting with an abusive relationship and progressing as follows:
From the beginning, the potential abuser tries to win over their new partner, moving quickly into a close relationship with tactics like "love-bombing," grand romantic gestures, and pressuring for commitment early. He manages to get her away from her family, friends and usual activities and leisure, just to "keep her only for him," in reality to isolate her and deprive the partner from any support.

The abuser engages in this way in behaviors that create relationship tension and becomes emotionally or physically aggressive. This often starts small, like a slap instead of a punch, or punching the wall next to the partner.

The abuser will then express feelings of guilt, swearing he will never do it again. He apologizes, makes amends for his bad behavior, and tries to fix his wrongdoing with romantic declarations, gifts, and beautiful promises. There will be a temporary "honeymoon" period, where the abuser is on his best behavior, luring his partner into thinking that she is safe and things really will be different. The abuse is forgiven. But it is only a respite.

Abuse occurs, starting the cycle all over again. The trap is in place and it closes in on her.
A question may be asked. Why do these women not leave their abusers? First of all, many women think that it is their religious duty and their God-Given destiny to stay with their husband. Others become trapped in abusive relationships for many reasons, such as financial dependence on the abuser, which is often manufactured by himself, willingness to keep a complete family unit for their children's sake, fear of leaving, disbelief or denial that the partner is actually abusive, belief that the abuser loves them and that they can change his behavior, or thinking that the abuse is their own fault.
They have begun to develop a "battered woman syndrome" (BWS) which will progress in four stages: at first, comes the denial. The woman is unable to accept that she's being abused, or she justifies it as "just being that once." As the cycle continues, she starts to feel that the abuse is her own fault. That is what we call "learned helplessness," when the victim takes responsibility for her own abuse. She becomes convinced of her helplessness and that the abuse cannot be escaped. Thus is borne the psychology of BWS. In a third stage, named "enlightenment," she begins to realize that she didn't deserve the abuse and acknowledges that her partner has an abusive personality. And finally, she accepts that only the abuser holds responsibility for his behavior. In many cases, this is when she will try to escape the relationship.
It is not too difficult to recognize a BWS. Women suffering from BWS share certain common characteristics easily observable when one speaks with them (Walker
1991
):
1.

She takes full responsibility for the abuse, and finds it difficult or impossible to blame the abuser himself.

 

2.

She fears for her safety and that of her children.

 

3.

She hides the abuse from friends and family because she irrationally believes that the abuser is all-powerful and all-knowing. He can see her every movement and he can hear everything she says. And he will hurt her if she tries to seek help or to contact the authorities.

 
Once the signs of BWS are recognized, it is time to set up a safety plan.
However, some warning signals must alert the professionals before the situation progresses further. These include:
Withdrawing from family, friends, or activities they used to enjoy (this can be something the abuser is controlling)

Seeming anxious around their partner or afraid of their partner, described as easily jealous or very possessive.

Having frequent bruises or injuries they lie about or try to hide under clothes, like long-sleeve shirts in summer or scarves around the neck.

Having limited access to financial resources or means of displacement.

Getting frequent calls from the abuser that require them to check in or that make them very anxious.
Several serious side effects are associated with BWS. Short-term side effects that may be seen immediately include depression with lowered self-esteem, severe anxiety, and alcohol or drug abuse. Research has also shown that BWS can result in long-term health consequences that can last for decades, such as:
PTSD-like symptoms, including flashbacks, dissociative states, and violent outbursts against the abuser

Health issues caused by stress, such as high blood pressure and associated cardiac problems

Health issues from the physical abuse, such as damaged joints or arthritis

Chronic back pain or headaches

Increased risk of developing diabetes, asthma, and immune dysfunction due to long-term stress
Forensic Issues
BWS is often accompanied by legal issues. It is important for every health care provider to become familiar with the legal reporting requirements for DV. BWS is serious, which is why it is taken into account when women murder their abusive partners. Battered woman syndrome (BWS) emerged in the 1990s from several murder cases in England in which women had killed their violent partners in response to what they claimed was cumulative abuse, rather than in response to a single provocative act. Feminist groups challenged the legal definition of provocation, and in a series of appeals against murder convictions secured the courts' recognition of BWS. BWS is now recognized in legislation by many countries and is considered when defending battered wives who kill or injure their abusive spouses. For the courts, BWS is an indication of the defendant's state of mind or may be considered a mitigating circumstance. The courts in Australia, Canada, New Zealand, the United Kingdom, and the United States have accepted the extensive and growing body of research showing that battered women can use force to defend themselves and sometimes kill their abusers because of the abusive and sometimes life-threatening situation in which they find themselves, acting in the firm belief that there is no other way than to kill for self-preservation. The courts have recognized that this evidence may support a variety of defenses to a charge of murder or to mitigate the sentence if convicted of lesser offenses.
Management By Health Care Profesionals
"First, no do harm": you must be "neutral and caring." If you suspect that your patient is trapped in an abusive relationship or suffers from BWS, it is important for you to withhold judgment Unsympathetic or victim-blaming attitudes can reinforce isolation and self-blame, undermine a women's self-confidence and make it less likely that women will reach out for help. A survivor told us, one day: "I believe that empathy is the solution to a better world and that listening is the best gift one can give." Likewise, you should never force a victim to do something you think is the best solution for her. They are already being controlled by one person. And if you force them to leave before they are ready, there is a good chance they will go back to the abuser, putting them in even more danger. That is why it is very important to determine the stage of the process she is going through. Even though the abuser is in the wrong, you would like to know why would she stay? Why would she let this happen? Many women in these circumstances feel shame or are afraid to admit what's been happening. Make it easier for them to do so, and let them know that you're always there if they need anything.
The primary role of the physician is to provide appropriate medical care and to document in the patient's medical records the instances of abuse, including details on the effects (physical and mental) and on the perpetrator. It is crucial to maintain the privacy and confidentiality of patient information and records.
Perhaps, the most important function of the physician is to inform the patient of viable options for getting help and removing herself from danger. So, she must be informed about the community resources available. Every health care professional should have a list of local resources and hotlines available to provide directly to their clients.
The third step depends on their risk assessment and the willingness of the victim. In case of high risk, when the health professional feels that she is not safe until she leaves home, it is necessary to get the woman to a safe place away from her abuser. If possible, help them gain access to resources they don't have. Help them develop a safety plan to get away from their abusers. If their patient is not ready yet, refer them to a psychiatrist to validate the battered woman syndrome and to propose adequate therapy, after evaluation for other mental health conditions, like anxiety and depression. The therapist will use a combination of medications and psychotherapies to help the woman regain control of her life. Various therapies are proposed: interpersonal therapy, to help the woman establish stronger relationships with her support system, which may have been damaged due to isolation caused by the abuse; Trauma therapy, to identify the trauma triggers and learn how to overcome them and deal with her situation; STEP (Survivor Therapy Empowerment Program), which helps women better understand how the violence has impacted their lives.
Concluding Remarks: Shame Must Change Sides
As is the case in the rest of the world, Arab women and girls suffer in their respective countries from all forms of violence inflicted on them by their family relatives. Contrary to their counterparts in other countries, however, they are not sufficiently protected against abuse since in their culture, the value placed upon honor and shame force society to close their eyes and mouths about this private problem. Moreover, specific social norms and the negative stereotypes conveyed about women contribute to almost absolve their aggressors. These prejudices fed by the majority of their fellow citizens prevent enacting or enforcement of a comprehensive legal framework to fight gender-based violence. Therefore, it is as important to support the victims and punish the perpetrators as to work for a change in mentalities. Shame and guilt must change sides! Victims do not have to feel guilty or ashamed to the point of suffering in silence or, worse, to marry their tormentor. Abusers do have to feel guilty and ashamed and treated as such. The true sense of honor is to defend the victim and punish the guilty and not the contrary. This is the Law that allows our life in society, as human beings equal in rights and dignity.
John Stuart Mill said: "The despotism of custom is everywhere the standing hindrance to human advancement."
References
Abbas R (2010) Rape is not adultery. Inter Press Service News Agency, 26 Oct 2010

Google Scholar

Abbas MAF, Fiala LA, Abdel Rahman AGE, Fahim AE (2010) Epidemiology of workplace violence against nursing staff in Ismailia governorate, Egypt. J Egypt Public Health Assoc 85(1–2):29–43

PubMed

Google Scholar

Aftab T (2000) Threats and challenges to Pakistani women. In: Women's mental health. Monograph series – II. Pakistani Psychiatric Society Editions, pp 35–47

Google Scholar

Al-Krenawi A, Graham JR (2006) Attitudes toward and reasons for polygamy differentiated by gender and age among Bedouin-Arab of the Negev. Int J Ment Health 35:46

CrossRef

Google Scholar

Al-Madani O et al (2012) Child physical and sexual abuse in Dammam, Saudi Arabia: a descriptive case-series analysis. Egypt J Forensic Sci 2(1):33–37

CrossRef

Google Scholar

Aouidj A (2001) La violence conjugale. In: Population et développement en Tunisie. CERES Editions, Tunis

Google Scholar

Avasthi A, Khalw MK, Elorey AM (1991) Inpatient sociodemographic and diagnostic study from psychiatric hospital in Lybia. Int J Soc Psychiatry 37(4):267–279

PubMed

CrossRef

Google Scholar

Barker G et al (2009) What men have to do with it: public policies to promote gender equality. International Centre for Research on Women (ICRW), Washington, DC

Google Scholar

Belhadj A (1993) Le comportement sexuel féminin a propos d'une enquête effectuée auprès de 347 femmes dans le grand Tunis. MD Thesis. Faculty of Medicine, Tunis. N° 170/1993

Google Scholar

Belhadj A, Melki W, Khiari G et al (1998) Les épouses battues. Enquête dans un centre de santé de base en Tunisie. J Tunis Psych 1(1):15–21

Google Scholar

Bouasker A (2003) Violence conjugale: étude épidémiologique. A propos de 424 femmes consultant dans des centres de soins primaires. MD thesis, Faculty of Medicine, Tunis

Google Scholar

Brown GW, Harris TO, Hepworth C (1995) Loss, humiliation and entrapment among women developing depression: a patient and non-patient comparison. Psychol Med 25(1):7–21

PubMed

CrossRef

Google Scholar

Chalaby K (1985) Women of polygamous marriages in an inpatient psychiatric service in Kuwait. J Nerv Ment Dis 173(1):56–58

CrossRef

Google Scholar

Chalaby K (1988) Traditional Arabian marriages and mental health in a group of outpatients Saudis. Acta Psychiatr Scand 77(2):139–142

CrossRef

Google Scholar

Day T, McKenna K, Bowlus A (2005) The economic costs of violence against women: an evaluation of the literature. United Nations, Geneva

Google Scholar

Douki S, Nacef F, Belhadj A, Bouasker A, Ghachem R (2003) Violence against women in Arab and Islamic countries. Arch Womens Ment Health 6:165–171

PubMed

CrossRef

Google Scholar

Douki S, Ben Zineb S, Nacef F, Halbreich U (2007) Women's mental health in the Muslim world: cultural, religious, and social issues. J Affect Disord 102(1–3):177–189

PubMed

CrossRef

Google Scholar

El Zanaty F, Hussein EM, Shawky GA, Way AA, Kishor S (1996) Egypt demographic and health survey-1996. National Population Council, Cairo

Google Scholar

Gerlinger G, Hauser M, De Hert M, Lacluyse K, Wampers M, Correll CU (2013) Personal stigma in schizophrenia spectrum disorders: a systematic review of prevalence rates, correlates, impact and interventions. World Psychiatry 12(2):155–164

PubMed

PubMedCentral

CrossRef

Google Scholar

Ghubash R (2001) Epidemiological studies in the Arab world, pp 37–51. In: Okasha A, Maj M (eds) Images in psychiatry: an Arab perspective. WPA series publications. Scientific Book House, Cairo, 341 pages

Google Scholar

Haj Yahia MM (1998) A patriarchal perspective of beliefs about wife-beating among Palestinian men from the West Bank and the Gaza strip. J Fam Issue 19(5):595–621

CrossRef

Google Scholar

Haj Yahia MM (2000) The incidence of wife-abuse and battering and some socio-demographic correlates as revealed by two national surveys in Palestinian society. J Fam Violence 15(4):347–375

CrossRef

Google Scholar

Kadiri N, Moussaoui D (2001) Mental health of women in the Arab world, pp 189–206. In: Okasha A, Maj M (eds) Images in psychiatry: an Arab perspective. WPA series publications. Scientific Book House, Cairo, 341 pages

Google Scholar

Kingdom Arab News (13 March 2002) Shock turns to outrage over school fire tragedy

Google Scholar

Louzi A (1988) Les urgences psychiatriques à Casablanca. MD thesis, Faculty of Medicine and Pharmacy, Casablanca, N° 332

Google Scholar

Nahhas R (2015) Honour killings: a crime in the name of "family honour". The Arab Weekly, 08 May 2015.

https://thearabweekly.com

Ouali U, Benzineb S, Choubani Z, Nacef F, Douki S (2007) Letter to the editor. World Psychiatr 6:1

Google Scholar

Sahin HA, Sahin HG (2003) An unaddressed issue: domestic violence and unplanned pregnancies among pregnant women in Turkey. Eur J Contracept Reprod Health Care 8:93–98

PubMed

CrossRef

Google Scholar

Saif El Dawla A (2001) Social factors affecting women's mental health in the Arab region. In: Okasha A, Maj M (eds) Images in psychiatry, an Arab perspective. WPA Publications, Cairo, pp 207–223

Google Scholar

Samir K (2017) Alarming rise of violence against women in Arab region. The Arab Weekly, 08 Jan 2017.

https://thearabweekly.com

Sika N (2011) The millennium development goals: prospects for gender equality in the Arab world. J Int Women's Stud 12(3):27–42

Google Scholar

UN WOMEN, Cairo Demographic Center (2013) Study on ways and methods to eliminate sexual harassment in Egypt: results/outcomes and recommendation. UN, New York

Google Scholar

UNICEF (2000) Domestic violence against women and girls. Innocenti digest, vol 6. Innocenti Research Center, Florence, pp 1–30

Google Scholar

Usta J, Taleb R (2014) Addressing domestic violence in primary care: what the physician needs to know. Libyan J Med 9:23527

PubMed

CrossRef

Google Scholar

WHO (2013) Global and regional estimates of violence against women: prevalence and health effects of intimate partner violence and non-partner sexual violence. WHO, The Department of Reproductive Health and Research (RHR), Geneva

Google Scholar

World Bank (1993) World development report 1993 – investing in health. Oxford University Press, New York

CrossRef

Google Scholar

World Bank (2013) Expenditure on education, public (% of GDP). United Nations Development Programme. October 2013

Google Scholar
Copyright information
© Springer Nature Switzerland AG 2019